How to Keep New Year's Resolutions with this Simple Formula
We all love the idea of a fresh start. New Years provides a time for us to make resolutions and get a fresh start, but how do we keep those resolutions?
It's a proven fact that resolutions are hard to keep and that most people will abandon their resolutions within weeks or hours of when they are made.
This post contains affiliate links – Check our Affiliate Policy below for details.
Reasons we don't keep New Year's resolutions: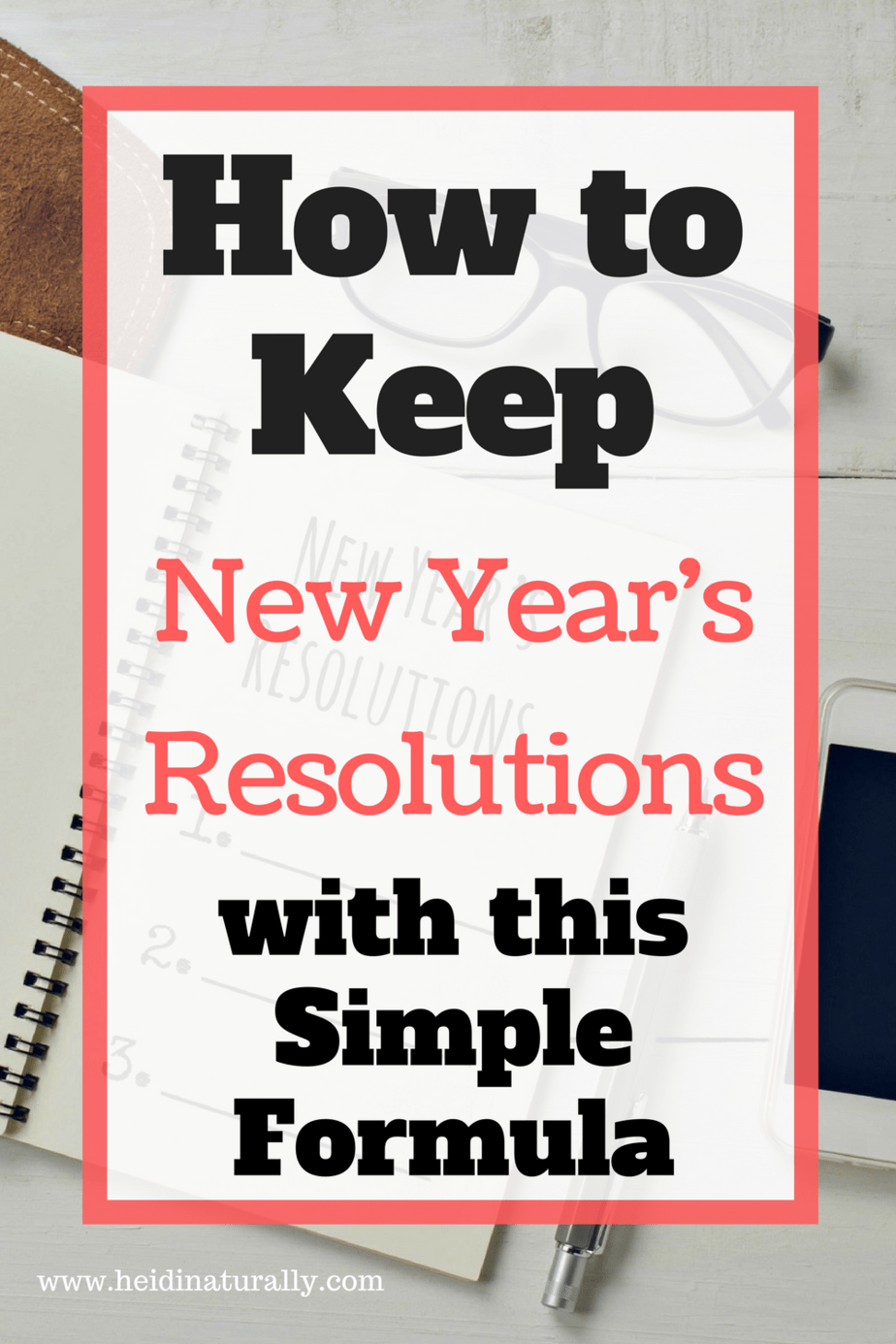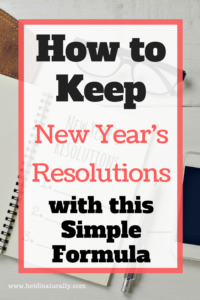 Topic is too broad and not specific enough – Instead of saying, "I will read more", why not say, "I will read 1 chapter each day in a chosen book." When it comes to exercise, instead of saying, "I will exercise more", why not say, "I will do 10 pushups, 30 squats, and run for 2 minutes" (or whatever exercises you want to do each day).
It's hard to stay consistent – Although setting goals is fun, keeping up with them can be a challenge.
Too many temptations – In America, we have so many food temptations all around us, that it's tough to eat a salad when fast food goodies are everywhere. It's also hard to manage time. We might want to exercise but there are so many temptations that compete for our time that we often don't take the time to exercise.
We don't write them down – Writing down goals or resolutions is absolutely key! There is something about putting our thoughts onto paper that helps our mind engage. Keep reading for more help in this area.
Whether you want to drink more water, spend less money, exercise more, eat less, get organized, get rid of clutter, be a better friend, be more positive, be more loving, worry less, read more, get more sleep, clean more often, relax more, or have more patience, you will have to get a plan in order to successfully accomplish these goals.
-> Download your Simple Weight Loss Checklist to RAMP UP your Weight Loss RESULTS this Week! <-
How to keep resolutions:
Use a cue – what will help you remember to eat better, drink more water, stay organized… Some ideas include writing a list of the foods that you SHOULD eat and post that on the refrigerator. That way when you come into the kitchen, that is what you can focus on. How about drinking from a quart-sized mason jar? This can be a cue to help you to remember to drink 2-3 of these a day. You can put a Post It note on your calendar or planner with an organization goal and move it from one week to the next. An example of a goal could be, "Clean out 1 drawer this week." Stick that note to the day you want to accomplish that task and do it. Then move the note to the next week. Even if you didn't get your goal done that day, you can still start fresh the next week.
Find your motivation – What motivates you to keep this resolution? Does drinking more water help you feel more energized during the day? Do you find that eating what is on the chosen foods list on your refrigerator help you meet your weight loss goals? Does cleaning out 1 drawer a week help you get to your goal of finding things in your home easily? Whatever your goal is, there is always a way to attach a motivation to that goal. This is key if you want to be able to keep your resolutions.
Write it down as a formula – "When I see ____, I will ____ in order to get ___." Having a reward with each goal will help you keep more resolutions this year. (See free printable at the end)
Here are some examples of sentences you can use to keep your resolutions:
"When I see my mason jar, I will drink at least 1/2 cup of water in order to feel good and energized throughout the day."
"If I see the list of good foods to eat on my refrigerator, I will focus on those foods in order to help me lose a pound this week."
"When I see my Post-It note reminding me to exercise, I will set a time to do it in order to feel strong and healthy."
"If I see the red piece of paper in my wallet, I will stop and think about whether what I am about to buy is something I really need in order to see more money in my bank account (or wallet) at the end of the week."
"When I see the Post-It note reminding me to clean out a drawer in my house each week, I will either do it right then or set a timer and do it when the timer goes off in order to have less stuff and be able to find things more easily in my house."
"If I see the plant (or whatever you choose) sitting on the shelf above the kitchen sink, I will state one thing I am thankful for in order to feel more grateful and positive each day."
You get the idea! Take every resolution you have and make it into a motivational phrase with cues and you will be well on your way to keeping your resolutions for many months. Here is a free printable you can use to help you write down your goals in this way.

For weight loss goals, you can say "When I feel hungry, I will drink one Raw juice drink in order to cleanse my body and get lean."
We have to write down our goals if we want to keep them. Think of how many goals you met that you didn't write down. Just having a bunch of goals floating around in our heads doesn't give us the results we want.
Keeping notes on your phone is great, but once you have your list made, take the time to get out a pen and paper and actually write them in your own handwriting!
Here are some journals I like…
My Favorite New Year's Quotes:
"Hope smiles from the threshold of the year to come, Whispering 'it will be happier'…" Alfred Tennyson
"For last year's words belong to last year's language
And next year's words await another voice." T.S. Eliot
"Tomorrow, is the first blank page of a 365 page book. Write a good one." Brad Paisley
"We will open the book. Its pages are blank. We are going to put words on them ourselves. The book is called Opportunity and its first chapter is New Year's Day." Edith Lovejoy Pierce
"We spend January 1st walking through our lives, room by room, drawing up a list of work to be done, cracks to be patched. Maybe this year, to balance the list, we ought to walk through the rooms of our lives…not looking for flaws, but for potential." Ellen Goodman
"New Year – a new chapter, new verse, or just the same old story ? Ultimately we write it. The choice is ours." Alex Morritt
Although no one can go back and make a brand new start, anyone can start from now and make a brand new ending. Carl Bard
"We become what we want to be by consistently being what we want to become each day." Richard G. Scott
"As the old year retires and a new one is born, we commit into the hands of our Creator the happenings of the past year and ask for direction and guidance in the new one. May He grant us His grace, His tranquility and His wisdom!" Peggy Toney Horton
"Resolution 1: I will live for God. Resolution 2: If no one else does, I still will." Jonathan Edwards
Whatever your past has been, you have a spotless future.
Be more awesome than last year.
I hope this post has been helpful by giving you some tools to help keep your resolutions this year. Feel free to contact me if you have any questions.
You might also enjoy these posts:
How to Spend Less Time Cooking
Getting Organized with File Folders
Simple Christmas Decorations – All in 1 Box!
Best Body Cleanse Juice – Cleanse to Lose Weight Quickly and Easily