Things to Do With Teenagers this Summer – Reconnect with Your Teen
Home is often just a pitstop for teens but there are things to do with teenagers this summer that can help parents and teens reconnect. We see our children growing up and want to do fun things with them and have a great relationship. Summertime is a great time to find new ways to develop a better relationship with your teen.
After working with teens for over 30 years and having 4 of our own teens, we've learned a few things to do with teenagers that can develop great relationships. Just because you are older than your teen doesn't mean you can't have fun together and have a great relationship.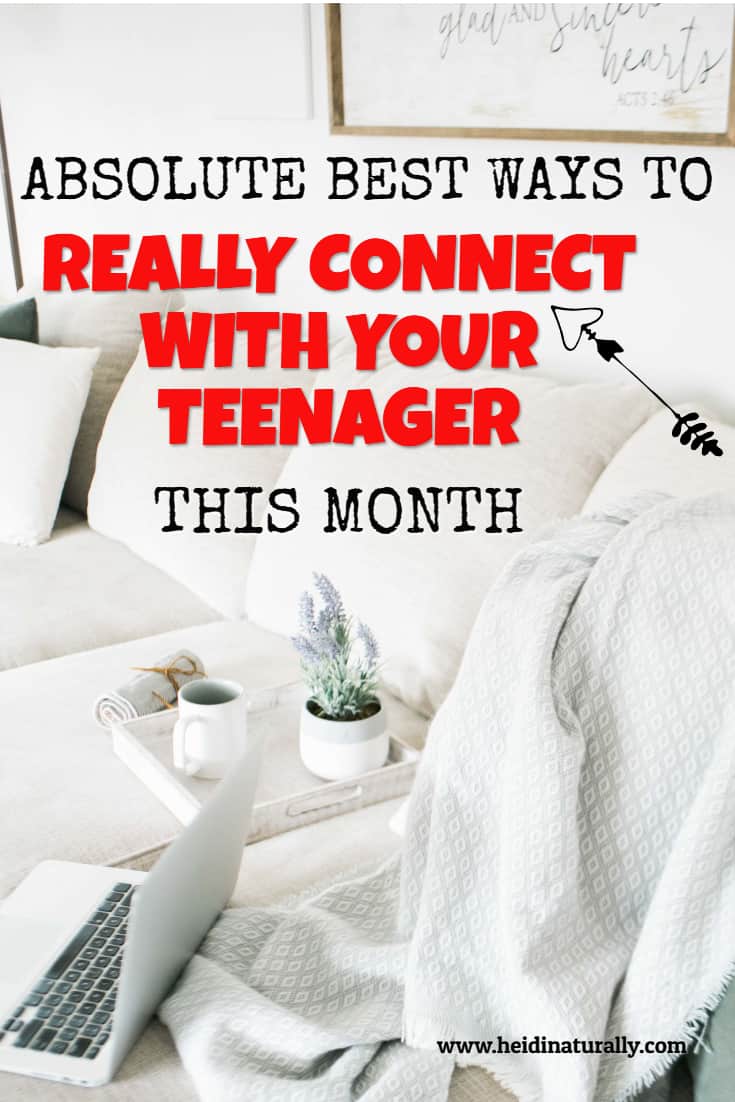 People think it's normal for teens to grow away from family and disconnect. While it IS normal for teens to start learning how to be more independent, they can still remain close and connected and have a great relationship with their parents.
My Best Suggestions of Things to Do with Teenagers:
Cook together – Everyone needs to eat and some teens enjoy creating things in the kitchen. Even if they don't enjoy creating things, putting together a snack or meal can be a good time of bonding. Find a new recipe or cook an old favorite from their childhood together.
Share an interest together – If your teenager likes swimming, ice skating, landscaping, watching YouTube videos, or something else, show a genuine interest in what they are doing. While you may not be able to participate in everything they do, you can certainly watch and be their biggest cheerleader.
Watch for clues – If your teen is always in the garage tinkering on their car, there is a clue to how you can show an interest in what they like. If they are always shopping with their friends, ask them to help you find a new outfit or a gift you need to buy for someone. Doing things they naturally like is a great way to reconnect.
Help someone – Look for friends or family members who need help and suggest that you and your teen go and help them. If they are not into this, it's OK. But some students really love helping people and would be willing to work with you on this project
Check in at bedtime – No matter what goes on during the day, always make sure you say "Goodnight" to your teen and say "I love you" if you're able to do that. You don't have to come up with a ton of things to do with teenagers. Just make sure you check in with them and let them know you're on their team and that you love them. Love spans all ages.
Look for Moments to Reconnect
Get to know their friends – When your teenager's friends are around, show a genuine interest in them and strike up a conversation with them. Even just commenting on how you like something they are wearing will help towards developing a good relationship.
Listen and be available – Your children have heard your lectures over the years and can probably quote back to you what you will say to them. That's why it's important to listen a lot and offer advice only when asked.
Keep the positive interactions higher than the negative ones – The teen years can often include some tumultuous times, but strive to have more positive interactions with your teen than negative. Look for things to be thankful for and send as many positive comments and actions towards your teen as possible.
Say "Hello" and "Goodbye" – This sounds silly, but make it a point to tell your child when you are leaving and check back in with them when you get home. If your teen likes physical touch, give them a hug as often as they will let you. When your teen leaves or comes home, make it a point to smile at them and greet them. This is a simple way to reconnect each day without feeling like you're being pushy. Who knows, they might even tell you how their day went.
Parents often think they have to take their kids on an expensive vacation or think of a huge list of things to do with teenagers. On the contrary, smiling and showing love daily can add so much more to your relationship with your teenager than spending a lot of money on them.  
Things to Do with Teenagers – Favorite Activities you can do together
Plant something – Whether you get a house plant or plant something in the landscaping, planting something and watching it grow will be a fun activity to do together. Go out and look at your plant occasionally and comment on it's growth. Don't forget to water it at least every other day!
See a movie together – There are lots of great movies out this Summer. Find a movie that you both want to see and make it a date.
Get ice cream (or coffee) together – I have great memories of going out and getting ice cream as a child. There's something special about treating someone to a special snack so take advantage of this. Reconnect over a new snack or an old favorite.
Pray with them – The teen years can often contain drama and stress. When you see your child in the middle of some stress or a bad situation, offer to pray for them right then and there. Then check back with them on how it's going and pray again if needed. Prayer can really reconnect your relationship.
Read books together – Find a good novel or story that would interest both of you. Then either read it together or read it separately and discuss every couple of chapters.
A great book to read to help understand your teenager is called The Five Love Languages of Teenagers. Also, the original book The Five Love Languages is great for helping understand all people.
More Books to Help During the Teen Years
Important Parenting Articles:
The 9 Most Important Minutes in a Day for Parents
Vital Bible Verses Parents Need to Get Right to Raise Amazing Children