6 Irresistably Easy and Healthy Dinner Recipes for Tired Families
My last recipe post was so popular that I decided to add six more easy and healthy dinner recipes to help my readers. Families are busy these days and have a hard time cooking at home, let alone cooking healthy meals.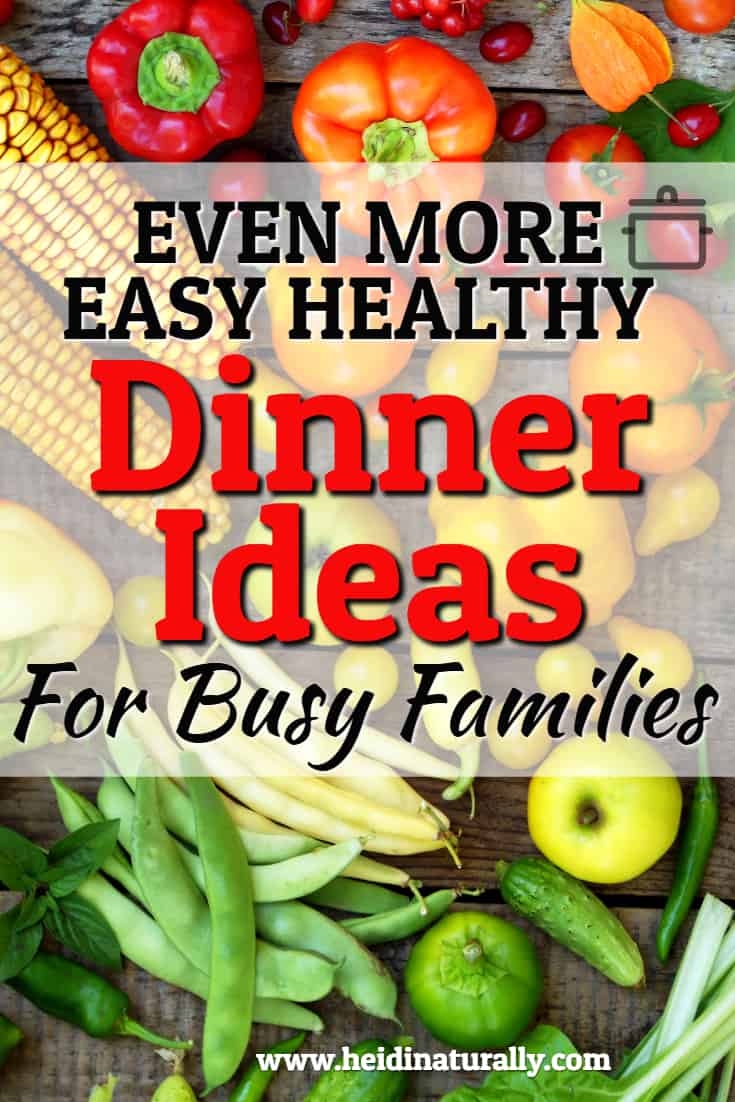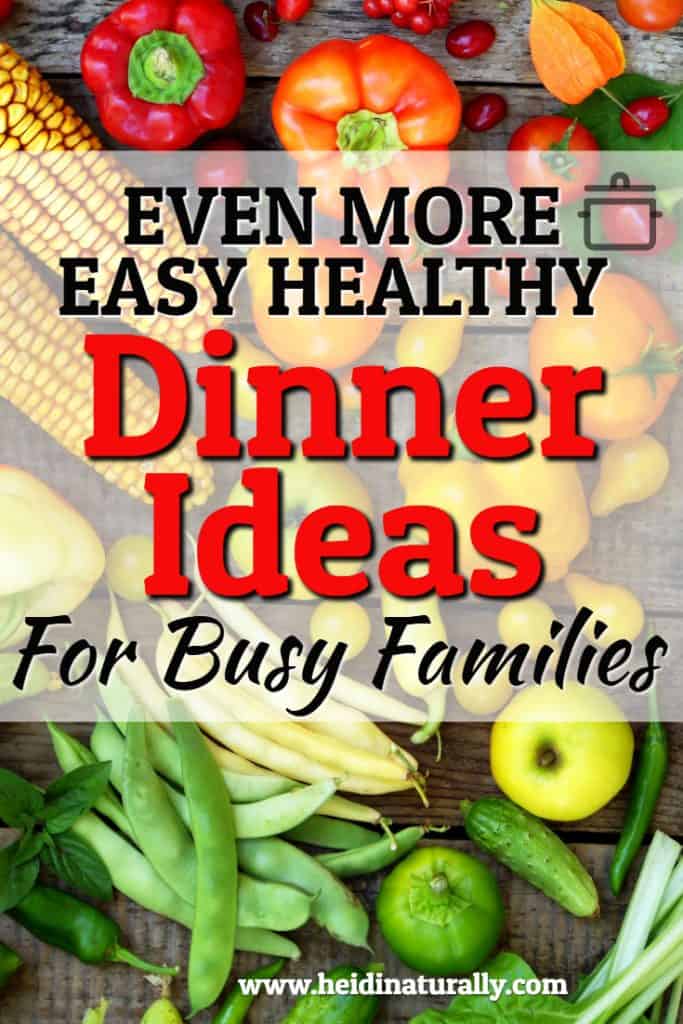 We moms need to stick together and help each other out! So I pulled out six more of our favorite easy and healthy dinner recipes for all my mom friends out there.
Cooking healthy meals doesn't have to be complicated or expensive. We've been living on one income for years and eat very well.
I find that every time we go out to eat, I end up gaining at least a pound. So this makes me more motivated to just cook healthy meals at home instead.
This way I know where our food came from and that only good ingredients go into them. We live in a very small town that doesn't even have a stop light! So going out to eat is not very possible anyways. We have 2 fast food places and 2 small restaurants and yet we eat at home most of the time.
I'm no cooking guru, but have found ways to make meals in the easiest and healthiest way possible, so I thought I would share those ideas with you.
Related: Easy Healthy Dinner Ideas for Busy Families
Here are 6 more of our favorite easy and healthy dinner recipes:
One Dish Dinner –
In a large saucepan, brown 1-2 pounds of ground beef with 1 cup chopped onions.
Drain grease and add 2 cups carrot and potato chunks.
Add 1/2 cup water and an 8 or 16 ounce bag of frozen green beans.
Add salt and pepper to taste.
Cover and cook about 20 minutes or until all vegetables are tender.
You can also add 1/2-1 cup extra pureed vegetables here if your family doesn't like vegetables or you want to add even more flavor to this dish. I suggest cauliflower, butternut squash, turnips, or whatever vegetable you can puree that no one will see.
You can add shredded cheddar cheese here and let it melt for a few minutes.
Spaghetti – Yummy and easy homemade sauce without the chemicals!
Brown 1 pound ground beef, 1 cup onion (chopped), 1 cup green pepper (chopped, can use frozen)
Drain beef if needed.
Add 2 t dried parsley, 2 bay leaves, 2 cloves garlic (minced), 2 t dried basil, 1 t oregano 1 t salt.
Also add 6 ounces tomato paste, 28 ounce jar of tomato puree, 1/4 t black pepper.
Some people add white and brown sugar at this point but then it's not as healthy.
Add 1/4-1/2 cup pureed vegetables here if you like (carrots, butternut squash, zucchini, cauliflower, etc).
Reduce heat to low.
Cover and simmer for about 1 hour.
Roast
This is a family favorite that we have each year for Christmas Eve, but it's even good in the summer when you want to use the crock pot so that your house doesn't get so hot from the oven being on.
Place in crock pot – 1 onion (chopped), 1/2 cup chopped or pureed carrots, 1/4 cup chopped celery, 1 clove garlic (minced), 3-4 pound beef roast.
Add 1/2 cup water and salt and pepper to taste.
Cook on low 8-10 hours or high 5-7 hours.
Add 3-6 cubed potatoes during the last hour of cooking.
Add more seasoning at this point because oftentimes, the seasonings have cooked out by this time.
Barbeque Chicken
Place 2-3 pounds of chicken (or whatever quantity your family eats – white or dark meat – whatever they prefer) in a 9×13 pan.
Pour 1/2 – 1 cup organic barbeque sauce over the chicken.
Place in the oven that has been preheated to 350 degrees.
Bake for 1 hour and baste another 1/2-1 cup of sauce over chicken.
Bake for 5-10 minutes and enjoy
In the summer the chicken can be grilled outside on a grill.
Serve with a cooked vegetable, raw vegetable, and salad.
Salsa Chicken
Saute 1 pound boneless chicken cut into 1/2″ pieces in olive or coconut oil.
Set aside and cover to keep warm.
Saute 1 medium green pepper (chopped), 3/4 cup chopped onion, 1/2 cup chopped celery, 1/2 cup frozen corn (thawed), 1 garlic clove (minced) for 6-8 minutes or to desired consistency.
Add 2 cups organic salsa and reserved chicken.
Optional – add 1/4-1/2 cup pureed vegetables of your choice (carrots, butternut squash, zucchini, cauliflower, etc).
Heat through and serve over rice or noodles.
You can top this dish with shredded cheddar cheese if you like.
Cabbage and Bacon
Up until I came up with this combination my family would NOT eat cabbage at all.
My new motto is to add bacon to any dish that my family is not crazy about and they will like it and comment on how good it is.
Chop one head of cabbage.
Chop 1 pound of bacon into small pieces. I prefer to use uncured bacon or nitrate free turkey bacon for the best health effect.
Cook bacon in a saucepan (big enough to hold a full head of chopped cabbage) until it's about half cooked.
Add olive or coconut oil or butter if the bacon sticks to the bottom of the pan.
Stir in the head of chopped cabbage here and stir occasionally.
Add salt and pepper to taste.
Some people add cooked (cubed potatoes) or noodles at this point.
Heat thoroughly until the cabbage is soft or to your desired tenderness.
Enjoy with a salad and raw or cooked vegetables.

Want More Easy and Healthy Dinner Recipes?
These are several of our favorite family recipes. To get a complete list of our recipes in ebook form, check out Cooking from Your Cupboard.
I believe in keeping a good stock of food on hand in the pantry and freezer so that when it's time to cook, I can make whatever I feel like making.
Feel free to add and extra spices that you like to these easy and healthy dinner recipes.
If you're into a simple version of freezer cooking, check out my book Smart Way Cooking. I share tips and recipes there on how to cook once and eat for 3 more meals. These are tried and tested recipes that double or quadruple well.
I show you how to cook this multiple meal and eat the meal the evening that you make it. Then put the other 3 meals into the freezer for another busy day.
I hope this post has been helpful to you and has given you lots of good ideas for easy and healthy dinner recipes.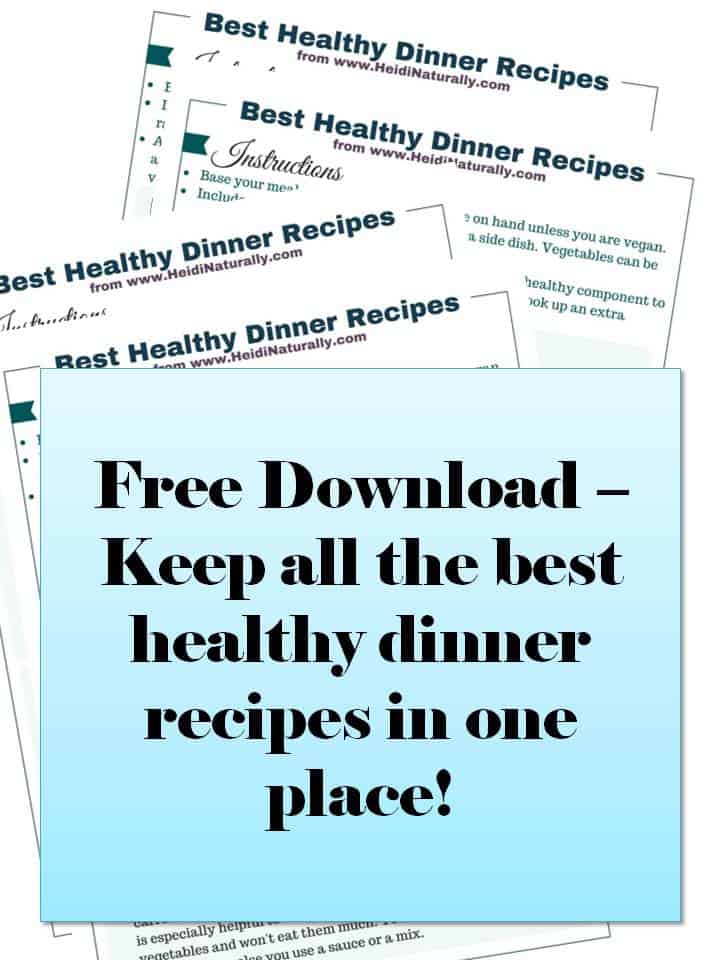 This post contains affiliate links. A referral bonus is paid to me, at no cost to you, for recommending products to you to help keep this blog going.