Best 10 Minute Easy and Healthy Meatloaf Recipe for Families
Our Favorite Healthy Meatloaf Recipe
Some recipes are just staples in our house and this healthy meatloaf recipe is certainly one of those. My family often asks "What's for dinner?" and when I say "meatloaf" they know dinner will be good.

Easy Meatloaf Recipe
If you're looking for an easy and healthy meatloaf recipe, you've come to the right place. This recipe has healthy ingredients so moms can make this without guilt.
I would call this a traditional or old-fashioned meatloaf recipe. Since we didn't have meatloaf when I was growing up, this has become my favorite recipe because we think it tastes so good.
What makes this an easy meatloaf recipe? You can throw all the ingredients into a bowl, mix it up, throw it in a loaf pan, and put it in the oven. It's that simple.
Here's My Classic Healthy Meatloaf Recipe:
In a large bowl combine:
2 pounds ground beef, chuck or sirloin
2 c rolled oats (organic is best)
3/4 c onions, minced (frozen or dehydrated is fine)
3/4 c green peppers, minced (frozen or dehydrated is fine)
2 eggs, slightly beaten
1/2 t salt
1/2 t pepper
1 T Worcestershire sauce (or my favorite, Braggs Liquid Aminos – much better for you and lots less sodium!)
1 t dry mustard
Optional: add 1/4-1/2 c pureed vegetables from your freezer (squash, carrots, cauliflower, etc.) for added flavor and health benefit. This is especially helpful to use when your kids or husband don't like vegetables and won't eat them much. You can sneak them in here and anywhere else you use a sauce or a mix.
Mix all of the above ingredients in a bowl. Sometimes I use my hands at the end to get everything mixed in really well. Then just put the mixture into 2 loaf pans (Pampered Chef stoneware are my favorite).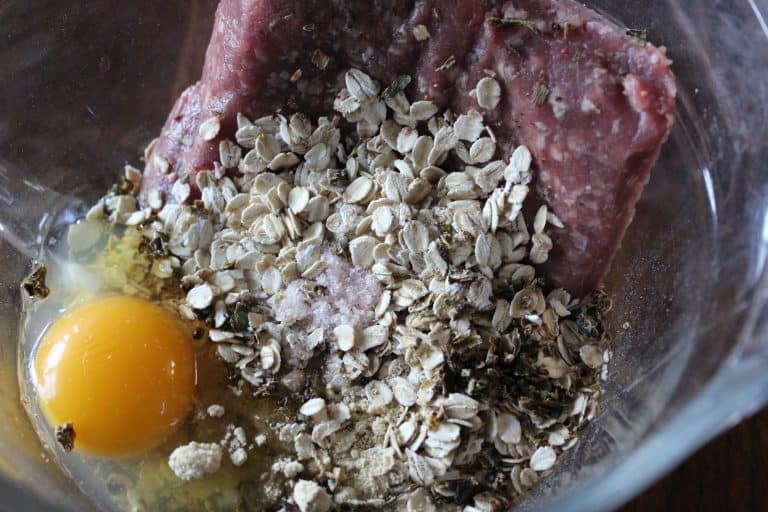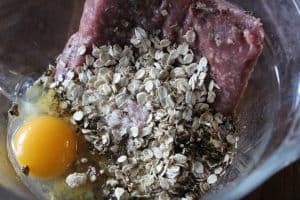 This recipe makes 2 pans so if you don't need that much, just cut the recipe in half and use one pan.
Bake for 40 minutes at 400 degrees.
Serve with mashed potatoes, steamed veggies, and a salad for yummy side dishes. This meal can become a comfort meal and still be fairly healthy.
Variations on this beef meatloaf recipe:
You can substitute turkey for beef to make this a turkey meatloaf recipe. It won't taste the same but is a nice variation if you're trying to limit your beef intake.
Add or substitute vegetables for the ones listed here. If your family hates green peppers, consider adding more onions or substituting carrots or another chopped vegetable. You can chop them nice and small with this handy chopper so your family might not even notice there are vegetables in this recipe.
For mini meatloaf, just put the ground beef mixture into muffin tins or mini loaf pans instead of the regular loaf pans. You will not need to cook them as long, so be sure to adjust the baking time.
Some sources say that meatloaf is not that good for you but making meatloaf at home is certainly a better way consume it. You can add less salt or use a salt substitute like Braggs Liquid Aminos to reduce your sodium intake. Include oatmeal, like this recipe uses, and you will be boosting the health benefits.
How to Make Meatloaf the Easy Way
How much more simple can you get than throwing a lot of good things into a bowl and getting it into the oven in just 10 minutes. I like using my Pampered Chef chopper to make this dinner recipe get done even faster.
I hope you enjoy this simple, yet healthy meatloaf recipe and that it becomes one of your family favorites. We love it and have enjoyed sharing it with you.
If you enjoy this recipe, you will also like the recipes in my cookbooks:
Smart Way Cooking – Spend less time cooking and eat more and better homecooked meals.
Check out my Sloppy Joe Recipe too – Best Sloppy Joe Recipe for Healthy Families.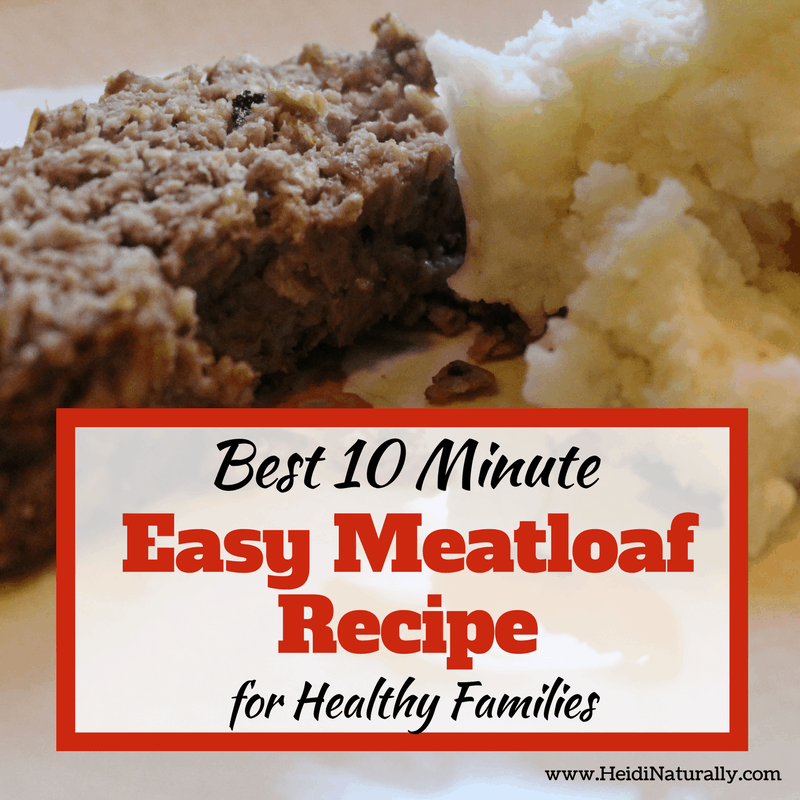 Our Favorite Healthy Meatloaf Recipe