Simple Christmas Decorations – Festive Home All in One Box
Some people are creative and love decorations and decorating no matter how long it takes. I, on the other hand, don't feel like I'm very creative and don't want to mess with changing decorations in my house.
That's why I have come up with this one-box method to make my house look festive with the least amount of effort on my part. You can use 1 box or basket and fill it with these items and I'll show you how to make your house look ready for Christmas.
Here is what you will need for your decorations box:
In a basket or bin, collect some fresh or artificial pine and/or flowers. Add in some fun ribbon that you like and some of your favorite decorations.
Adding a little bit of color in a flower or ribbon can add so much flair to your home and make you feel like you spent hours decorating when you actually just spent minutes.
Look at the baskets or containers that you already have in your house. Do you have areas that you can either empty or add a bow that will take that area from boring to decorated?
Let me preface all of this with the fact that I'm NOT artistic or creative and don't have much of a desire or flair for decorating. I DO like a nice looking house, so that is why I am sharing the little that I know about decorating with you.
Use What You Have
Basket or bin: This can be something that is in your house all hear long or just for Christmas. You can change it for the various seasons throughout the year if you like. Here is a boring basket in our house that holds pine cones all year long. I added some fresh green and red foliage that we found outside at our house and added it to this basket. It's instantly decorated!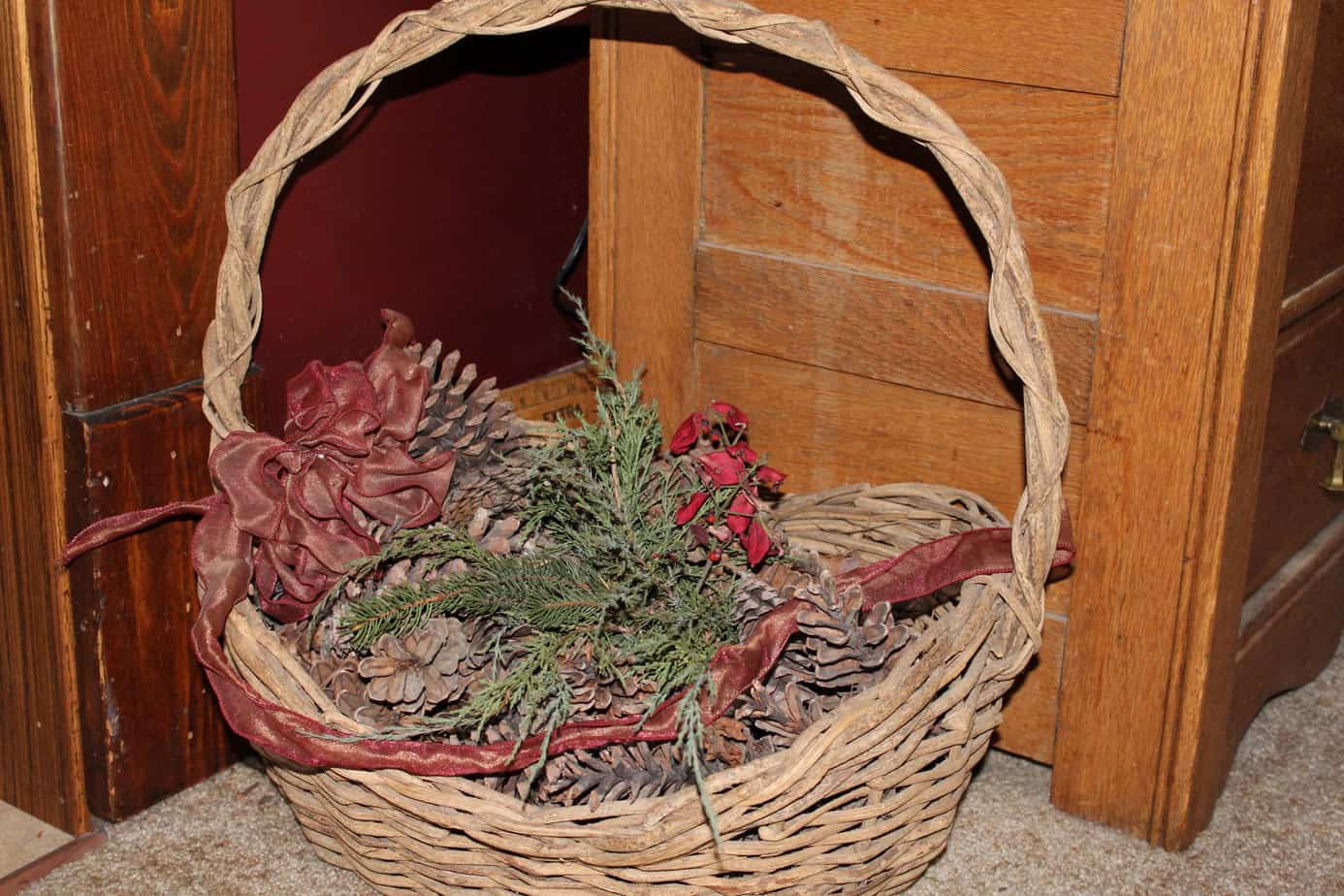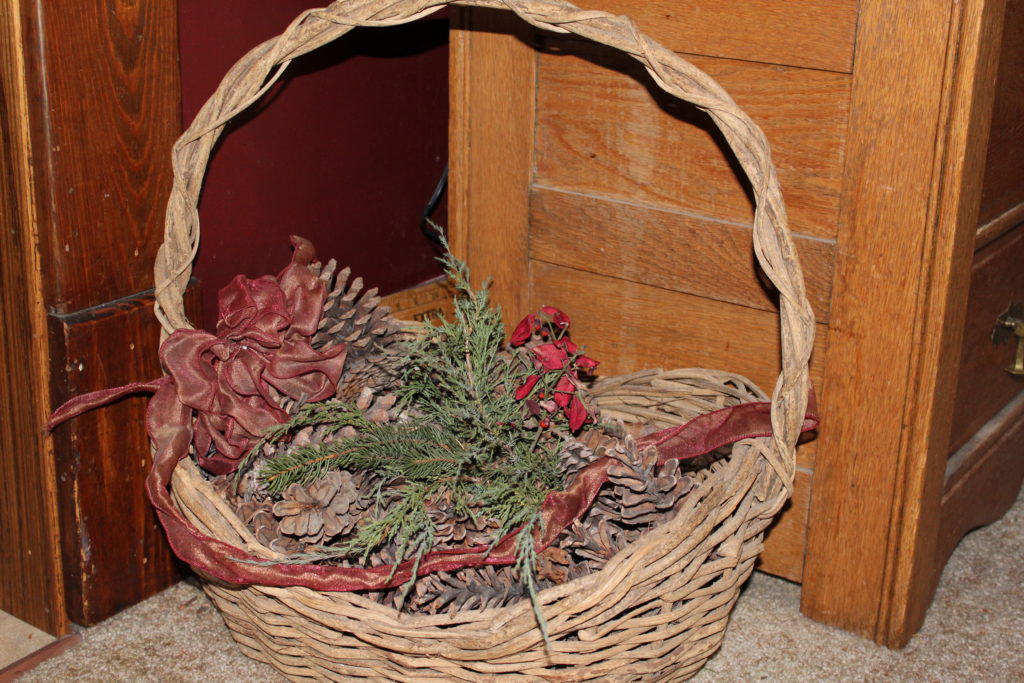 Pine wreath or branches – You can buy this or cut some from a pine tree on your property. A little holly or red branches work well too. Use fresh or artificial pine anywhere you like. Then use it as a filler, on its own as a wreath on a wall or anywhere you want to add some color and fun to your decorations.
As I was adding items to this shelf I just couldn't get it to look right, so I added some fake pine and holly and it filled in the area nicely.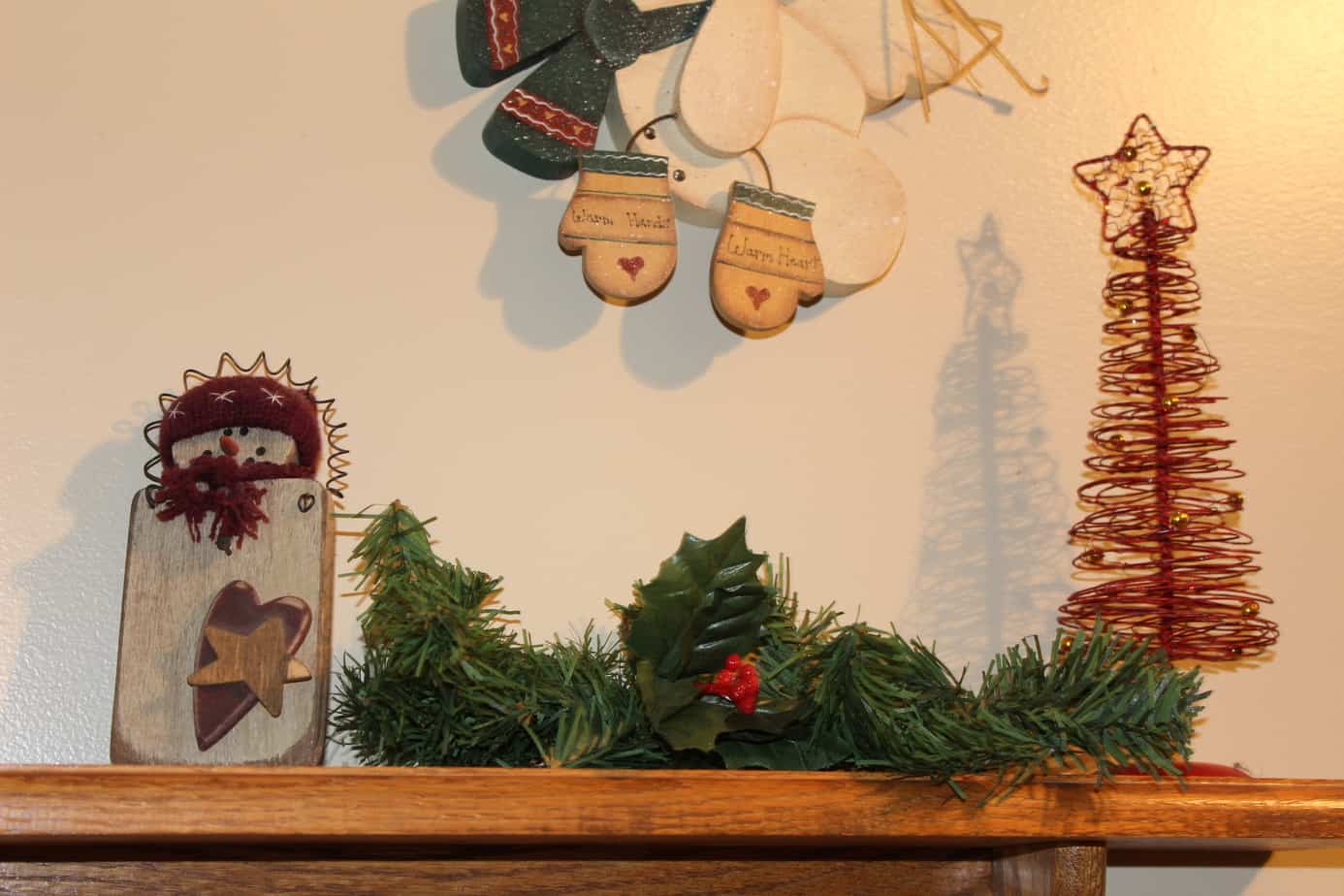 Glass jar or bowl – An empty glass jar or bowl can be filled with lights or ornaments for a festive look. During the rest of the year, this jar holds all the rose petals my husband has ever given me. In addition, you can fill glass mason jars with colorful candies, red and green branches, or some other festive item you like.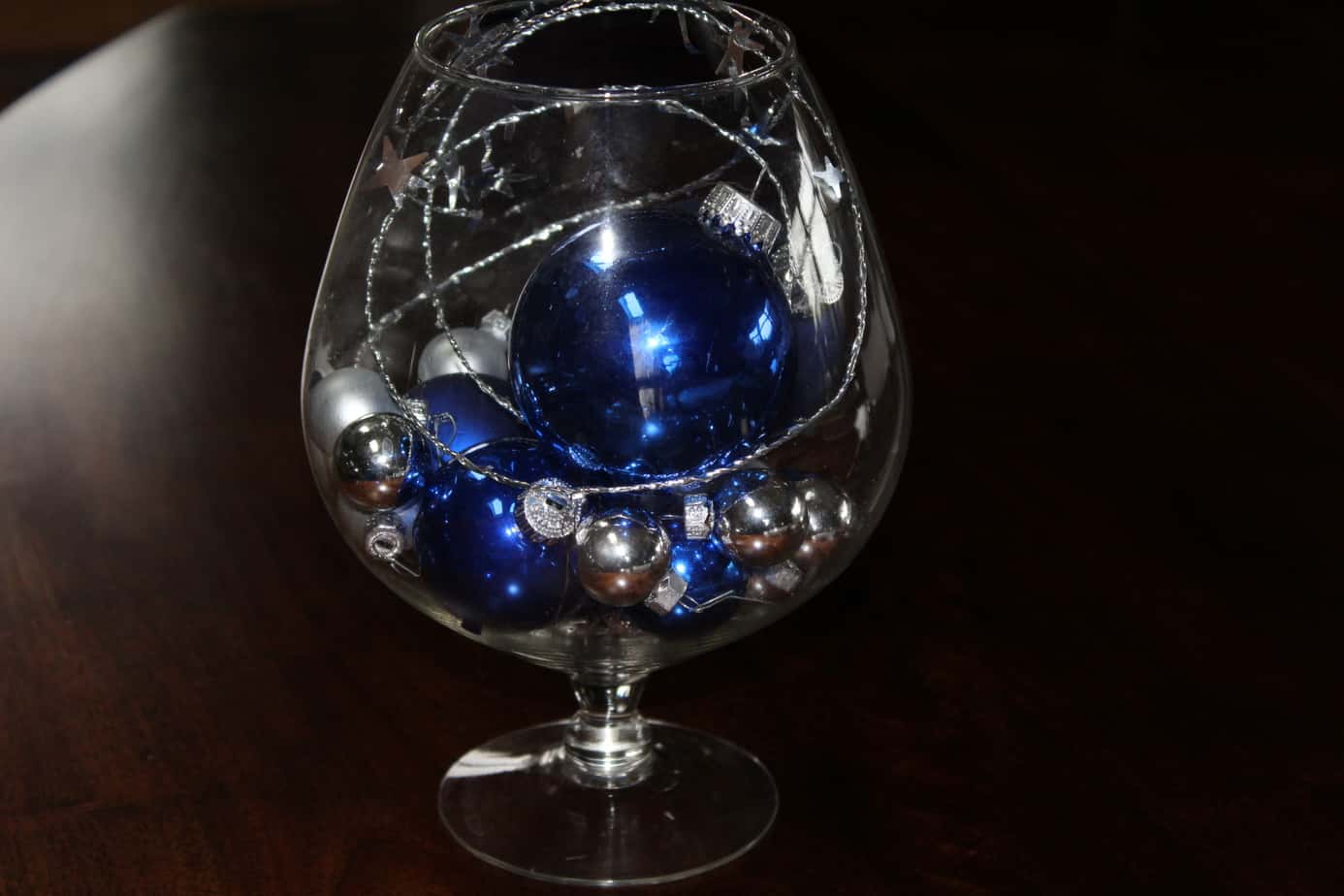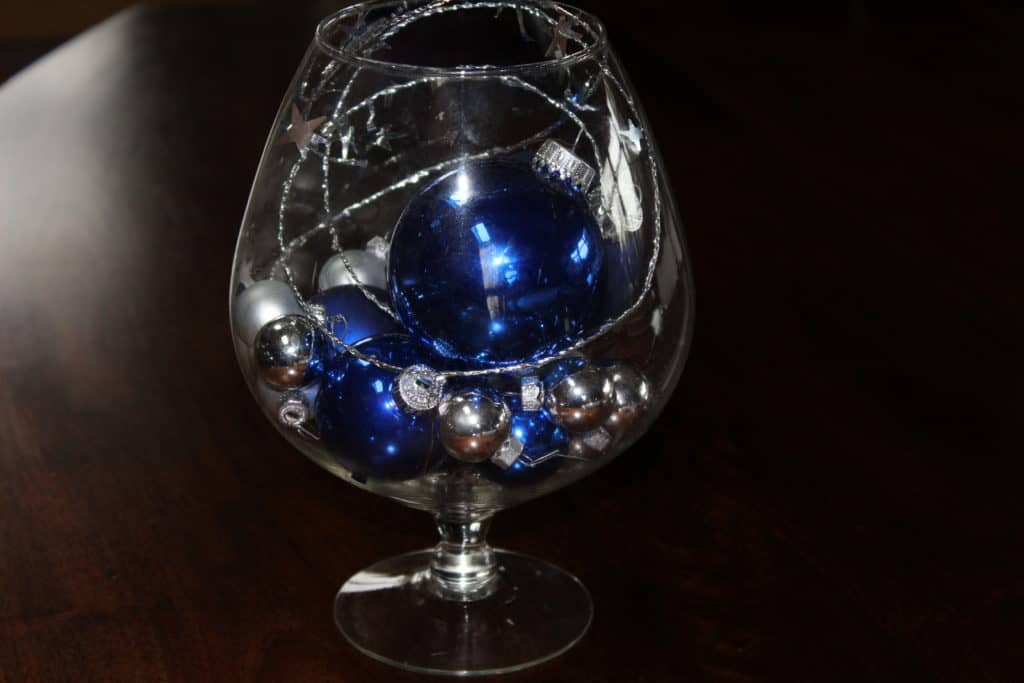 Bows and Little Accessories Can Add So Much Christmas Flair
Bows – These will add that extra pop of Christmas color to any room. Make your own bows from ribbon you like or buy some. If you don't like bows, find something similar to bows that you like. Here is a plain planter that we have in our kitchen where I added a bow to decorate for Christmas.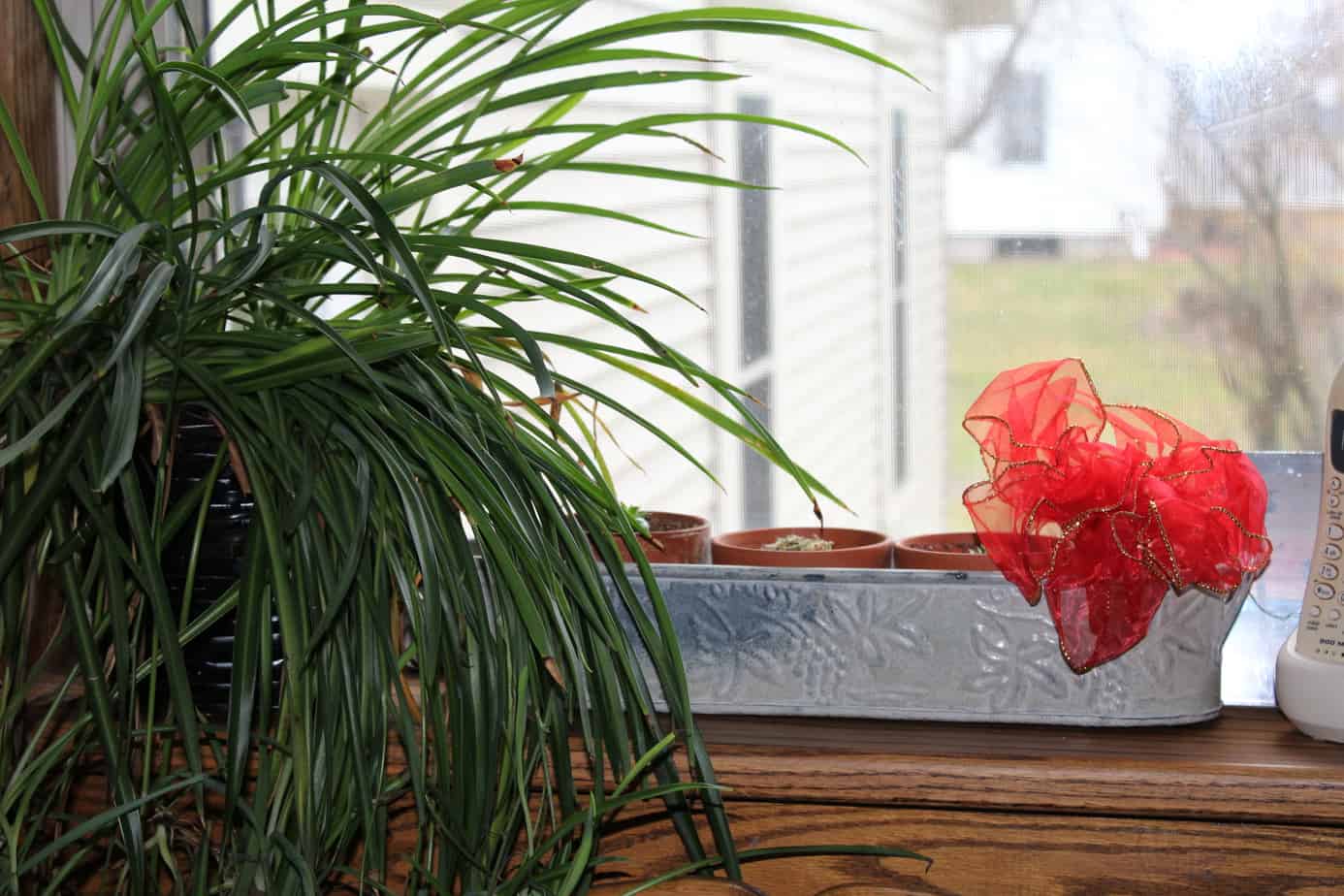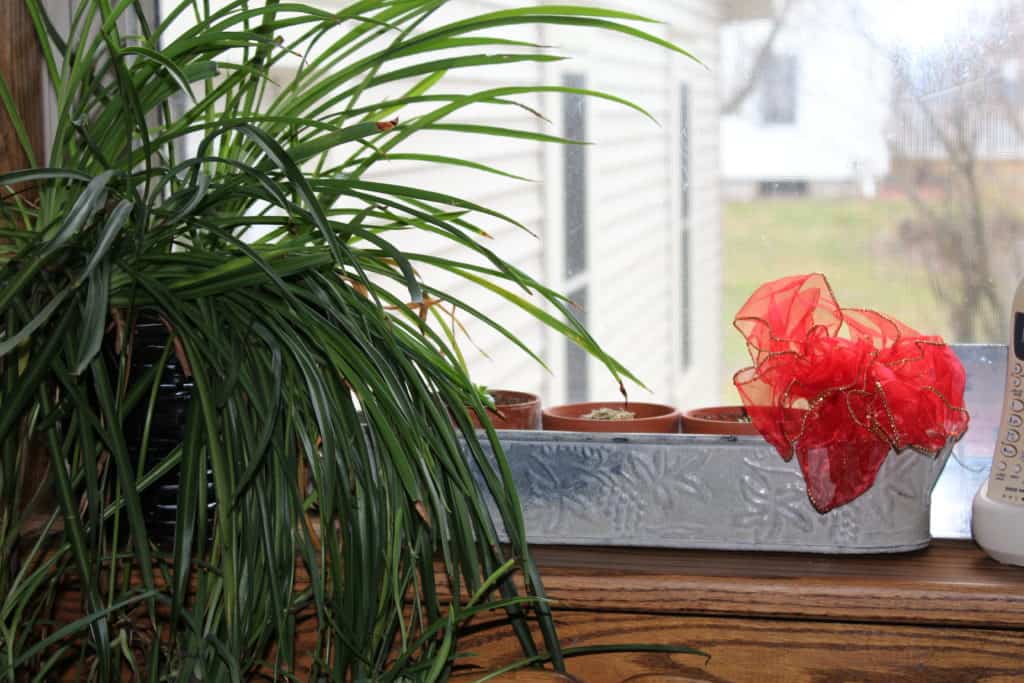 This container sits in our dining room all year but I added a sparkly bow to it to make it look like I spent time decorating for Christmas.
Before and After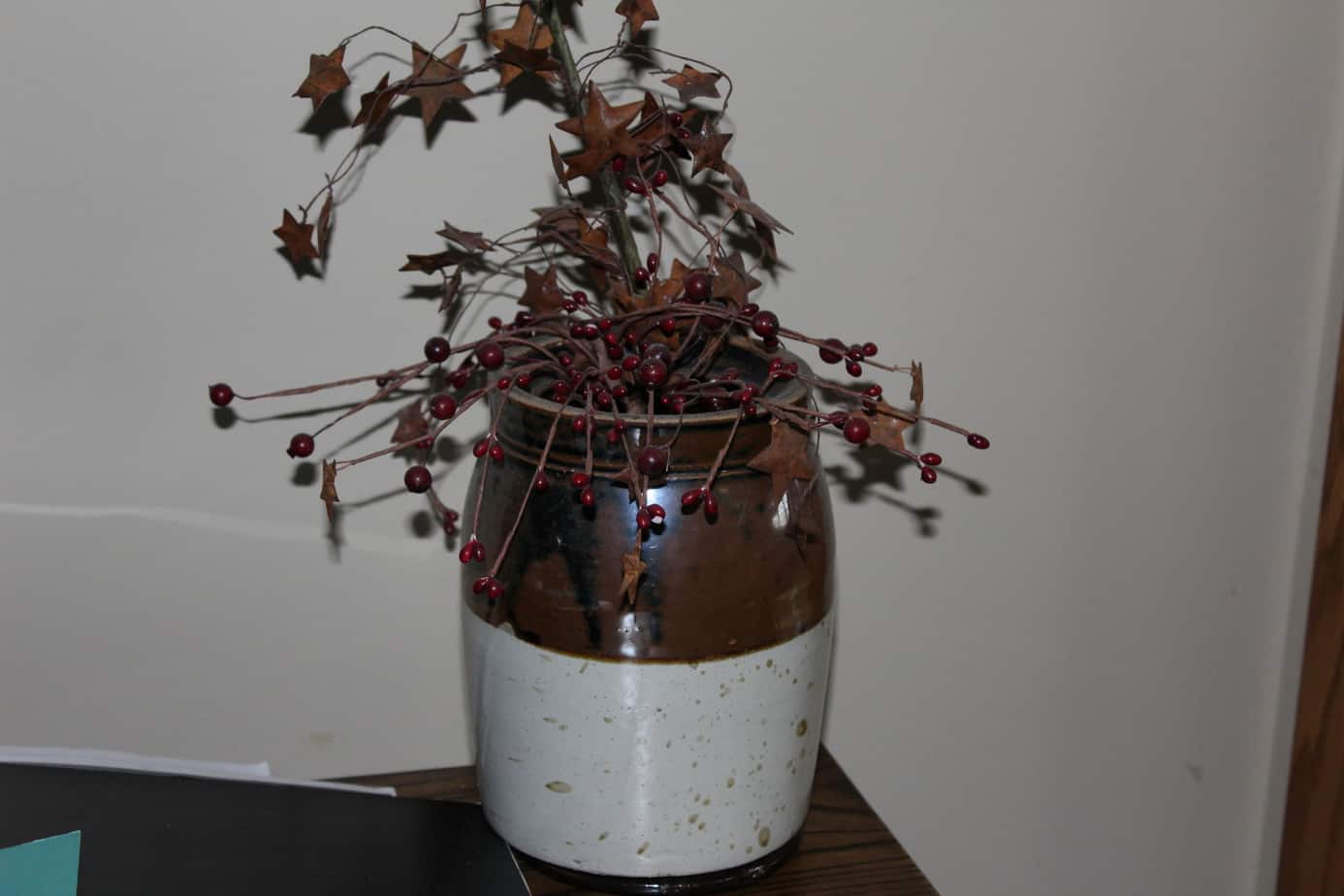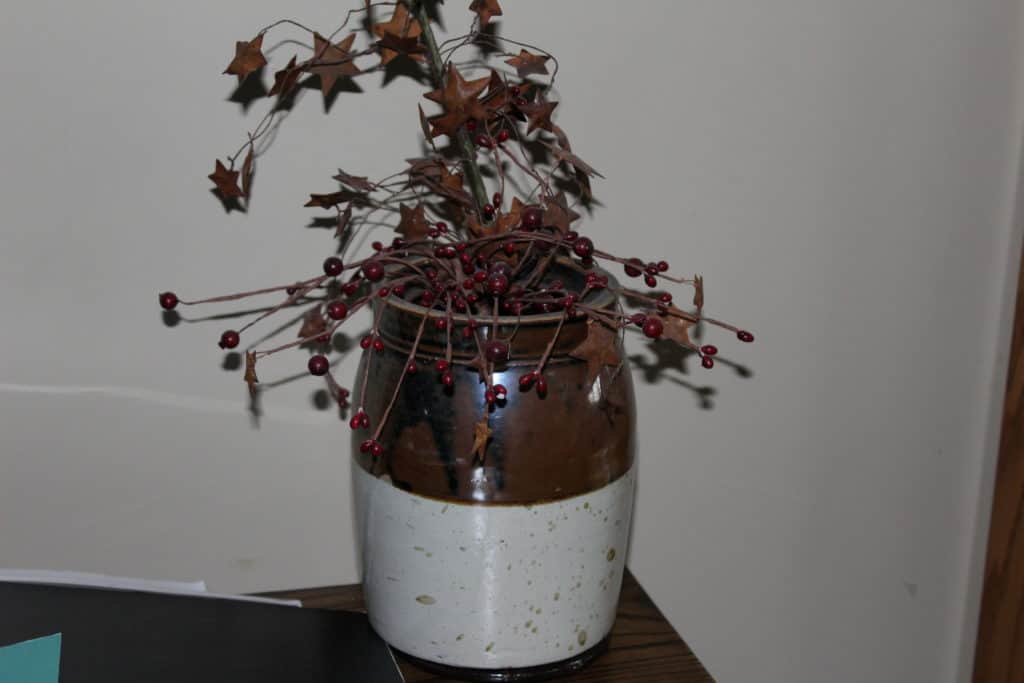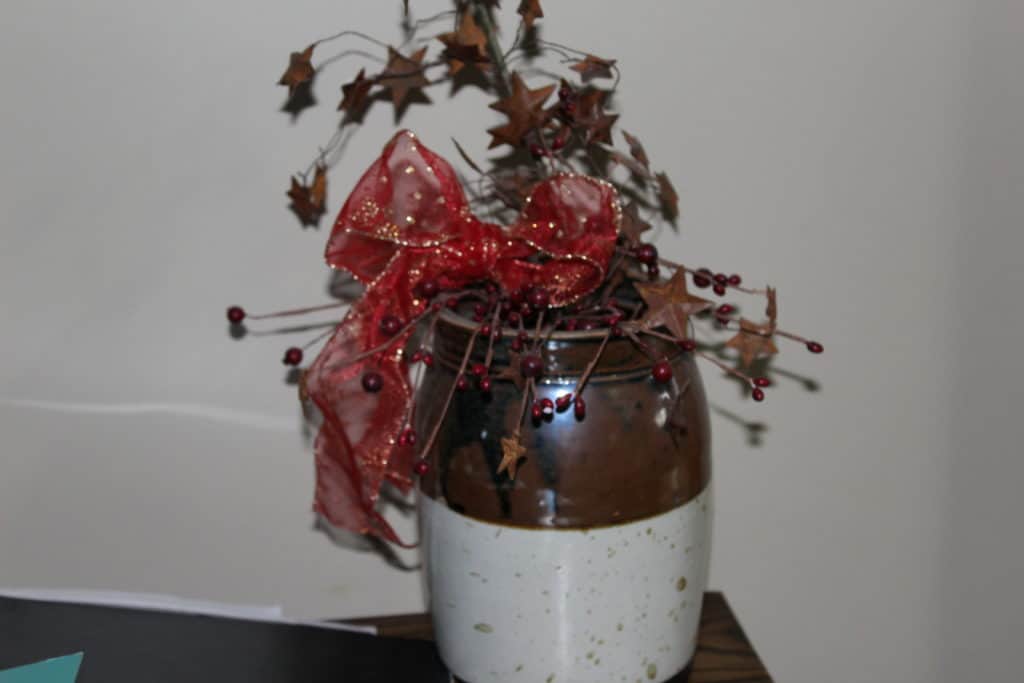 Here is a heart basket that sits on a shelf all year with artificial flowers in it. To decorate it, I just pulled those out and added some artificial red and green foliage. This makes it look like I spent a long time decorating when I didn't.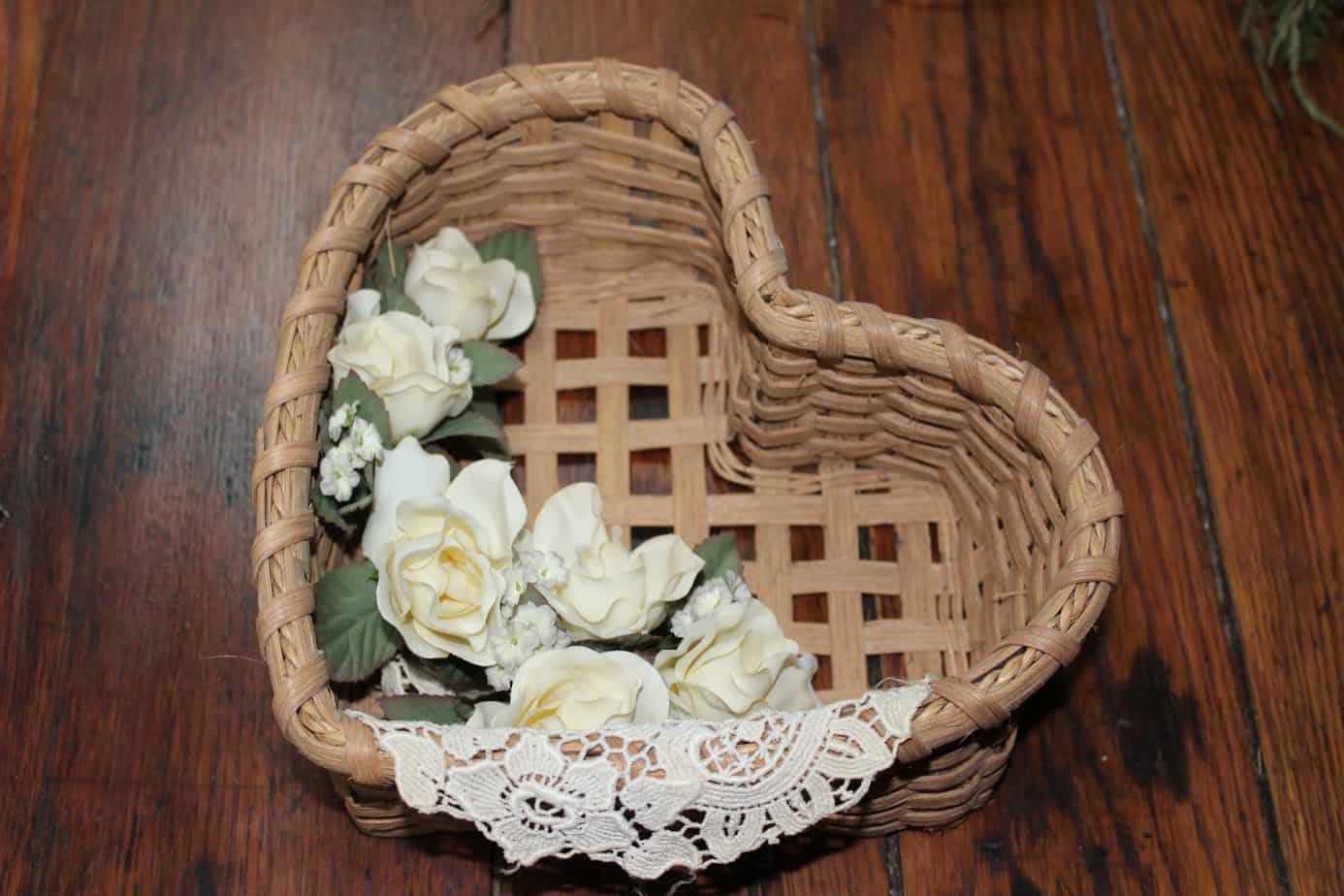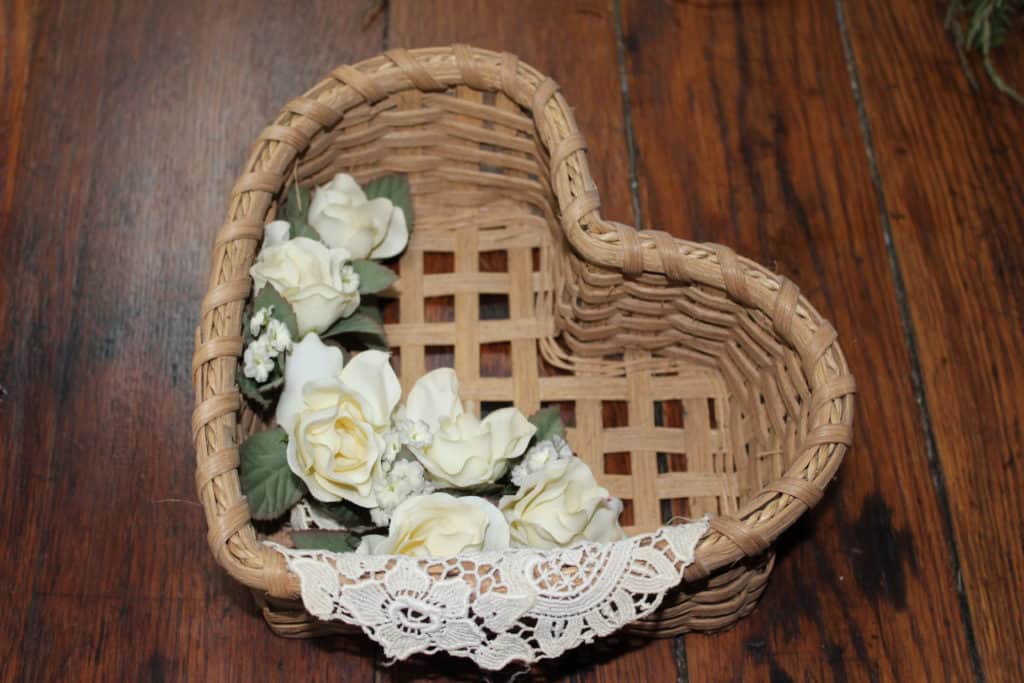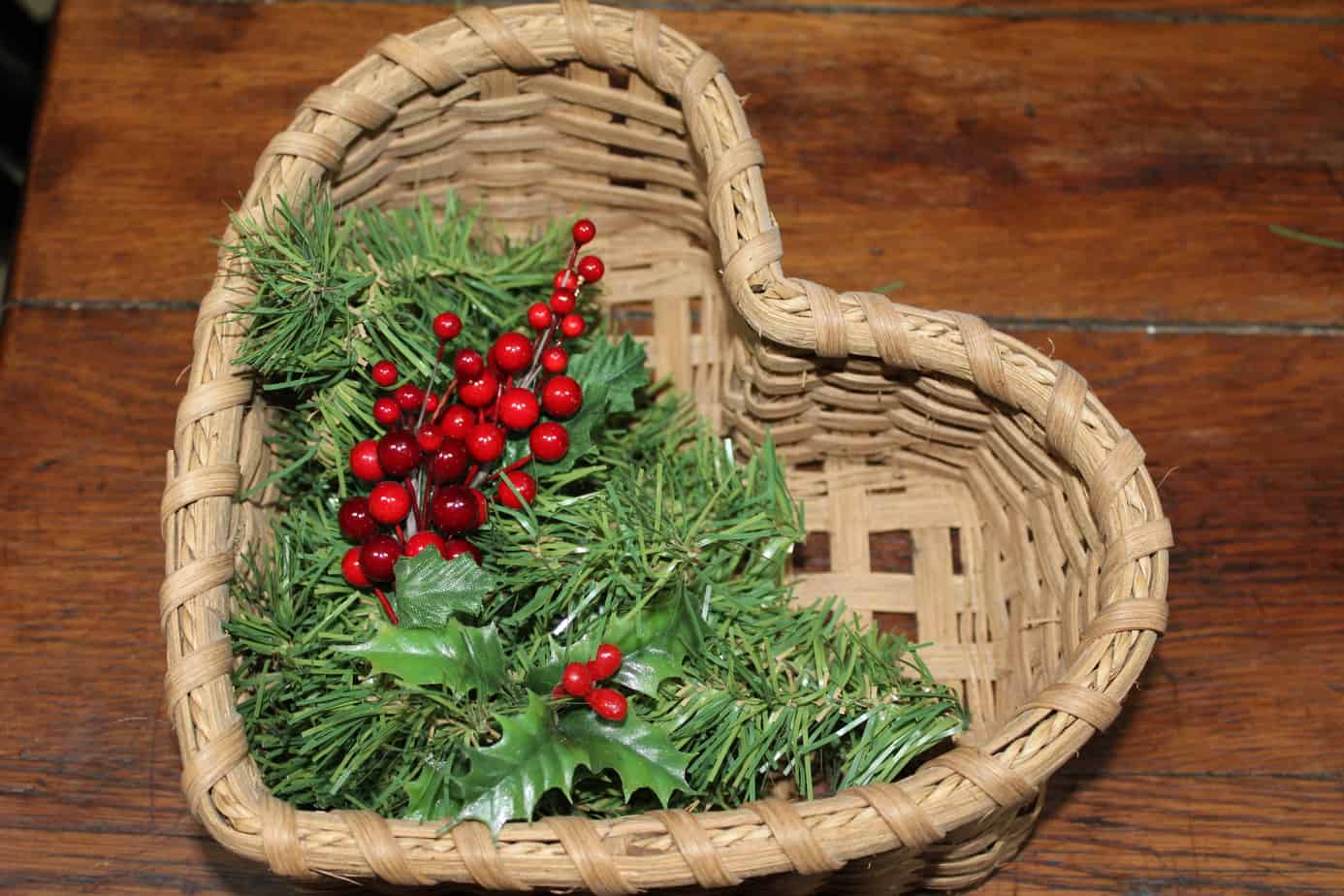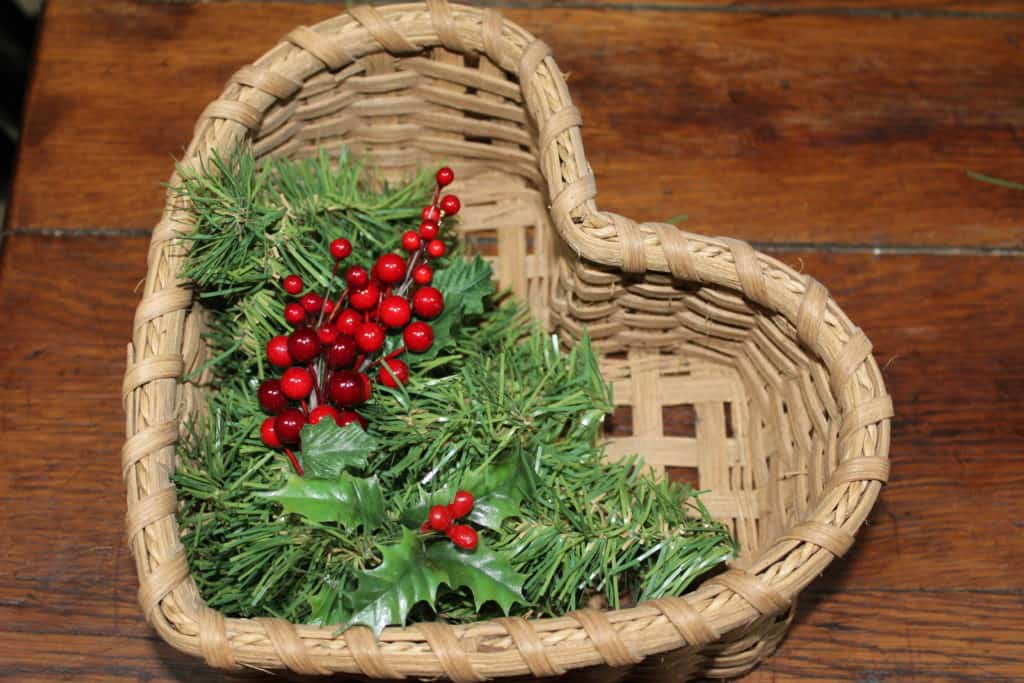 Use What You Have Outside Too!
Here is an old bench that sits outside our front door. I try to change the artificial flowers in it a couple of times a year. At Christmas time, I put these artificial red and white poinsettias into it and it looks like I spent a lot of effort decorating when I really didn't.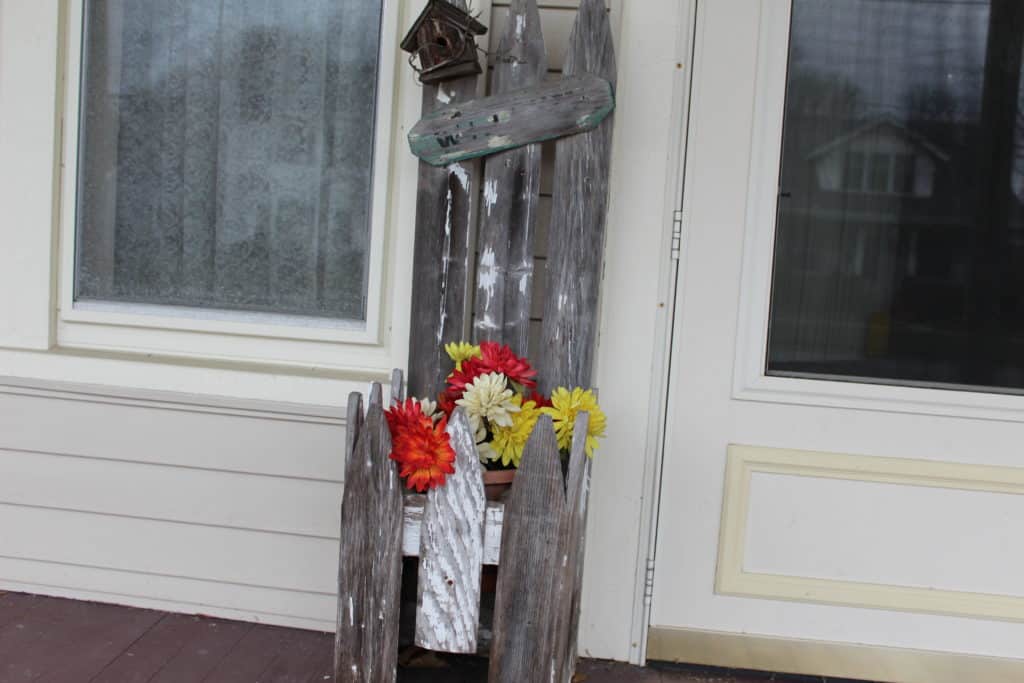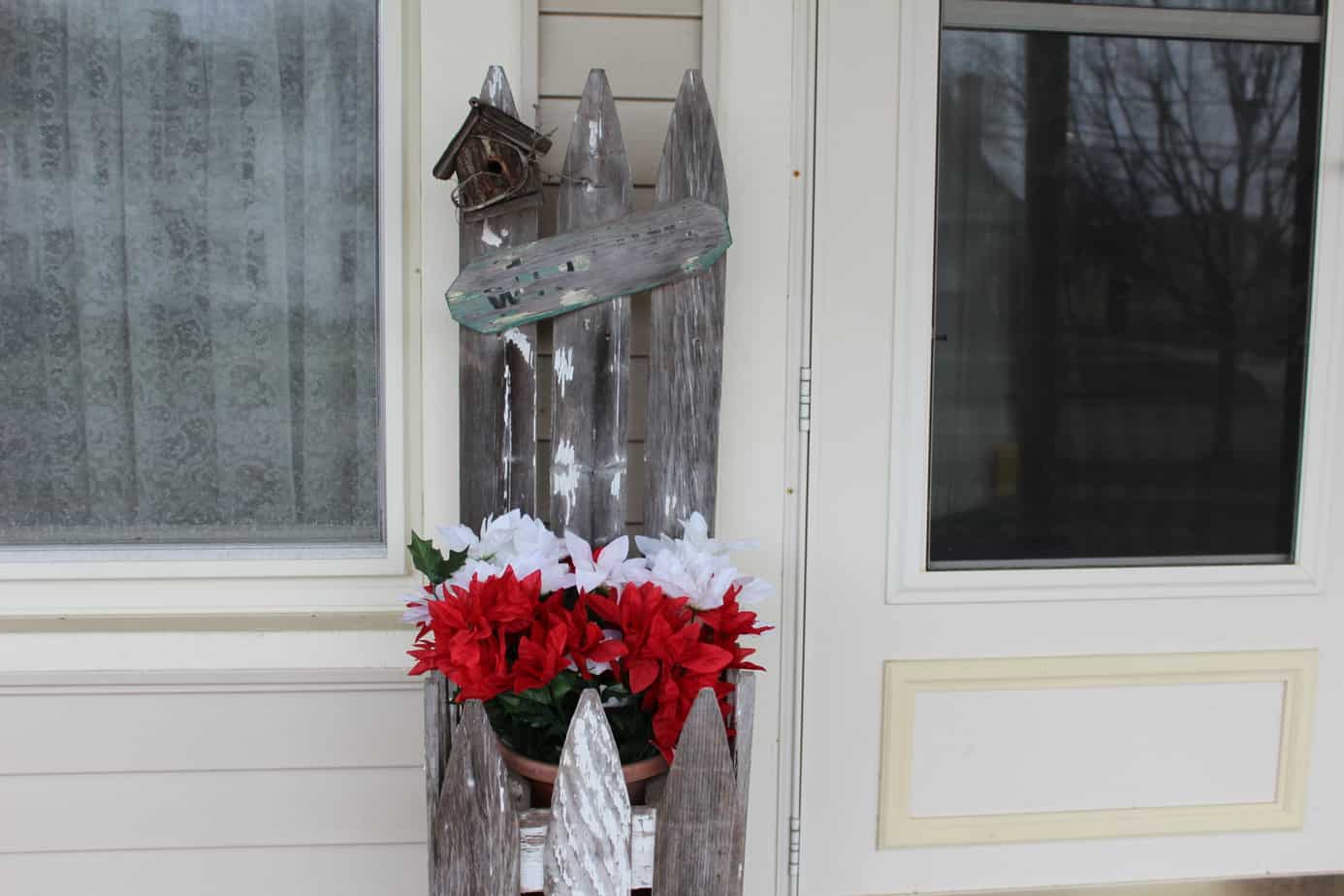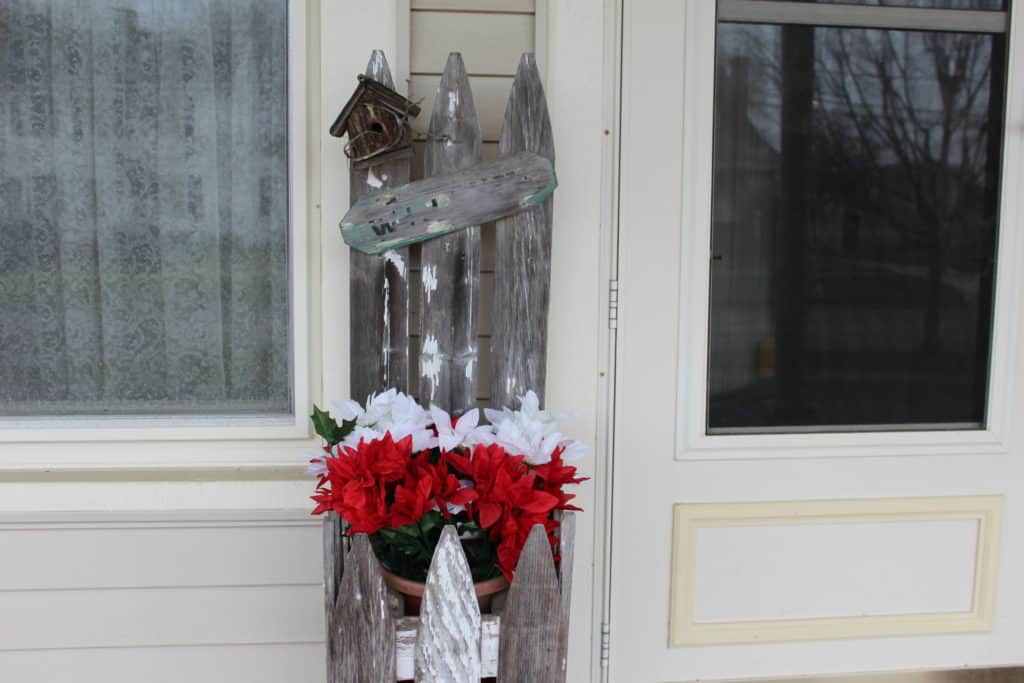 Here is a cabinet in our dining room with some artificial flowers on it. I just pulled these off and added some plastic holly branches and berries and it's all ready for Christmas.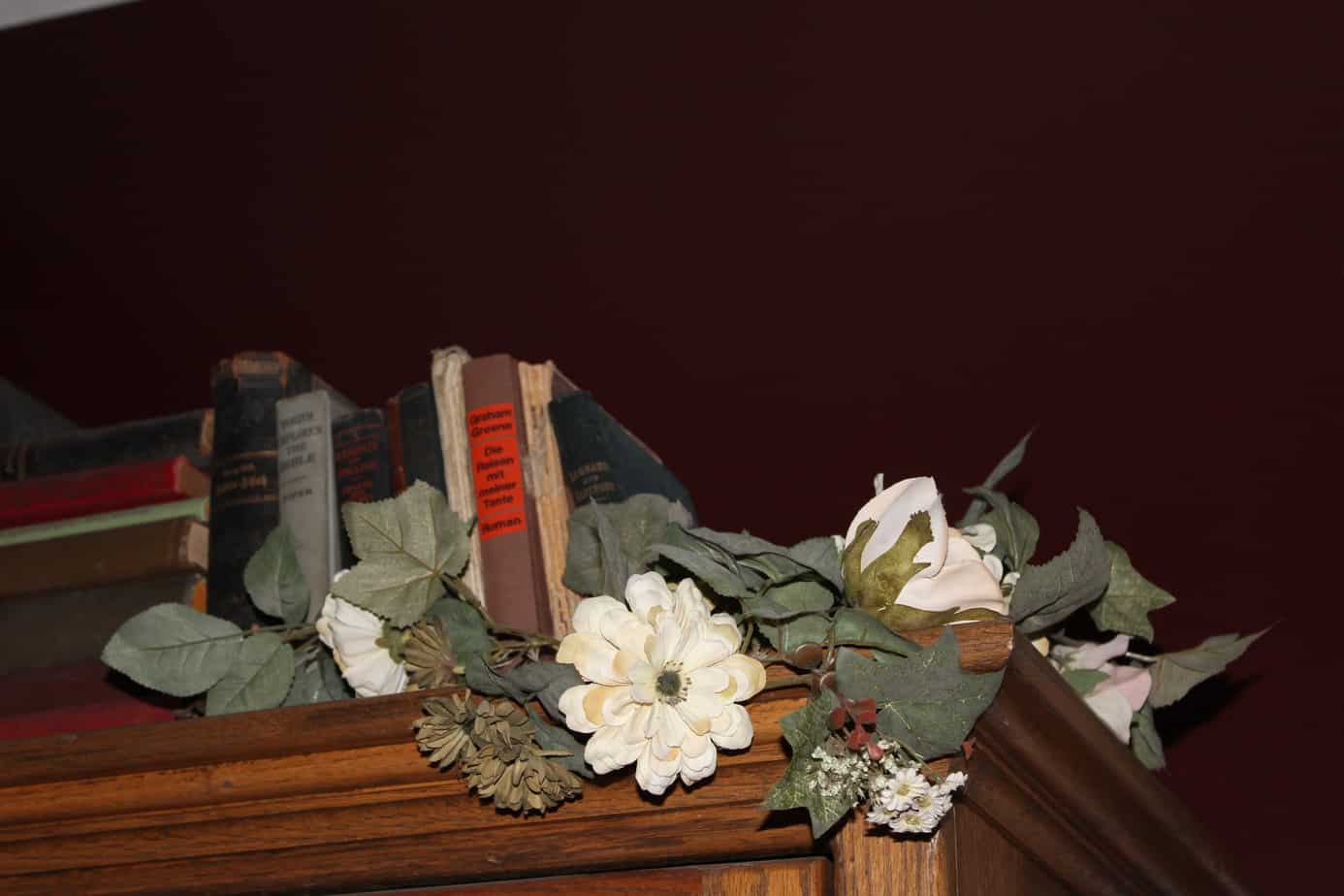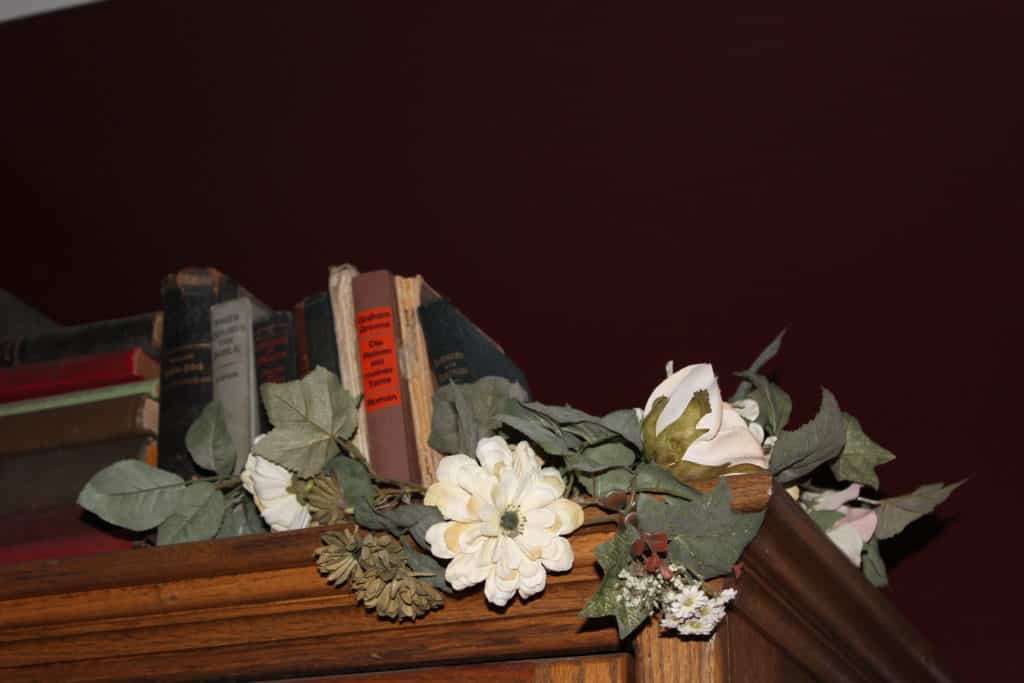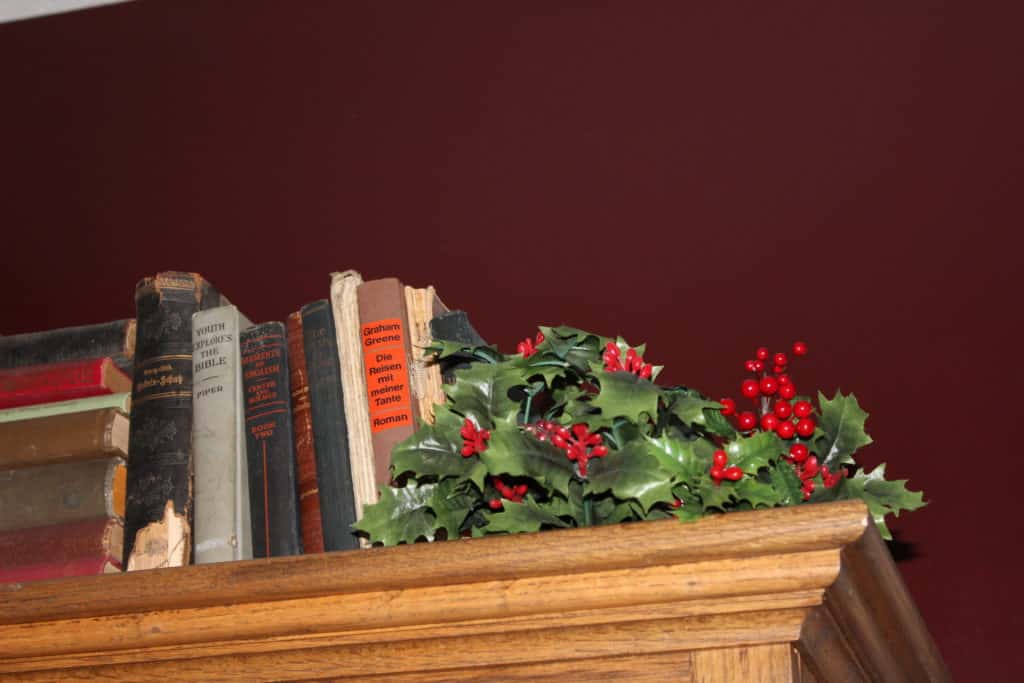 This container looks like a blob, but it's really some lights in a bin. I put some shiny ribbon made into a bow and have this sitting in our living room. You have to see it in person to appreciate it. 🙂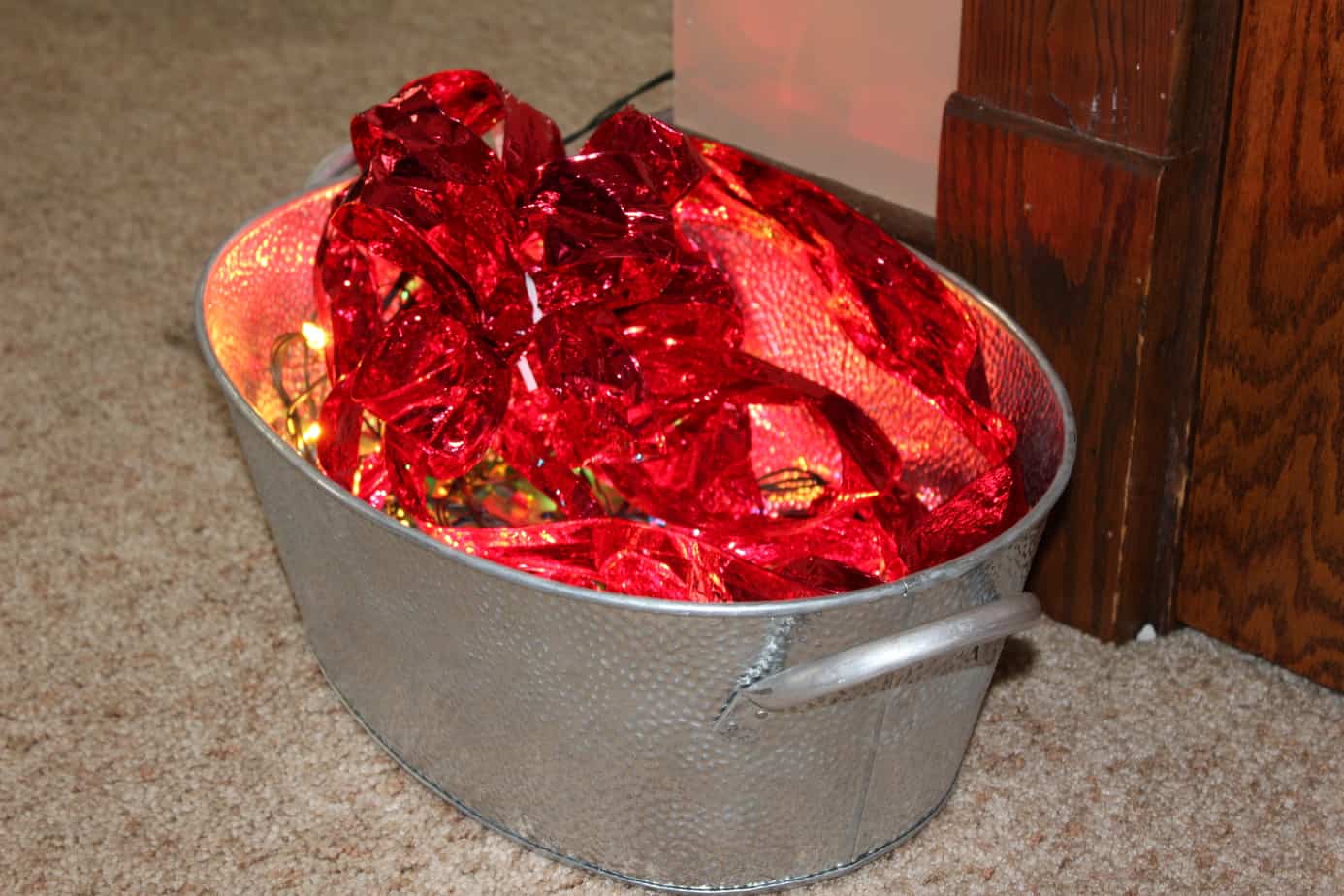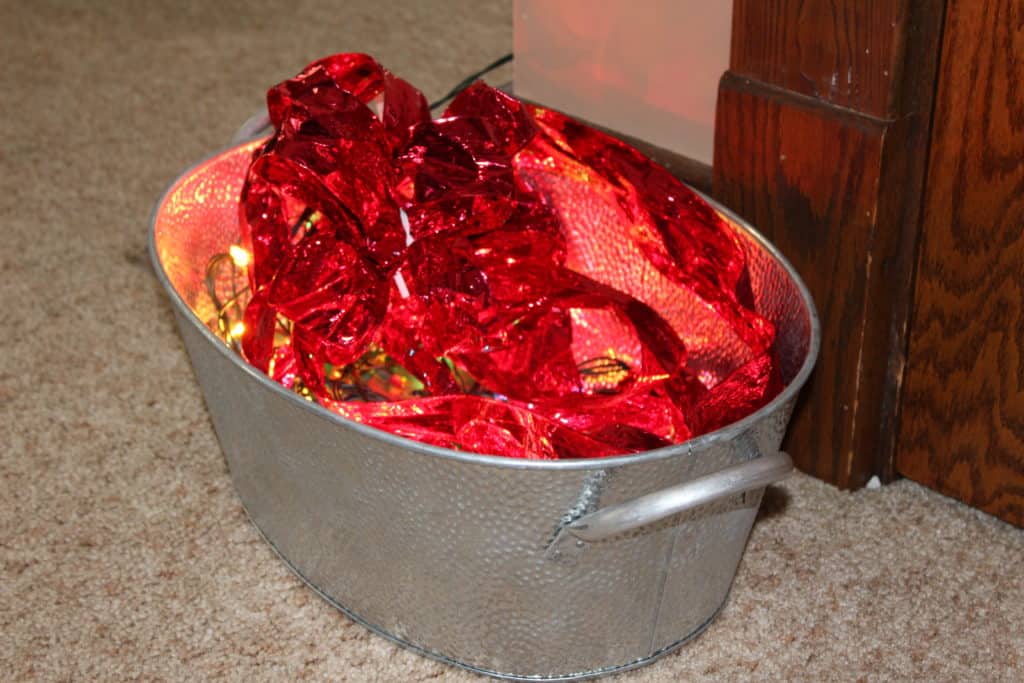 For those who want to take decorating a little further:
I have a few items that I have collected or made over the years that I just like to display. Instead of feeling like I have to decorate the whole house, I just choose these 2 shelves to decorate. I remove everything on them and add my few Christmas items as decorations.
Here are the before and after pictures
Notice that I kept the color schemes the same. The bright red and green colors are on one shelf. Then the dark red and green (more vintage looking items) are on the second shelf.
Shelf #1 – before and after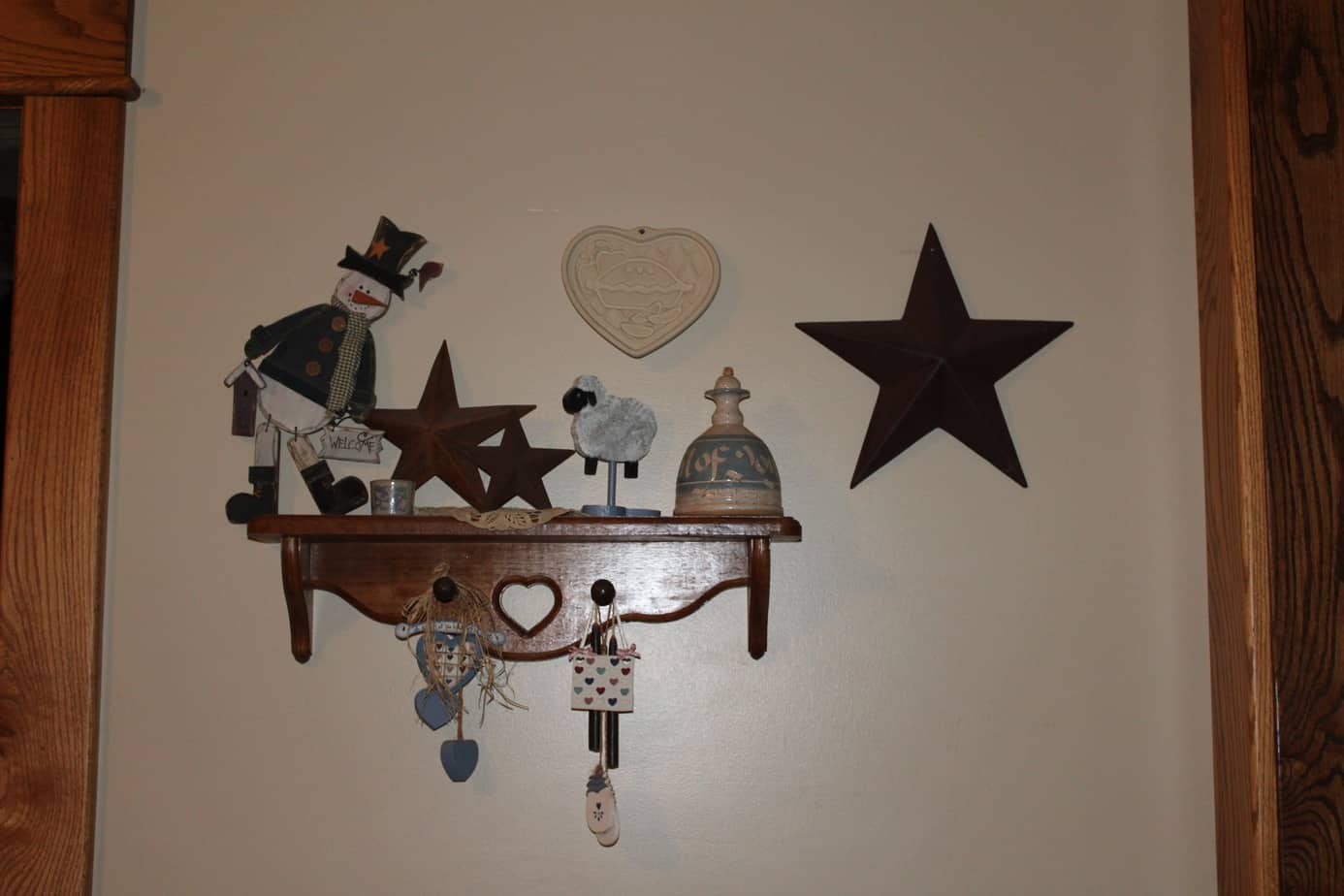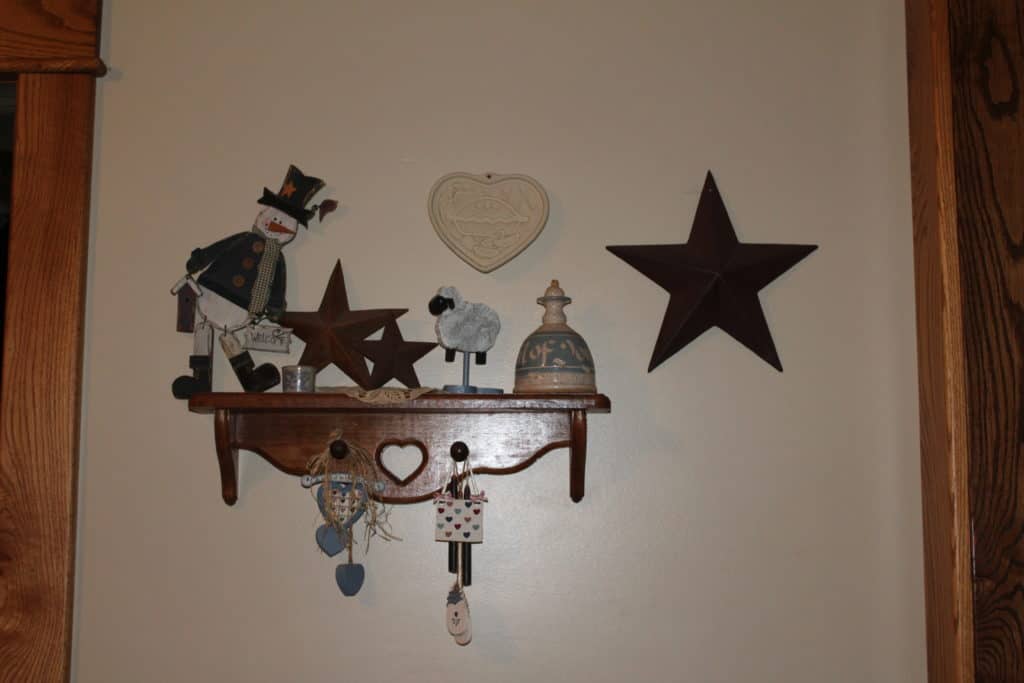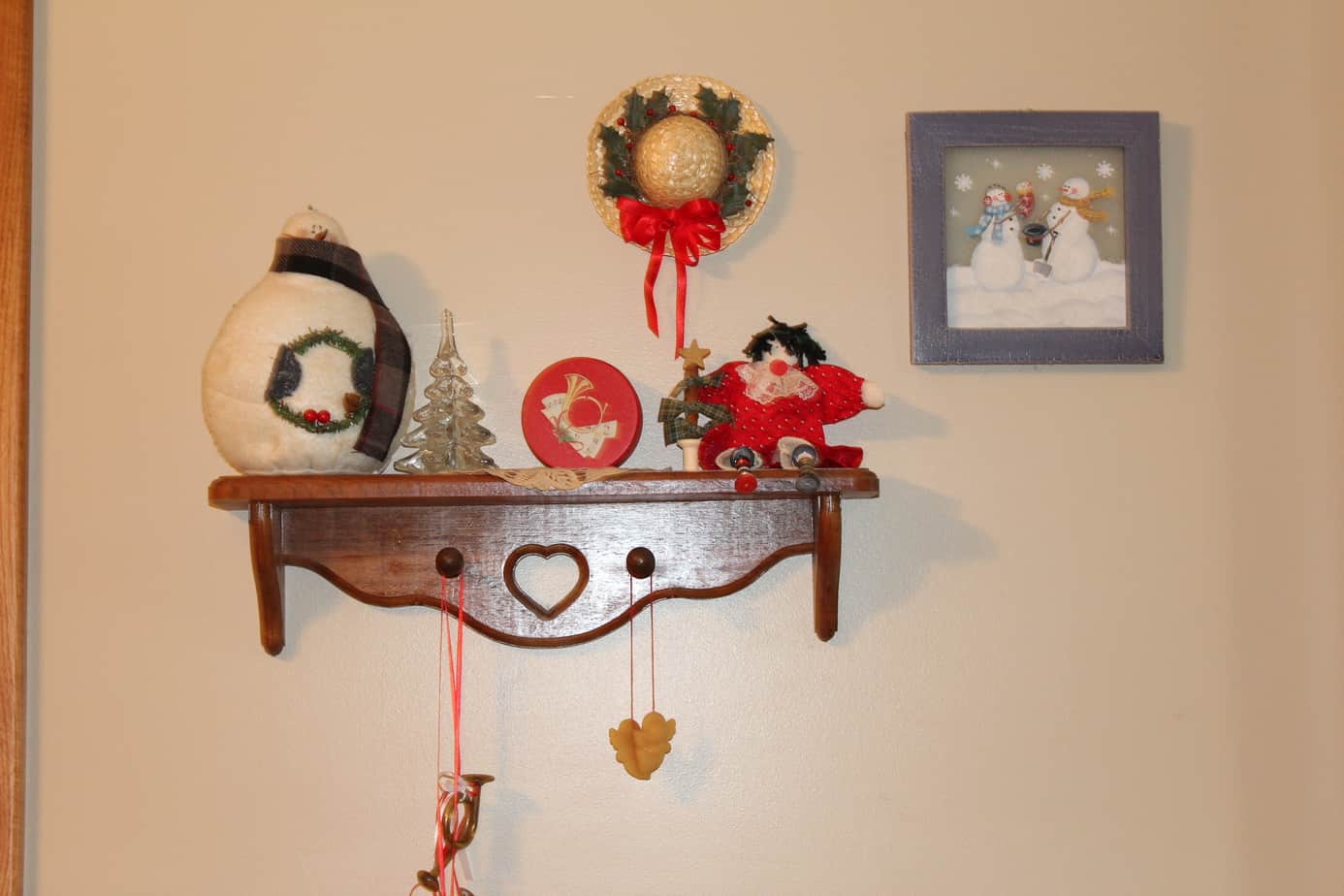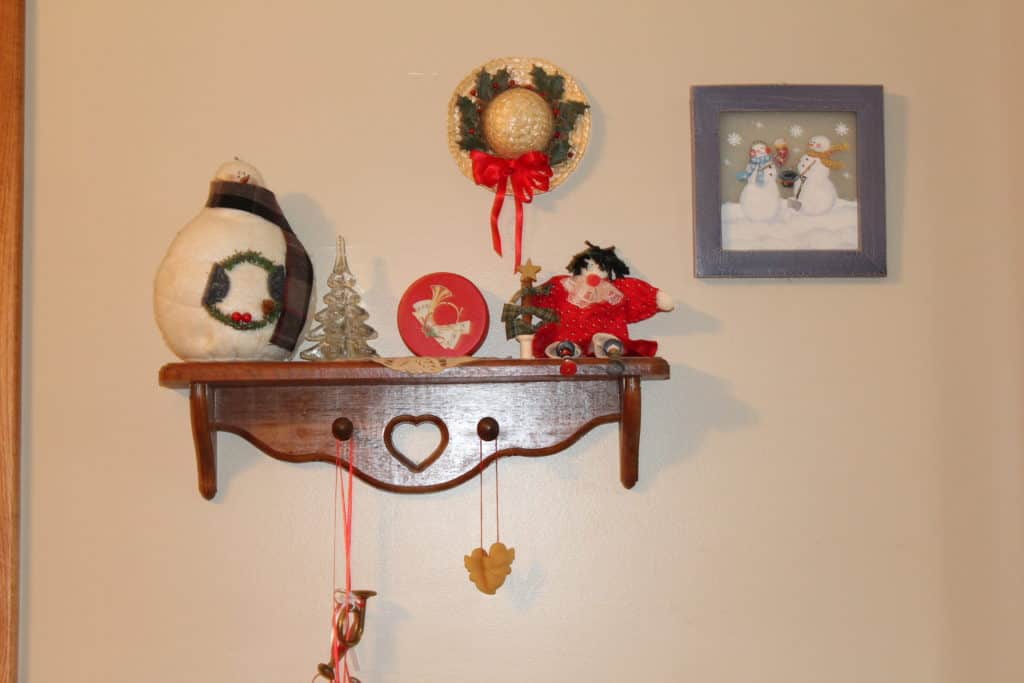 Shelf #2 – before and after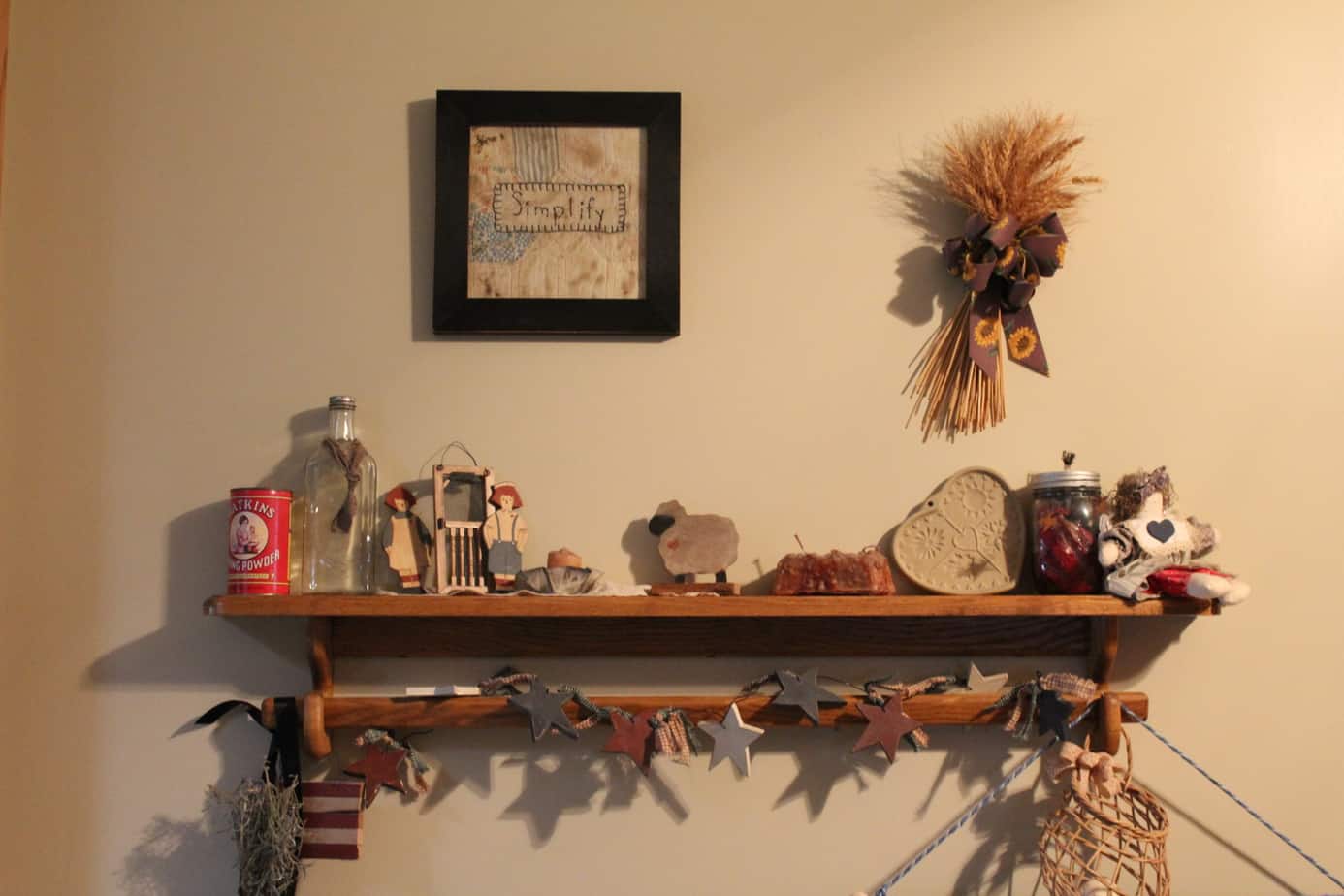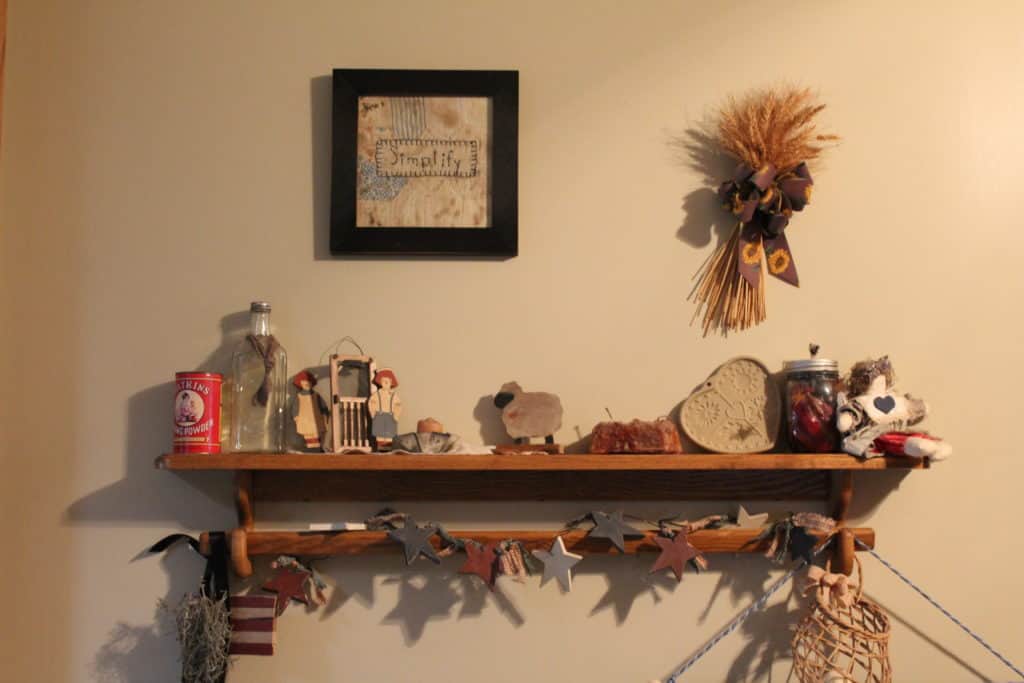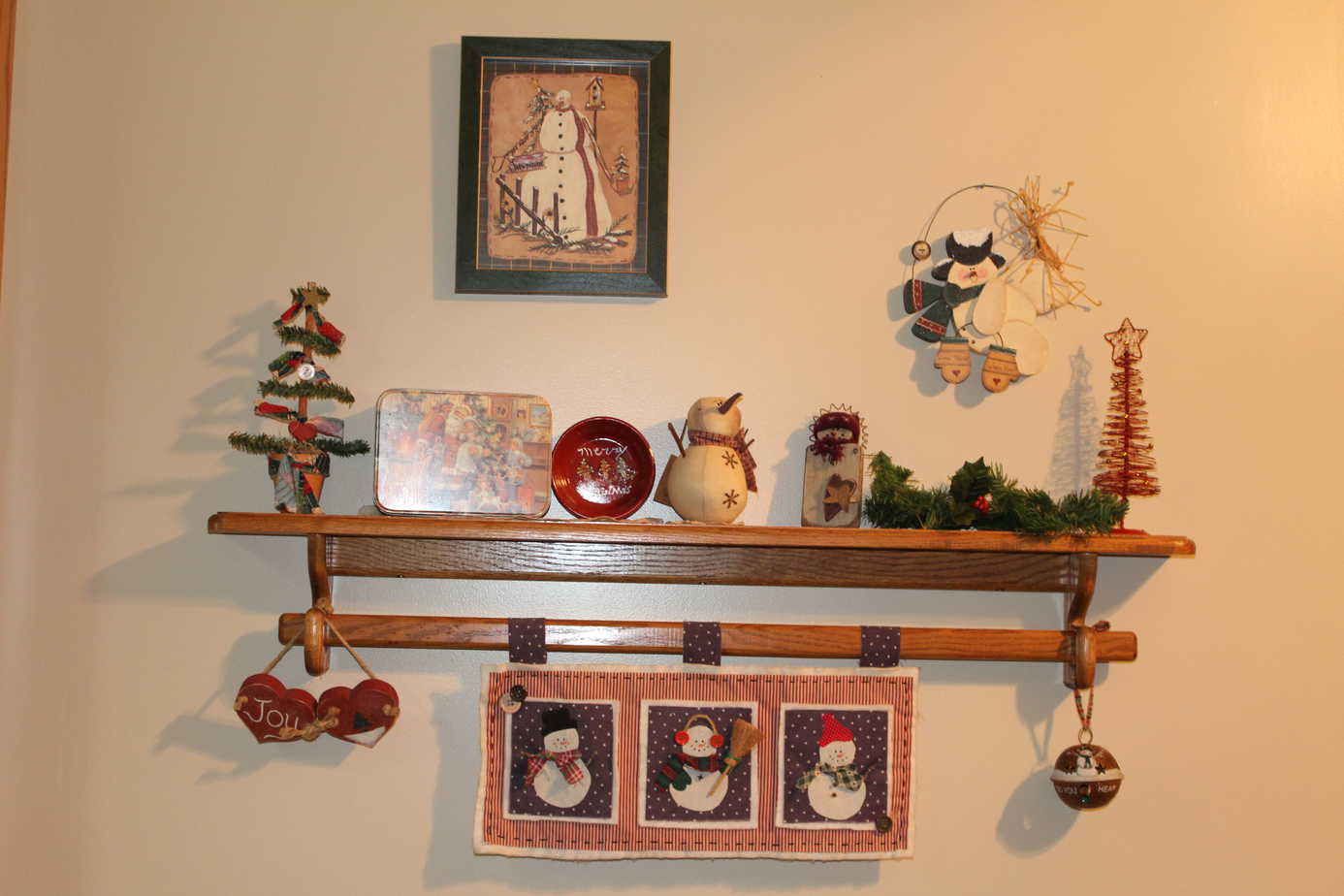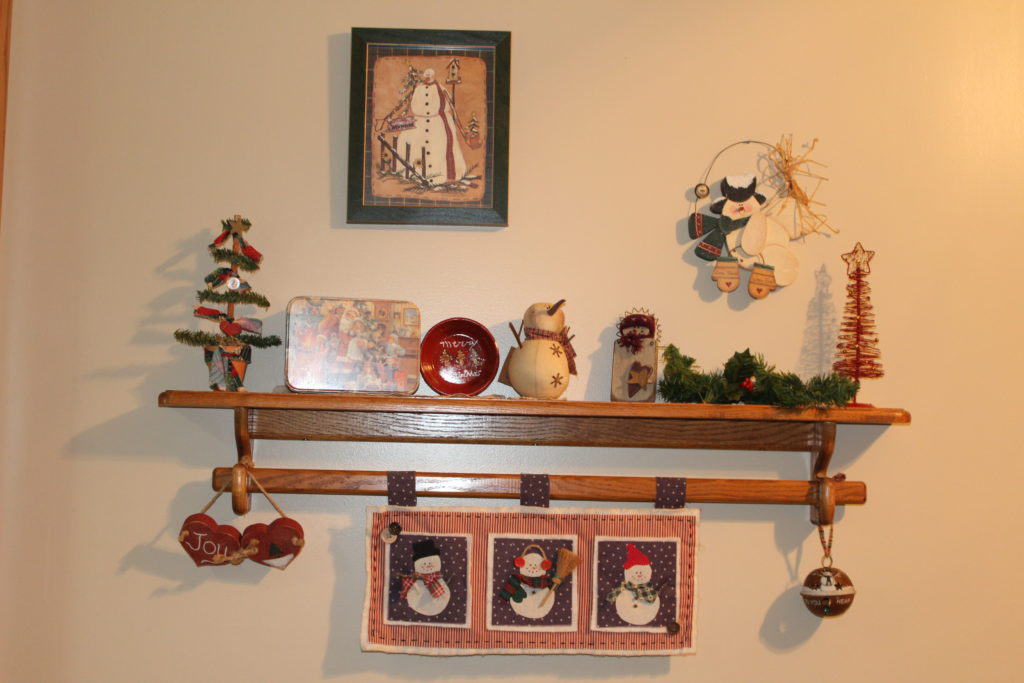 An extra item you can add to your decorations is a chalkboard. These come in all shapes and sizes and can be written on for each season.
I hope you have enjoyed these simple tips from me.
Feel free to check out my other Christmas posts:
Frugal Christmas Gift Ideas when Santa is on a Tight Budget
My Thoughtful Christmas Gift Guide
Simple Holiday Stress Relief Tips and Products
Diffuse Thieves Oil at Christmas