Master Pantry List for Natural Moms – What to Stock for Healthy Meals
Although everyone's pantry list will look a little different, here is a list of what I think natural moms should stock in their pantry. My motto is to remove the bad stuff in the house so we are not tempted to eat it.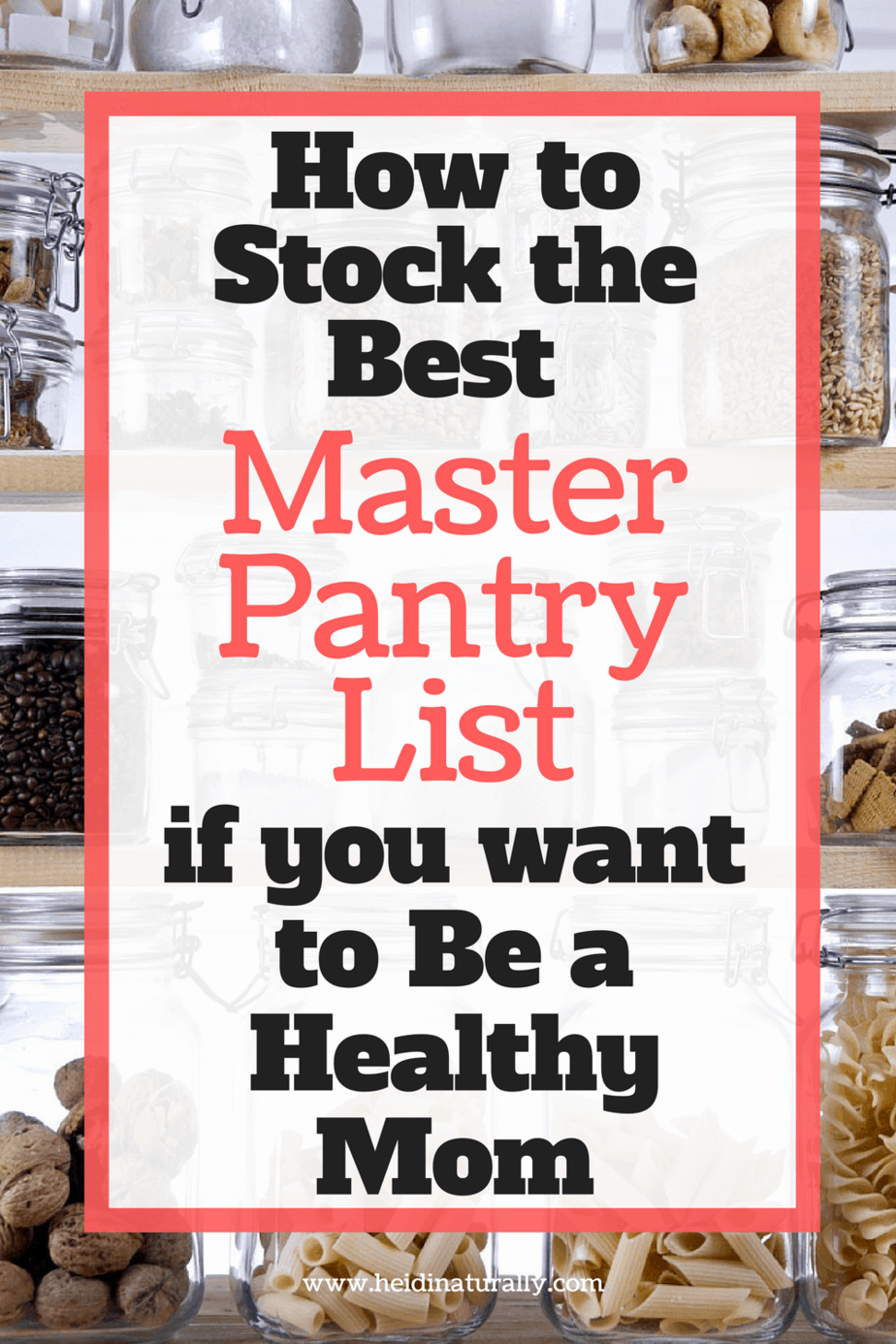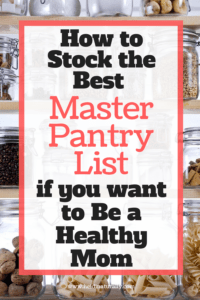 This is by no means comprehensive, but a list of what I stock in our home for optimal wellness. If you find something in your pantry that is not on the list, ask yourself if that item is necessary for your family.
My Master Pantry List:
Baking, Grains, & Dry Goods – baking powder, baking soda, beans – black beans, chickpea, pinto, split pea, & white, Parmesan cheese, non-GMO cornmeal, non-GMO cornstarch, dried coconut, organic rolled oats, organic spaghetti noodles or other favorite shaped pasta, non-GMO popcorn, brown rice, organic brown sugar, powdered sugar (for my son's occasionally baking sessions), wheat bran, yeast, quinoa, gluten-free flour blend, coconut flour, almond flour, cream of tartar, non-aluminum baking soda, arrowroot powder, baking powder, nutritional yeast, corn tortillas (organic, when possible), organic hot and cold cereal for quick breakfasts.
Bottled Goods – almond extract, lemon extract, organic vanilla extract, organic ketchup, lemon juice, lime juice, dijon mustard, apple cider vinegar, balsamic vinegar, white vinegar, salad dressings (natural brands, such as Newman's Own), sugar-free jellies/jams, homemade canned salsa, organic tomato sauce, organic barbecue sauce, Worcestershire sauce, Braggs Liquid Aminos (soy sauce alternative),  olive-oil mayonnaise, Bubbies pickles.
Canned items – organic canned beans: black, pinto, great white northern, canned black olives, jars or cans of sliced mushrooms, applesauce, organic chicken broth, pumpkin, canned or packaged salmon, organic tomato paste, organic tomatoes, crushed and/or sauce, organic diced tomatoes, tuna.
Dairy Items – organic whole milk, unsweetened almond or coconut milk, organic coconut creamer for my weight loss coffee, organic sour cream (full fat), cream cheese (full fat), organic heavy whipping cream, free-range
organic eggs, sliced and shredded cheese (organic, if possible).
Related: 6 Irresistibly Easy and Healthy Dinner Recipes
Fresh Items:
Fruits & Vegetables – organic veggies (as often as possible)- usually frozen or fresh, depending upon what's in season – this includes bell peppers, cabbage, carrots, yellow squash, zucchini, tomatoes, lettuce and spinach, green beans, broccoli, peas, sweet potatoes, baking and red potatoes, onions, and garlic. Homemade pumpkin and butternut squash puree. I sneak these into sauce dishes when I want to add extra nutrition into our meals. Fruit- organic when possible (depending on what's in season). This includes blueberries, strawberries, cantaloupe, pears, peaches, pineapples, kiwis, grapes, grapefruit, and bananas.
Meat – organic grass-fed beef, hormone-free chicken, wild-caught tuna, fresh wild-caught fish, turkey, & nitrate-free bacon.
Nuts & Nut butters – almonds, walnuts, pecans, all-natural almond butter, all-natural peanut butter.
Oils & fats – extra virgin organic coconut oil, palm shortening (great for pies and cookies), extra virgin olive oil, butter (grass-fed when possible), ghee.

Other important essentials:
Other Pantry Items – dairy-free chocolate chips, organic cocoa powder, unsweetened flaked coconut, dry beans: black, pinto, great white northern
Snacks – organic popcorn, organic tortilla chips or baked chips, organic fruit snacks, gluten-free pretzels and crackers, gluten-free cereal.
Spices – allspice, basil, bay leaves, cayenne pepper, celery seed, chili powder, cinnamon, ground cloves, ground cumin, dill, ground mustard, garlic powder, ginger, nutmeg, onion powder, oregano, paprika, parsley, black pepper, Pink Hymalayan salt, rosemary, taco seasoning – homemade recipe, thyme. We also add food grade essential oils to some of our dishes and sauces. These are powerful substances that not only make food taste good but also help your body systems get the support they need.
Sweeteners – wildflower honey, organic brown sugar & raw cane sugar, stevia, xylitol, pure maple syrup.
Check my recommendations for Healthy Foods here.
I hope this master pantry list has been helpful to you. Please let me know if you need clarification on anything here. May your family experience optimal wellness!