How to Make a Healthy Breakfast Smoothie – Favorite Recipe
Simple Ingredients to Make a Healthy Breakfast Smoothie
Looking for the best breakfast smoothie recipe? Check out this recipe with tons of variety to make a tasty smoothie for you or a family member.
Breakfast smoothies are a great way to make a quick and healthy meal to start your day off right. The fun part is that it is so easy to make a variety of smoothies. That way you don't get bored eating the same thing.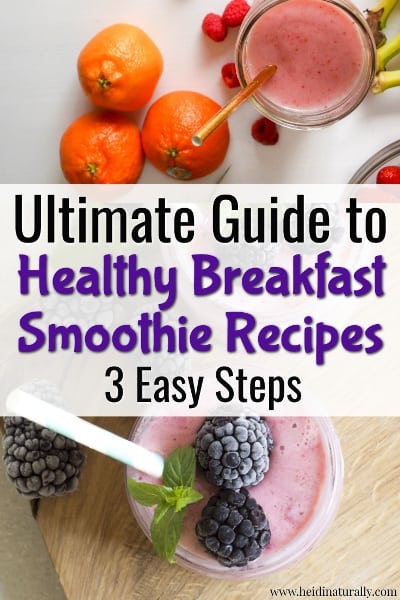 Smoothies don't have to taste bad, but they also don't need to contain unhealthy ingredients either. The green smoothie recipes are often a bit hard to swallow, but there's no need to sacrifice health for taste with the easy smoothie recipes I will list here.
Here's how to make a healthy breakfast smoothie with simple ingredients that are easy to keep on hand. Take advantage of fresh when you can get it, but use your freezer when fresh isn't in season.
Basic Components of My Healthy Breakfast Smoothie Recipe:
Greens (1 cup) – lettuce (spinach, romaine, kale, etc)
Fruit (1 1/2 cups) – apple, banana, berries, grapes, lemon, lime, avocado, melon, mango, orange, peach, pear, pineapple, etc)
Liquid (1 cup) – almond, coconut, rice or cashew milk (unsweetened), tea, filtered water, ice, etc
All you need is a good smoothie blender like a Nutribullet (or Vitamix if you can afford it) and you're all set. Just add all the ingredients you choose into your blender, blend, and drink up.
Extra Protein Some people like to add a scoop or two of a good protein powder at this point. That adds good protein to your smoothie so feel free to do that.
Related: -> Download your Simple Weight Loss Checklist to RAMP UP your Weight Loss RESULTS this Week! <-
Use Your freezer to save money on your healthy breakfast smoothie ingredients
When you see fruits or vegetables on sale, purchase them and pop them in your freezer for future use. Bananas, berries, melons, peaches, pineapples, spinach, kale, and many other ingredients can be sliced or chopped and put into freezer bags.
Variety helps you stick with this program. Since there are so many ingredients you can use to make a healthy breakfast smoothie, you can have a different taste every day. You don't have to think too hard if you just stick with the basic recipe structure.
Make a Healthy Breakfast Smoothie for Weight Loss
Many people drink smoothies so they can feel filled up and not have to think about eating "diet" food. As a result, you get a quick and healthy breakfast. Then you can drink 2 of these a day for even greater meal replacement results.
When you drink 2 a day, you can accelerate your weight loss goals but not feel deprived. You can do it for a set period of time (like 2 weeks) and then go back to drinking just 1 a day.
If this all sounds too complicated, then weight loss coffee might be a better option for you. Or you can drink it in addition to this program and get even better results.
Related: How to Lose Weight With Coffee
Make a Healthy Breakfast Smoothie for Weight Gain
You could probably gain weight with this breakfast smoothie recipe if you added extra fruit and extra protein powder. I would drink these smoothies between meals to add calories to your daily intake.
Extras you can add to your smoothies for extra health and taste benefits:
[bctt tweet="Smoothies are a great way to add healthy ingredients that don't necessarily taste that good on their own." username="heidinaturally"] You can sneak in lots of good-for-you ingredients without sacrificing taste.
Here are some good add-ins to add to your healthy smoothie:
Chia seeds

Flax seeds

Hemp seeds

Protein powder

Spirulina

Chlorella

Maca

Peanut butter

Almond butter

Raw cacao

Cinnamon

Ginger

Unsweetened Greek yogurt and much more
If you feel that your breakfast smoothie is not sweet enough, you can add some flavored liquid stevia or chopped dates to enhance the flavor.
-> Need Healthy Dinner Ideas too? Download my Quick Healthy Dinner Recipes to SIMPLIFY your LIFE! <-
Basic Tips on Drinking Smoothies
Smoothies are a great way to add nutrients to your diet without having to actually eat a bunch of food. Not to mention, they are quick to make especially with the healthy breakfast smoothie recipe listed above.
Smoothies are great to take on the run whether you're running out the door to work or don't have time to cook a big breakfast. They also make a great quick breakfast when you are at home. That way you can get on with the rest of your day without having to think about what to make or needing to wash a bunch of dishes.
Think of the time it would take to eat a big salad, several pieces of fruit, and figure out a way to swallow some chia seeds. Smoothies are just an all-around easy meal where you can load up on nutrients and save time too.
Hopefully, this easy smoothie recipe and instructions have been helpful to you. I'd love to hear your favorite breakfast smoothie combinations and recipes. Let me know if you have any questions for me.

Related: Healthy Snack Ideas


Simple Ingredients to Make a Healthy Breakfast Smoothie