7 Favorite Picks of the Best Houseplants to Grow Easily
How to Grow the Best Houseplants
Because of YouTube, my teenage son has been learning about plants and growing the best houseplants. He has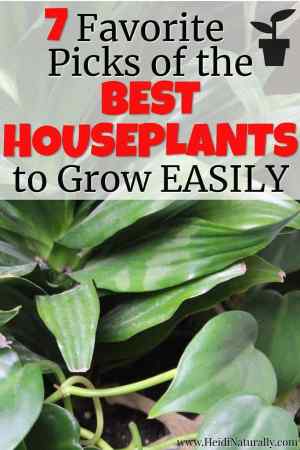 even landed his dream job of working at a greenhouse. So I thought he would be the perfect person to recommend the best houseplants to grow to my readers.
His thoughts on easy care for plants are below but here are his recommendations for the best low maintenance plants. 
Favorite List of the Best Houseplants to Grow:
Philodendrum – This is one of the toughest houseplants that they say is hard to kill. There are climbing and upright versions of this plant. The climbing variety can be fun as you can train the
plant to grow up and around just about anything.
The upright variety grows slower but stays in one place better. The only caution with the upright variety is that it can grow larger.
This plant tends to like a mix of sun and shade so be sure to avoid putting it in direct sunlight.
There are many varieties of this plant that range in size from having small heart-shaped leaves, larger spiked leaves, and huge lacy leaves.
ZZ plant – This plant is also well known for being relatively indestructible. So it's a great choice for
one of the best houseplants.
It's is often thought to be artificial because of it's waxy looking leaves.
The leaves start out thick at the base and then grow pretty much straight up and out. They grow best in indirect light and require very little care. So water them only when the soil seems dry and don't really worry about fertilizing them. They really like to be left alone.
Jade – These plants are actually a succulent so they make a great choice for a resilient houseplant.
They live for a long time and can grow to be up to 3 feet tall over time.
They have thick oval-shaped leaves and thick stems and like warm and dry conditions like most homes. Be sure they get at least 4 hours of sunlight a day and don't worry about fertilizing them more than 3 or 4 times a year.
Pilea (a.k.a. Chinese Money Plant) – It is one of the most sought-after
houseplants in the US. Although it's easy to grow and start, for some reason, these are hard to find for purchase. This plant has a main stem in the middle and then has pepperoni shaped leaves that branch out from this main stem.
They like sun but not direct sunlight. Also, water this plant about once a week and it should stay "happy".
Sedum – This plant has a fun texture and is a good choice for a low maintenance
plant. There are many varieties of sedum from bushy to viney looks.
Choose a nice sunny location in your house that gets about 6 hours of sunlight each day. Since sedum is a succulent, it will do best in well-drained cactus soil.
Water these when their soil gets dry and fertilize monthly if you're into that.
Sansevieria – also known as a snake plant. These are easy to grow and often hard to kill making it one of the best houseplants for beginners. Just your
kind of plant, right?
For watering, just check them every week and see if their soil feels dry or not. They tolerate low or high light but be sure to keep them away from direct sunlight.
Dracaena – This indoor plant has a main stalk and spiky leaves that drape off
this middle stalk and create a nice look. There are many varieties of this plant so you can have several of them and people will think you have different plants.
These plants do well in a well-lit area out of direct sun. Water about once a week if needed (check the soil) and fertilize every 2-4 weeks if you like.
Basic Care Instructions for Indoor Plants
Well-Drained

– As with most plants, be sure to make sure they are in a well-drained pot. This can be achieved with a pot that has a hole in the bottom that is set in some sort of water catching device. This keeps the water moving and helps the plant to have healthy soil that is not too moist.

Correct Amount of Light/Shade

– Whenever you buy a plant or get one from a friend, be sure to check the tag or ask what type of light this plant needs. If it requires direct sunlight and you put it in a darker area, you're wasting your time trying to grow this plant. Finding out the right lighting for a plant is very easy to find out and maintain. As a general rule, most common houseplants do well with good light away from the direct light of a window.

Water once a week

– I'm not the houseplant guru in my family, but I have watched my husband water our houseplants every Sunday for many years. Our plants grow very well with very little maintenance. He'll tell you himself that this consistent weekly watering has been the key to his houseplant success. Some plants only need to be watered when their soil gets dry so you might not have to water each plant each week. But make sure you at least check your plants once a week.

Fertilize – This step is not as vital as the others, but can help your plants grow better and make you feel more successful when growing these common houseplants. Get a good fertilizer like Miracle Grow (that's the one my husband has used for years) and either put a reminder on your phone or on a physical calendar that you look at often and fertilize on those days. Usually, once a month or less is more than adequate timing to fertilize your plants.
Related: How to Start a Garden When You Have NO Clue
We All Started Out as Beginners
Just like you, my husband and son were at one time complete novices when it came to plants and growing things.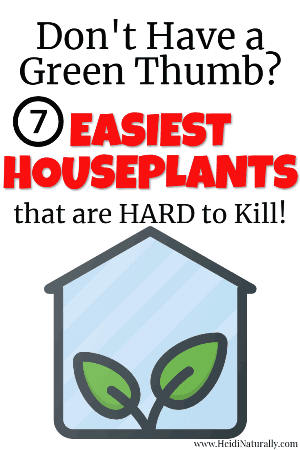 If a 14-year-old kid can watch a few videos and read a few articles and get the basic growing principles down, then you can too!
As with anything, if you really want to do it, you will figure out how to accomplish it.
The nice thing about these common houseplants is that you don't really have to try very hard. I've picked low maintenance plants for you that will be hardy and grow well for you with minimal care.
This way you will start to feel accomplished when it comes to growing plants and will move on to more varieties of plants. Or you will stick with these few varieties and enjoy your indoor garden and the joy it can provide you.
Enjoy these best houseplants and keep me posted on how you do with them.
How to Grow the Best Houseplants