What To Do When You Are Ready To Lose Weight
Everyone is trying to lose weight but most of us are still overweight. Why is this? This post will give you all the tools you need to know when you are ready to lose weight and feel great.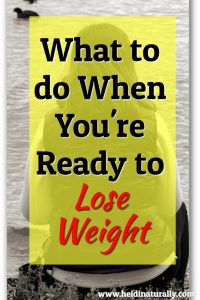 The Formula for Weight Loss Success When You're Ready to Lose Weight
This formula was discovered in 2007. A group of doctors got together to get to the heart of the obesity epidemic.
They found that Americans didn't follow a healthy eating plan even though they had all the knowledge available to them.
Basically, we know too much… we get bombarded by information overload. We have nutritional messages presented to us constantly throughout the day.
We walk around thinking:
How many calories should I eat to lose weight?
Can I lose fat?
How can I burn fat?
Do I need a weight loss coach?
If I lose weight, will I be able to keep it off?
Is there a weight loss plan that will work for me?
Are there easy ways to lose weight?
Will I be hungry all the time?
There are many programs, videos, online weight loss coaches, and articles that tell us their opinions of what we should do to lose weight. Yet we are still confused about the right path to follow.
As a result, all the information we hear leads to confusion. When there is high confusion, there is low compliance.
How to Create a Weight Loss Approach That Will Work
The simplest way to consume less is to reduce your appetite. That's almost impossible to do on your own, isn't it? Have no fear, some smart formulators have already taken care of this for us.
Even though I hate coffee, I'm willing to use anything to tame my appetite. That's why this weight loss coffee is my favorite. It's been formulated to suppress your appetite and help with mood, focus and energy too. It's affordable too. Get your own weight loss coffee here and enjoy the journey.
Make sure you are eating well and moving enough too!
Need to Cleanse Your Body First?
It's important to have a clean slate to start – meaning that your organs need to be working well and your digestive tract should be fairly clean. How do we get that? 
It is important to use a good body cleanse program first to make sure your digestion and organs are functioning at optimal levels. Check out my favorite body cleanse programs and choose one that fits your lifestyle best.
Choose a plan that is:
Easy-to-Follow
Enjoyable
Effective
Get Moving
If you are ready to lose weight, you KNOW that you need to move your body. Choose a plan that you will actually do.
Don't buy a Total Gym system if you hate lifting weights. Don't decide to run 5 miles a day if you hate running or if you're over 50.
There are SO many exercise programs to choose from! YouTube has tons of videos for people of all ages and all walks of life. Just search for the type of exercise you want and your age, and you'll find all kinds of routines that will keep you busy.
I prefer to walk in my house 10 minutes after lunch and dinner or use my Needak Trampoline for 10 minutes when my husband is watching TV in the evening.
Be careful that you don't exercise too much because the extra stress can actually cause you to gain belly fat. Get just the right amount of exercise for your age.
Keep Your Cravings in Check
If you're finding that you're always hungry, that could indicate that you're not eating enough healthy fats and proteins.
Weight loss coffee will help keep your appetite lower once you make sure you have enough healthy fats and proteins in your diet.
Related: Find out how to lose weight quickly and easily by reading this article.