Frugal Christmas Gift Ideas when Santa is on a Tight Budget
Sometimes being frugal can be frustrating and other times it can be a fun game. This Christmas, make finding frugal gifts a game. Hopefully this post will give you lots of great ideas.
Being frugal doesn't have to mean something is cheap or of little value. It just means that you spend less so that you have more to spend on other things that are equally as important.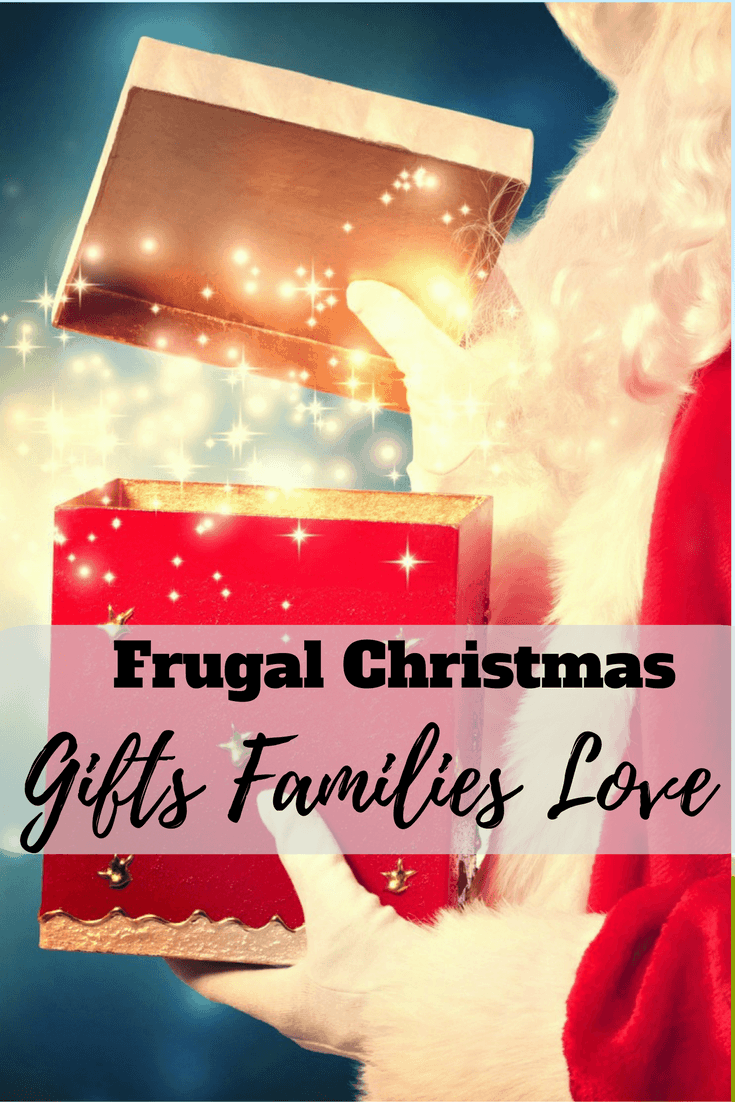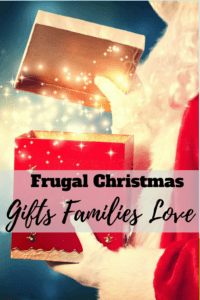 My Favorite Frugal Christmas Gift Ideas:
There are several places you can look when trying to find frugal gifts.
Use your own talents – If you are really good at something like organizing, painting, being creative, cooking, and more, you can put those talents to good use. People who have trouble organizing will get a lot more from a free organizing session from you over getting an organizing book from you. Realize that you have gifts and talents and that the people on your gift list would love to benefit from those talents.
Here are some more ideas for this category –
Make a picture collage from recent or old pictures
Paint a picture
Buy a gallon or 2 of paint and tell your child you will paint their room with them.
Put online printables into a book or folder. There are tons of free online coloring pages and paper doll printables.
Give a plant or family heirloom that you know your family member would like.
Make a simple coupon book – you can include coupons like the person gets to choose dinner that night, no chore day token, stay up past siblings, or anything else you think that child would enjoy.
Related: Thoughtful Christmas Gift Guide
2. Shop Thrift Stores – Obviously, finding items with tags still attached is the way to shop thrift stores, but I'm going to give you lots more ideas of items you can purchase that your family will love.
Dress up clothes
Dry erase board
3 ring binders that you can decorate
Key chains
Organizers, shelves, decorative items
Unused notebooks
Other items to look for that might be barely used:
Wallets
Purses for playing dress up
Books
Coloring books
Gloves
Socks
Games
Puzzles unopened
Craft sets
Globe or Science kits
Stuffed animals (wash well!)
Sunglasses
Blankets
Fun bags
Related: Simple Christmas Decorations – Festive Home All in One Box
3. Shop Dollar Stores – These are stores that charge a dollar for each item in their store. One year I bought my son a round plastic disk that had a plastic line in it that made the disk spin. Of all the toys he got for Christmas that year, that was the toy he played with the most. Just because something costs $1.00 doesn't mean it can't make a great gift. I always buy my sunglasses and reading glasses at the Dollar Store. They just happen to have overstocks so I can get $6-15 glasses for just $1 because someone bought too many of them and they wouldn't sell at that price.
Some great gifts that you can find at dollar stores include:
Coloring books
Notebooks
Gloves
Socks
Yo-yos
Sunglasses
Reading glasses
Playing cards
Key chains
Fun bags
Lip gloss/balm
Slinky
Silly Putty
Silly String
Balls
Dress up clothes/costumes
Hairbrush
Bubbles
Bath toys
Organizing tubs
Tumblers/fun cups
Posters
Bracelets/jewelry
Modeling clay/Playdough
Temporary tatoos
Pencils
Pens
Chalk
and much more!
Some of these items can be given as their own gift or put together into a basket or tub as a group of fun items that relate to each other.
I hope these lists have given you some great frugal Christmas gift ideas that you can use to help your friends and family members enjoy the gifts you give them. Thoughtful gifts are always appreciated. You don't have to spend a ton of money to be able to put a smile on someone's face.
Other money saving posts you might enjoy:
Simple Ways to Stretch Your Money
Simple Ways to Save $200 in Multiple Ways
More Ways to Save $200 – Extra Money for Your Family