Simple But Effective Homeschool Resources Curriculum for a Successful Year
How to Find the Best Homeschool Resources Curriculum
When thinking about homeschooling and choosing homeschool resources, some moms get stressed out. As a natural mom, I know that stress is not good, so I try to de-stress and cause our family as little stress as possible.
Why reinvent the wheel when homeschooling, though. Why not check with veteran homeschool moms and see what worked for them and then use those resources?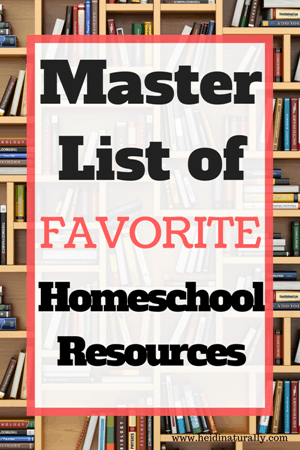 *Post contains affiliate links
Each homeschool will be different since each child is different. I've never been a fan of boxed curriculums because I believe children deserve to learn in the style that works best for them. They will certainly have some subjects that are easier for them than others, but for the most part, I believe that we can help children learn with resources that they enjoy.
Step One in Choosing Homeschool Resources:
The first step in choosing books, resources, or curriculum is to pray! This is truly the most important step. Just because someone else is using a certain book or curriculum, doesn't mean that you should. God created you and your child and knows you best and you would be wise to seek His wisdom when making any choices for your children.
Here is a list of some of my favorite homeschool resources that I have compiled over my 20+ years of homeschooling. I hope you benefit from this list. Feel free to contact me if you have any questions.
Homeschool Language/Writing/Reading:
Teaching Reading – Our family favorite is Teach Your Child To Read in 100 Easy Lessons. We taught all 4 of our children to read using this. It's probably the only resource that we used for all of our children. A story on my blog about how we taught our 4 children to read – Teach your child to read
More reading resources – Homeschool Reading
Homeschool Grammar:
Language Arts – Spectrum has simple Language Arts workbooks by grade that are easy to follow. Don't let the cheap price fool you.
Easy Grammar for late elementary if needed.
Winston Grammar for late elementary depending on learning style. I use either this or Easy Grammar. I don't think you need both, but you could use one each year if you thought your child needed it.
Mad Libs are the best way we have learned about the parts of speech. The retention level is pretty high too. We use these at least once a week. Younger and older children alike can participate together. Then everyone gets to hear the goofy story they all created.
[bctt tweet="A homeschool resource doesn't have to be expensive to be effective." username="heidinaturally"]
Homeschool Spelling:
Some children catch on to spelling right away and others struggle. Some children go through all the workbooks and dictation work and still struggle with spelling.
Sometimes the best homeschool resources curriculum still doesn't help your child be a great speller. It's important to just keep plugging along and encourage your children to do their best in whatever they do.
Spellquizzer – The absolute best spelling program I have ever found. It can complement and enhance any spelling program you are using or it can be used alone. It's very simple, yet very effective!
Spelling Power Ten minutes a day that can be used for all ages. Little teacher preparation is
required.
Spectrum Spelling – Inexpensive books that reinforce the basics. No teacher preparation required.
Apples Spelling – For older students who still need spelling help. Simple and effective to use.
More ideas on homeschool Language Arts.
Homeschool History:
Mystery of History Volumes I, II, III & IV – These are by far our favorite set of resources and stories for History for the middle grades. My son is panicking because he is finishing book IV this year and doesn't know what to do next year because he loved these books so much!
Story of the World books, CDs and workbooks – I loved reading these books to my children. It made History come alive for all of us.
History of US – great American History series. I loved reading this series to my children too.
Beautiful Feet guides and books – These are great for the younger grades. We just read 1-2 pages per day and reviewed the previous pages each day. Great pictures!
History reading lists –
Let the Authors Speak: A Guide to Worthy Books Based on Historical Setting
Turning Back the Pages of Time – This is the handiest homeschool history resource I have ever found. It's small but mighty! We just chose one or two periods to study each year and then read the books recommended on these pages.
Picture Books – Here is the best list of picture books that parents can use to teach tons of history concepts and events – Homeschool Social Studies
More ideas for homeschool History curriculum
Homeschool Math:
Teaching Textbooks – If you're looking for a hands-off self-teaching curriculum, then this is for you! When you get the computer disks that are "automated grading", all your child will have to do is listen to the lecture and work through the problems. They will find out after each problem whether or not they got it correct. They get 2 chances to answer the problem and have the option of seeing how the problem is done correctly.
We didn't get the workbook because my son just likes to work the problems on regular paper and we have not missed it at all. In our case both mom and child are happy, so this is a win-win curriculum. 🙂
Math U See – We have used this for many years in many different ways for most of our children.
Spectrum Math – These are complete math books that are very inexpensive, yet provide all your child needs for math for a year. No parent preparation needed.
Saxon Math – We have used these some but not as much as the other 2 programs listed above. This one might be a fit for your family if you like a textbook approach with lots and lots of review.
More ideas for homeschool Math curriculum
Economics:
Money and Kids does not offer any formal curriculum, but the site does provide resources and information for raising financially empowered kids. It covers topics from general financial literacy to allowances and chores to lemonade stands and babysitting jobs.
Whatever Happened to Penny Candy – This is a must-read book for any American. It's a very simple explanation of the history of economics in America written in the format of an uncle's letters to his nephew. Age 9-adult level. I know many adults and children alike who enjoyed reading this book.
Homeschool Science:
Apologia Science – The best all-around Science curriculum. They have books and resources for all ages and levels of Science.
For elementary Science, I recommend Considering God's Creation
I also recommend using picture books for elementary Science. Here is a complete list of our favorite books to use for Homeschool Science.
More information about how to teach homeschool Science – homeschool Science curriculum
Art
See the Light Art DVDs – These are great lessons taught by master artists in a fun and yet informative manner. See my full interview with the creator of this program at Homeschool Art Lessons.
Typing
Although there are a lot of free typing programs out on the internet, I still recommend using a program like Keyboard Classroom that I reviewed at Homeschool Typing. It was developed 23 years ago and covers everything students need to know in an enjoyable format.
Ebooks I have written with more of my favorite homeschool resources included:
101 Activities Parents Can Do With their Preschool Child – Here is a great resource of activities I have collected from my years of experience as a homeschool parent. There is now a second book in the series called101 MORE Activities Parents Can Do With their Preschool Child. Both books are available at Preschool ideas for just $3.99 each.
How to Homeschool Kindergarten – All my best tips on teaching Kindergarten collected into one ebook that you can use to help guide you through Kindergarten in a low-stress, high results method.
Internet Resources for Homeschooling – This is a collection of hundreds of websites that I have found that can be used for homeschooling. They are arranged by subject area and are all clickable from the book. You will find resources for preschoolers all the way into college.
Cooking Resources – Although cooking has nothing to do with homeschool resources, everyone needs to eat. If homeschool moms can get their cooking time under control, their whole day runs a whole lot smoother. I've written Cooking from Your Cupboard and Smart Way Cooking. They can both be found at Easy Meal Planning. They are both $9.95 but can save you hours of time and pay for themselves very quickly.
All my favorite homeschool resources curriculum in one place –
Preschool and Kindergarten
Grades 1-3
Grades 3-6
Grades 6-8
Grades 9-12
My Favorite Family Games
These can be used for homeschooling too. Children learn many valuable skills from playing games. Educational Games
More Educational Toys and Games than you can imagine.
I hope you have enjoyed my list of favorite homeschool resources curriculum. You can view a complete list of homeschool reviews that I have written. You can even let me know about your favorite homeschool resources by entering your review at the bottom of that page.