How to Choose the Best Body Cleanse for Your Lifestyle
Best Body Cleanse Tips and Ideas
Although doing a body cleanse is a good idea, each person needs to find the best body cleanse that fits their personality and lifestyle. You want to assess your goals and needs and pick one that suits you best.
It's a good idea to do a body cleanse at least once a year. Some people like to do one every 3 months or so.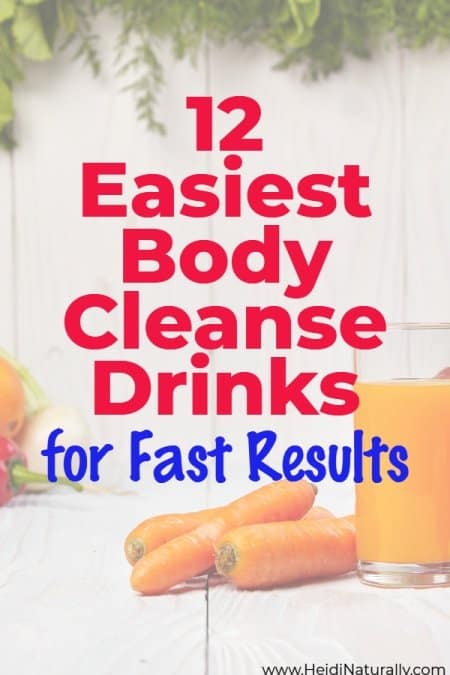 Cleanses can last for one to thirty days but most are just 2-3 days. It helps to do a cleanse with a friend. But if you want to do it on your own, that works too.
When you say the word "cleanse" many people think that you are going to do a colon cleanse and be in the bathroom for a couple of days.
These cleanse ideas are more of a digestive cleanse that just helps get the junk out of your digestive system. That way your digestive system can work better. Most of these are very gentle and don't have you in the bathroom all day at all.
Some people like to do a body cleanse for weight loss but others just want a good cleanse to reset their bodies. There are tons of body cleanse products out there. Some use real food and juicing, some use supplements, and others use special drinks. This post will give you some great body cleanse options.
Easy Cleanses
The easiest way to cleanse is to drink a juice cleanse program that is already prepared for you. It's a simple thing to do and doesn't usually cost a lot. With these juice drinks, you get 6 different juices to drink in a day. That's all you eat/drink (besides water) for the day but your body is being FILLED with nutrition.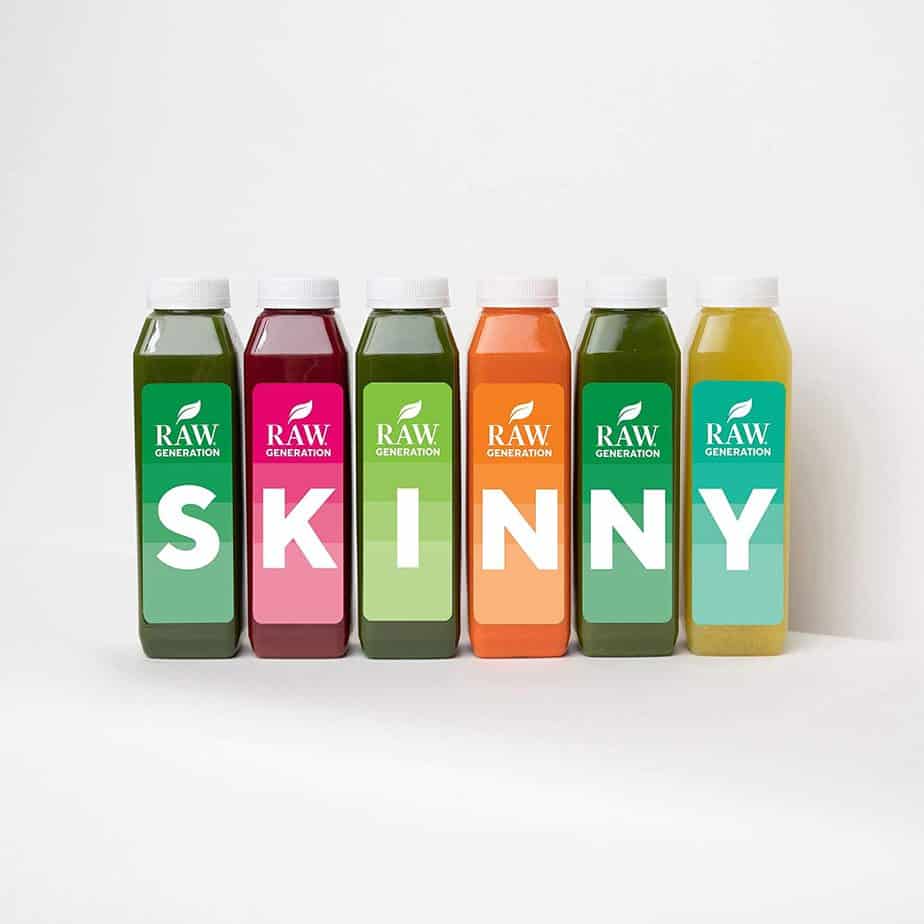 Who wants to have to buy a bunch of ingredients and appliances and hope that you do it right? Not me! I like easy.
This type of juice cleanse is a healthy way to cleanse and detoxify your body. It's also an easy way to jumpstart your health if you're wanting to adopt a better way of eating.
Things to Remember During Any Body Cleanse:
Drink at least 8 glasses of water per day.
Avoid processed, fried or junk food.
This is a gentle cleanse – You will not be in the bathroom all day.
The cleanse helps your body reset and rebalance itself.
The ingredients help remove toxins and deliver essential nutrients and vitamins.
The food and botanical extracts help support liver detoxification.
I love SIMPLE when it comes to anything in life! This best body cleanse is simple to do and contains great ingredients.
-> Download your Simple Weight Loss Checklist to RAMP UP your Weight Loss RESULTS this Week!


More Great Body Cleanse Posts:
10 Rules for Going on a Cleanse – This author gives her 10 best tips whether this is your first cleanse or 10th cleanse. These are good tips and should give you a good start on finding the best body cleanse for you and your lifestyle.
Juice Cleanses
Recipe for Body Cleanse Juice – This is a juice program designed to help energize you, flush away toxins, regulate body fluid, and detoxify the liver. BUT, YOU are the one that has to purchase all the ingredients and make the juices. Homemade cleanse juice or you can choose a ready-made juice cleanse program.


4 Day Juice Cleanse Recipe – For those looking for a juice cleanse, this is a good set of best body cleanse recipes that use real food that is fairly easy to find. 4 Day cleanse recipe to make at home or choose a ready-made juice cleanse program.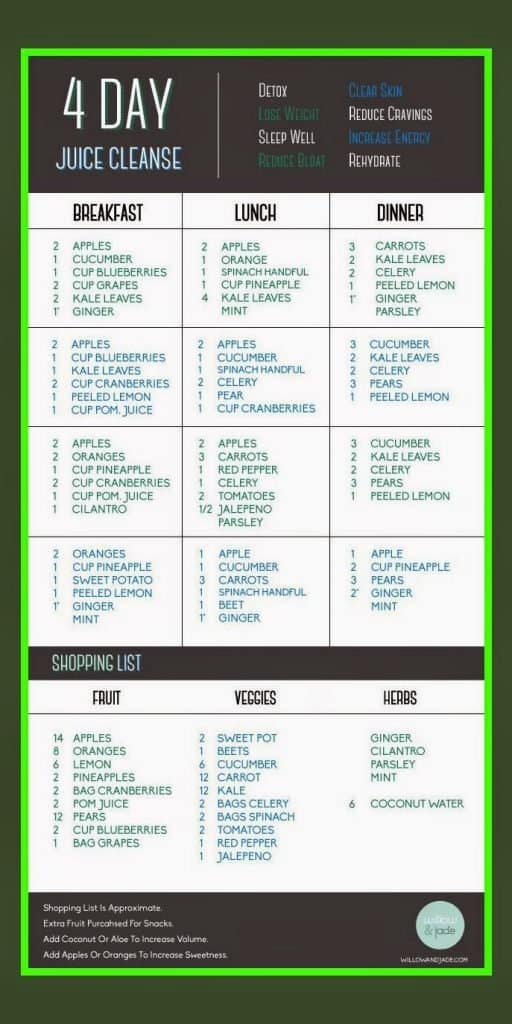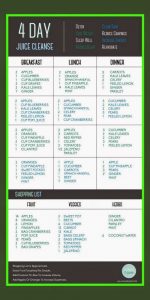 7 Day Juice Cleanse – Kayla Chandler is a certified nutritionist who gives the recipes for her cleanse when you enter your email address.
Women's Health Magazine posted this 2-day Cleanse Diet that looks good. They say there is a printable version on their website but I was never able to find it. So you're better off just printing this graphic if you want a copy for reference.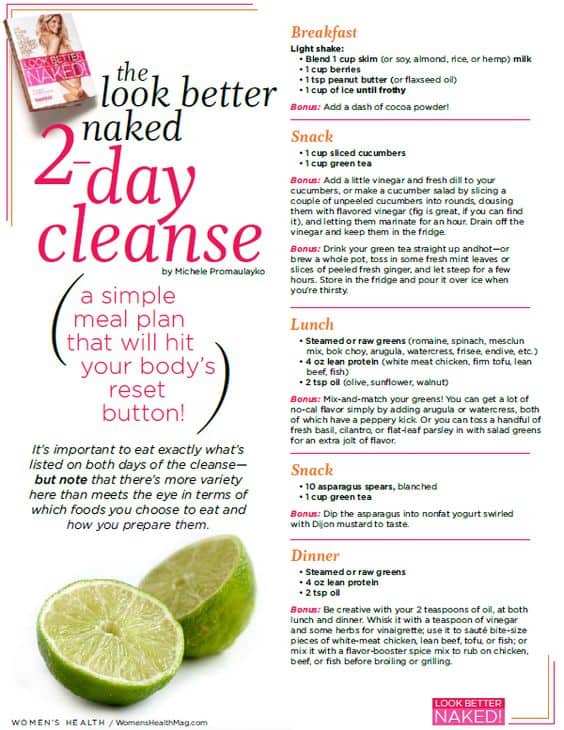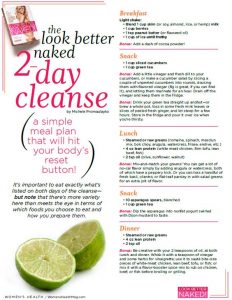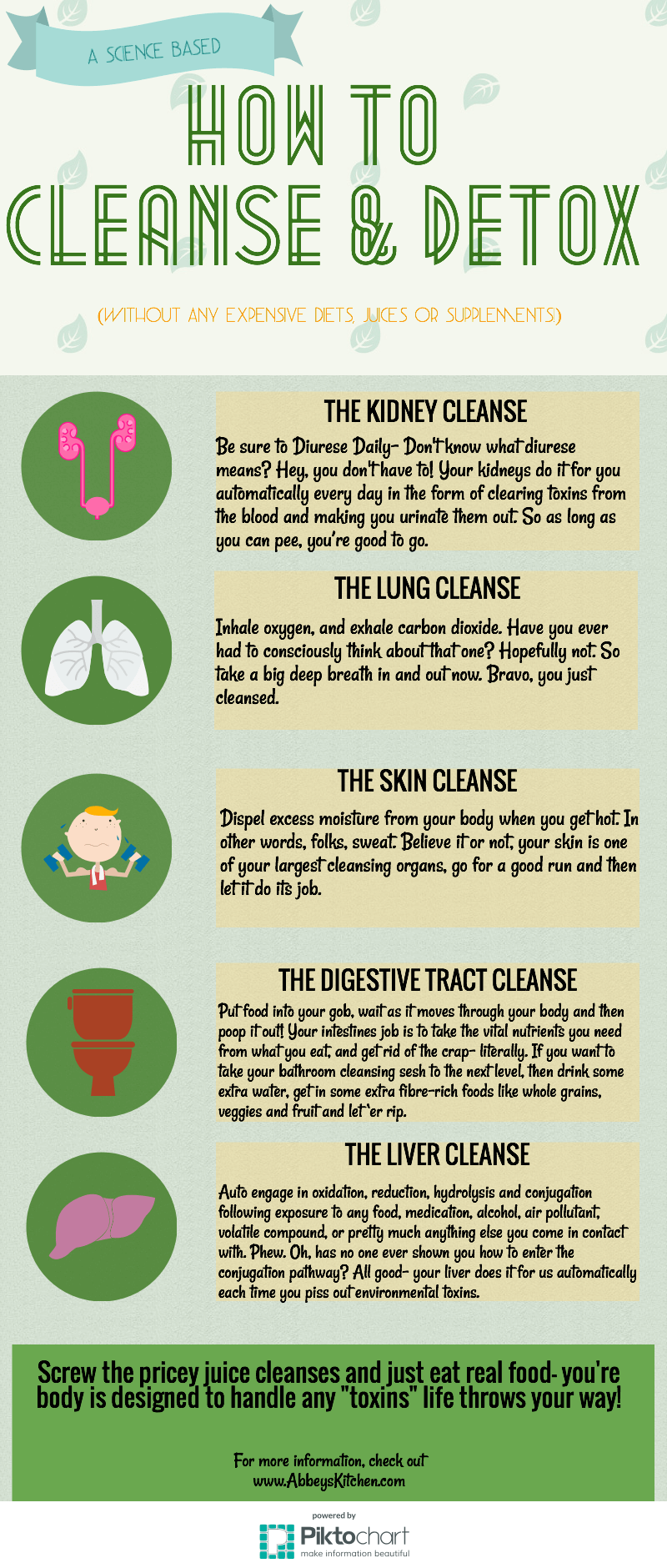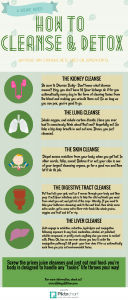 Other Types of Cleanse Diets
Abbey's Kitchen takes a whole different approach to cleansing with this great infographic. She believes in using real food for cleansing. Although I believe real food is important, I'm not totally sold on the fact that only food can cleanse the body.
We do a lot to our bodies over the years and sometimes we just need a good reset to kick our bodies back into fat burning detox mode.
Soup Cleanse – Here are a good selection of soup recipes you can use for cleansing. They say you can eat as much of these as you want. http://www.justhealthyhabit.com/soup-cleanse-fight-inflammation-belly-fat-disease/
Cleanse Diets I Have Done
These are the 2 best body cleanses I have done. They were gentle and easy to implement and I don't remember being hungry at all.
Detox Tea – I just prepared this the night before and drank it during the next day for a few weeks. I also combined the Slimmer Max product before lunch and dinner each day for amplified appetite control.
Liver Cleanse – This 3-Day Liver Cleanse is the perfect starting place for anyone that wants to shift their health in a gentle way.
Juicing with Joe – We watched the movies Fat Sick and Nearly Dead 1 & 2. They were so inspirational! It was amazing to see what results people were getting from just changing what they ate!
So many people improved their health and got off medications just by following one man. It was also inspirational that Joe could help himself, log his journey and influence thousands of people to do the same. I'm sure there are now many thousands of people that have gone through his program to some degree or another. Some people did the 30-day program but I only did 2 days.
The juicing was easy to follow once I got all the ingredients. He even made that easy by providing shopping lists. I was not hungry at all and was very satisfied. It helped take away my sugar cravings and helped me lose some weight. It's easy to follow his program with one of his many books like Juice It to Lose It and Reboot with Joe Juice Diet. I encourage you to check into this simple but effective program.
Even More Body Cleanses
Master Cleanse
The Master Cleanse is more of a detox and takes a huge amount of commitment and determination to complete. I recommend you use one of the above whole body cleanses first because they are easier to complete.
Parasite Cleanse
A parasite cleanse can be helpful if you feel that you have parasites or experience rectal itching often. Scram is a great supplement to use to take care of parasites. It addresses the life-cycle of parasites and gives you enough pills to outlast the parasites in your body.
Related: -> Download your Simple Weight Loss Checklist to RAMP UP your Weight Loss RESULTS this Week! <-
Be Prepared When Doing a Natural Cleanse
Whether you choose a 7 day cleanse, whole body cleanse, individual organ cleanse, colon cleanse, juice cleanse, or a cleanse diet, make sure you are well prepared. Have plenty of good clean water on hand and start slowly if needed. There are probably toxins in your body and they are probably quite comfortable there.
Some people experience detox symptoms when doing a full body cleanse or even an organ cleanse. Symptoms could include headache, flu-like symptoms, upset stomach, diarrhea, constipation, skin rashes, sinus congestion, nausea, and body aches.
Create the best environment for your cleanse and make sure your colon is working well. You can also take some activated charcoal for a week or so before your cleanse to help draw out any toxins and eliminate them.
If you have detox symptoms you can do a detox bath. Run water in the bath as hot as you can stand it. Add 1 cup epsom salt, 1 cup hydrogen peroxide, 1 cup baking soda, and 4-10 drops essential oils like lavender oil. Try to stay in the bath for 20-30 minutes.
There are lots of bath recipes, but this is the one I have used the most.
If you've never cleansed before and are afraid of what might happen, just take things slow and follow the recommendations above carefully. Cleansing is beneficial to the body, but sometimes the body needs some help to release the toxins.
Good luck with choosing the best body cleanse for your lifestyle!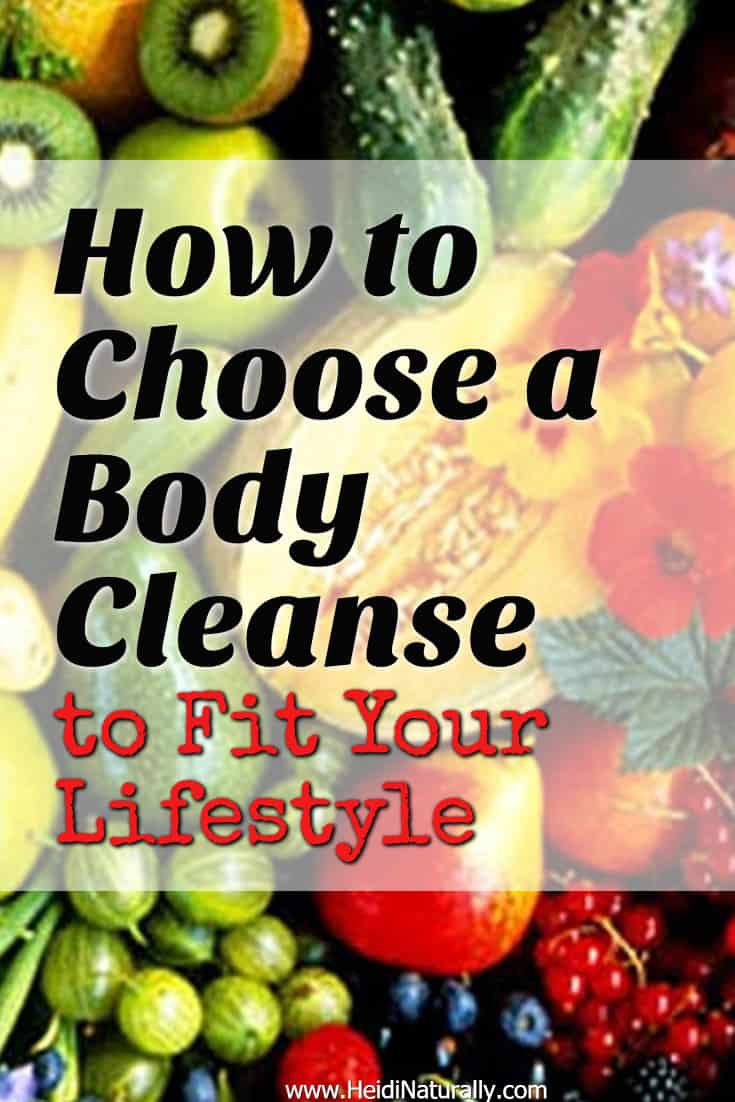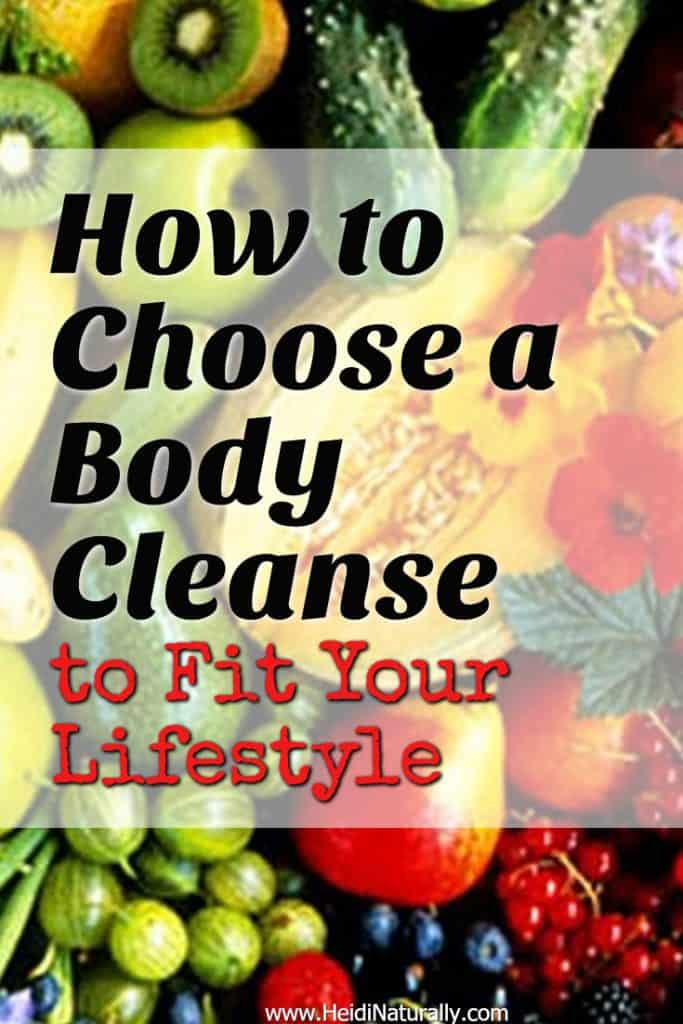 Best Body Cleanse Tips and Ideas