How to Easily Clean a Stove Top without Chemicals
Cleaning our stove top has always been a dreaded task for me. I would let it keep getting dirtier and dirtier because I didn't want to deal with it. Now I can clean a stove top easily without chemicals thanks to this handy tool. It also helps me keep our stove top clean and well maintained.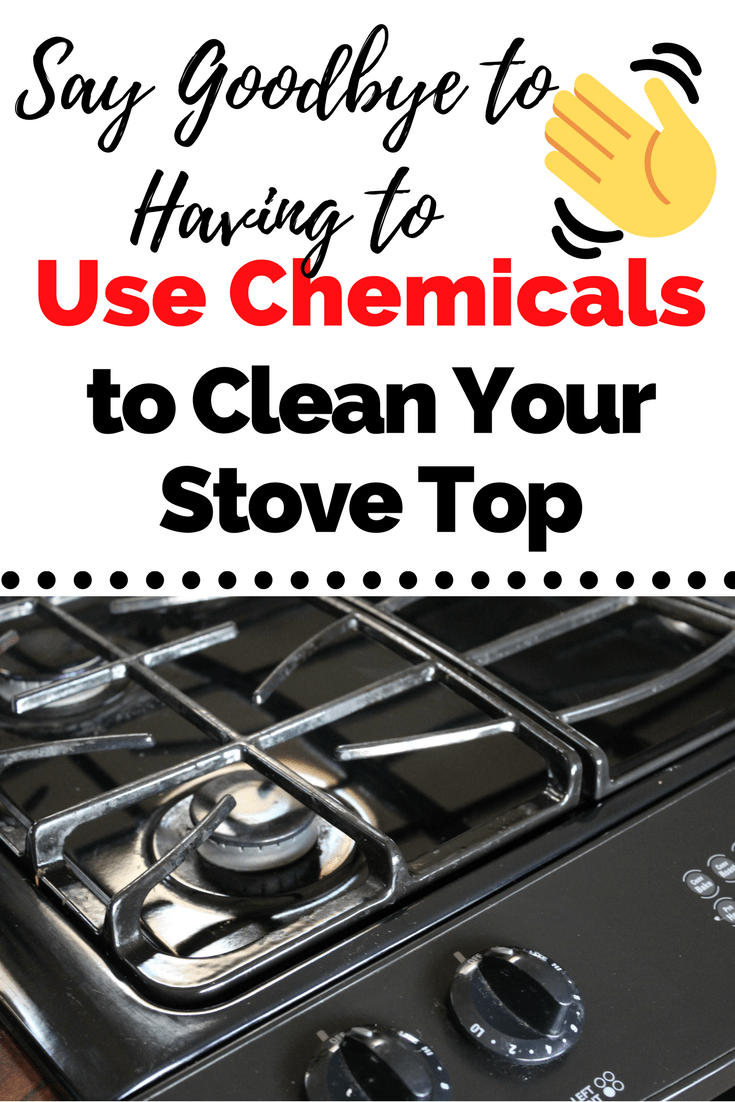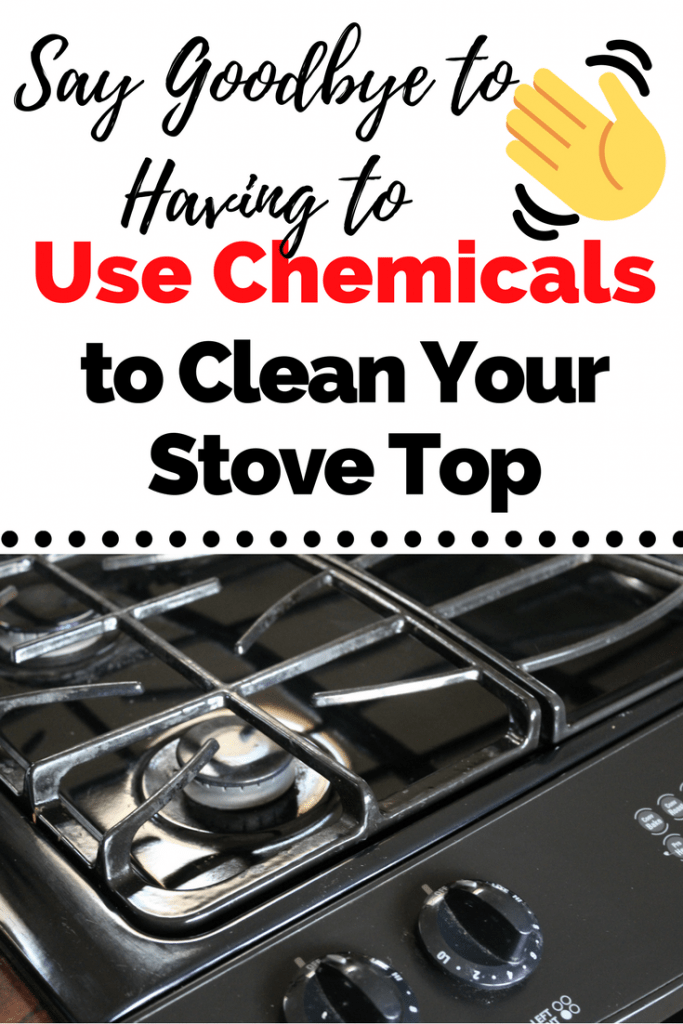 Who would have thought a simple cloth could make stove top cleaning so easy. Now cleaning a glass stove top or an electric stove top can be quick, simple, and easy.
Part of the reason I always put off cleaning our stove is that I don't like using chemicals for cleaning. Not wanting to pull out a chemical-based cleaner added even more procrastination to my dilemma.
I had heard of cleaning cloths before but they were always very expensive and needed special washing care. I couldn't just throw them in with a load of towels or other clothes, so that made me use them even less.
What I Use to Clean a Stove Top Now
I was asked to review the e-cloth Range and Stovetop Cloth and I will never go back to using anything else! I love how easy it is to use to clean a stove top and how quickly it removes all the grime and junk. The fibers in the cloth do all the work so I don't have to scrub. And it didn't harm or scratch the surface either.
This cloth has 2 sides. One side is striped and the stripes are scrubbers which are not harmful to your range top. The smooth side is for wiping the surface clean. All you have to do is add water. It's amazing how well this simple cloth works. I've never used any other cloths that get the grime off so easily.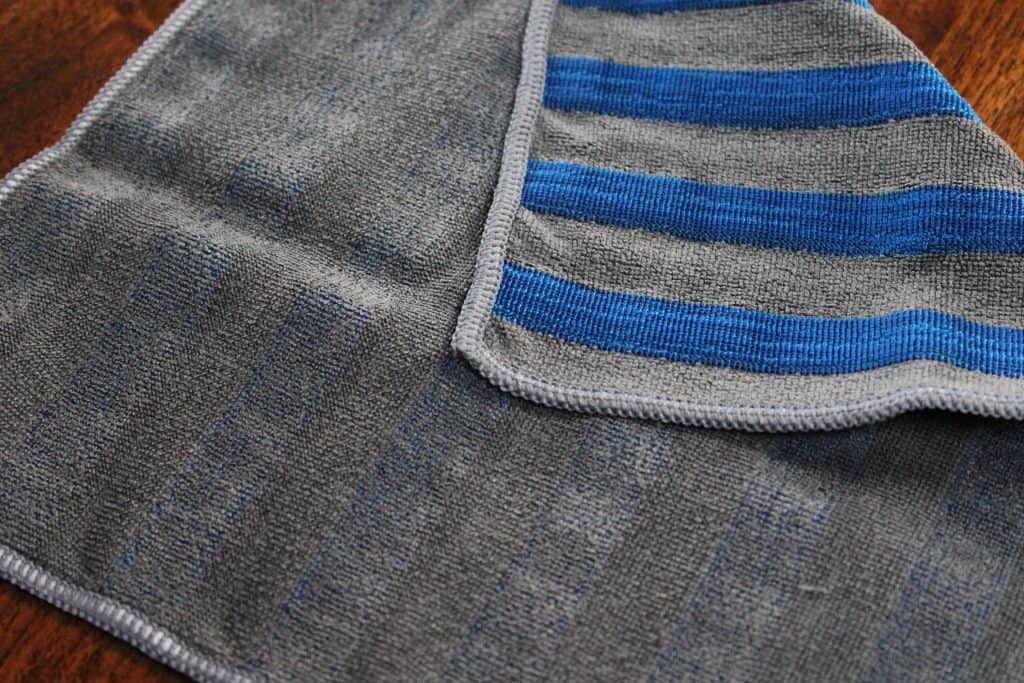 All I did was wet the cloth, wiped the striped side over the stuck on grease, rinsed out with hot water, and wiped up with the smooth surface. For an even shinier finish I sometimes wipe the area dry with a glass polishing cloth.
This special dual-sided range and stovetop cloth allows you to use one side for grease and general cleaning and the other side for removing stuck-on grime without scratching your surface. This is all done by just adding water to the cloth and ringing it out.
Why Worry About Finding a Chemical Free Stove Top Cleaner?
The truth is, there are over 80,000 chemicals in use today. And while using just a little at a time sounds harmless, chemical exposure can accumulate in the body and cause irreparable damage.
There are so many studies that explain how cleaning products found in the home can cause all kinds of negative health issues including breathing problems. Chemical cleaners also bring down the quality of air in homes and businesses.
Besides the health issues, there is also the danger of poisoning if small children get a hold of these chemical cleaning products. Every year many children die from being poisoned in the home.
We want to protect our families from health issues and poisoning if at all possible. Removing as many chemicals as possible from the home is an easy way to protect our families from harm.
Being able to clean and maintain kitchen surfaces even more effectively is an added bonus. Who doesn't want to get their cleaning done and get out of the kitchen faster?
My Experience with Chemical-Free Cleaning in the Past
We all know that vinegar and baking soda have been used as natural cleaners in the past, but do they really work that well or remove bacteria?
I've used various "green" cleaners purchased from grocery stores before and the truth is, they don't work very well. In the past, in order to get something really clean or to clean something quickly, I've had to resort to using a harsh chemical.
It's wonderful to be able to have a tool in my house that removes over 99% of bacteria, gets dirt and grime off easily, and uses just plain water. When you clean a stove top in minutes without any chemicals, you just have to smile and enjoy the moment.
I used to have a cream colored stove and thought that it was hard to keep clean. Then I got a black stove top and found out that these get dirty too! Now I don't have to worry about what color range I have because I know I have something that will clean either one easily without chemicals.
Why Chemical-free Cleaning with e-cloth? 
Removes dirt, grease and grime.

Removes over 99% of bacteria using just water.

Eliminates risk of sensitivities, allergic reactions, rashes and asthma from chemicals, fragrances and dyes.

There are no chemical residues left on our surfaces or in the air.

It's cheap! I can eliminate the need for buying stove top cleaners. The average cost of an e-cloth is $7.99 and lasts 300 washes 

(nearly 6 years)!

It reduces the chemicals in our environment and landfill waste.
Allows us to clean easier, clean faster, and live healthier!
E-Cloths have also been voted as BEST Cleaning Cloth & BEST Washable Mop by REAL SIMPLE magazine and have been featured on the Today Show.
How e-cloth works:
E-cloths have 3.1 million fibers per square inch. This unique fiber technology helps break up and hold the dirt and grease that other cloths and rags leave behind.
We love the technology in our world with computers, smart phones, wireless internet, smart cars and now smart cleaning. Why not take advantage of new technology when it comes to cleaning so you can clean a stove top quickly and move on to something you enjoy more than cleaning!
Special Features
Save time cleaning with just water.
Save money not buying harsh chemical cleaners.
Remove stuck-on grease and grime with special scrubbing stripes.
Works on ceramic, enamel, tiles and microwaves too!
Makes you want to keep your stove clean because it's so easy to wipe and see results.
As I mentioned above, the e-cloths are affordable and easy to care for. Just rinse with hot water between uses. The cloths are also machine washable in hot water with a small amount of detergent. You can even boil your cloths in a saucepan for 10 minutes if you want. You can tumble dry or hang dry. The only caution I found with these cloths is that you should NOT use bleach with them. But that's not a big deal for me anyways because I don't use bleach.
How to Get an E-Cloth for Your Home
E-Cloths are now available at Ace Hardware. Just visit the store locator at www.ecloth.com to find your local participating store.
Here's what to look for when you go to your local store. There are detailed directions on the back of the package so you'll know just how to use it.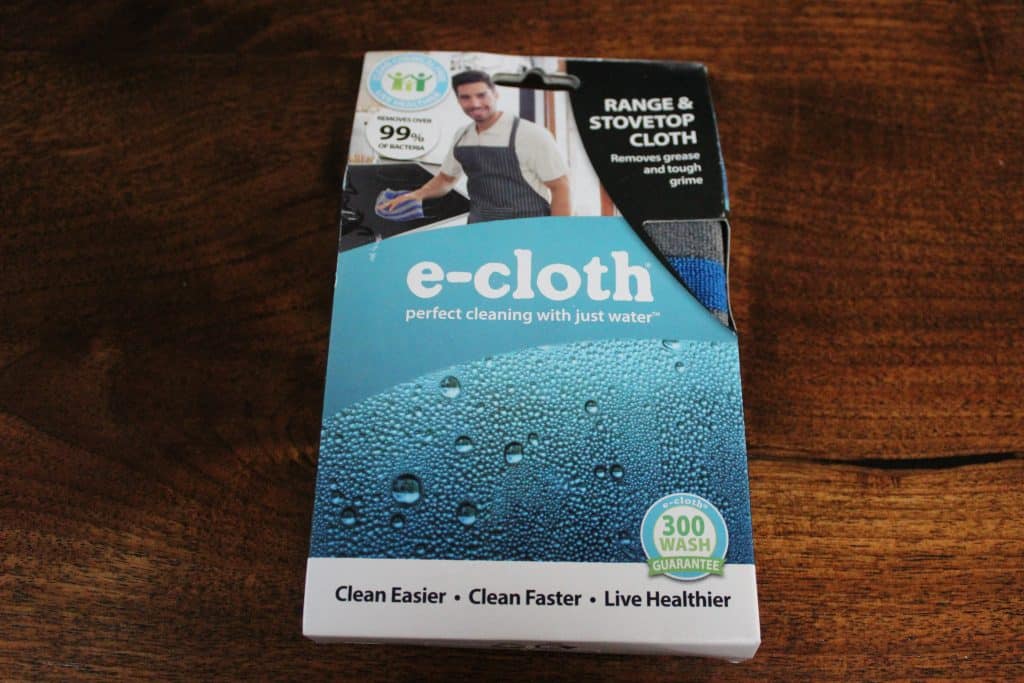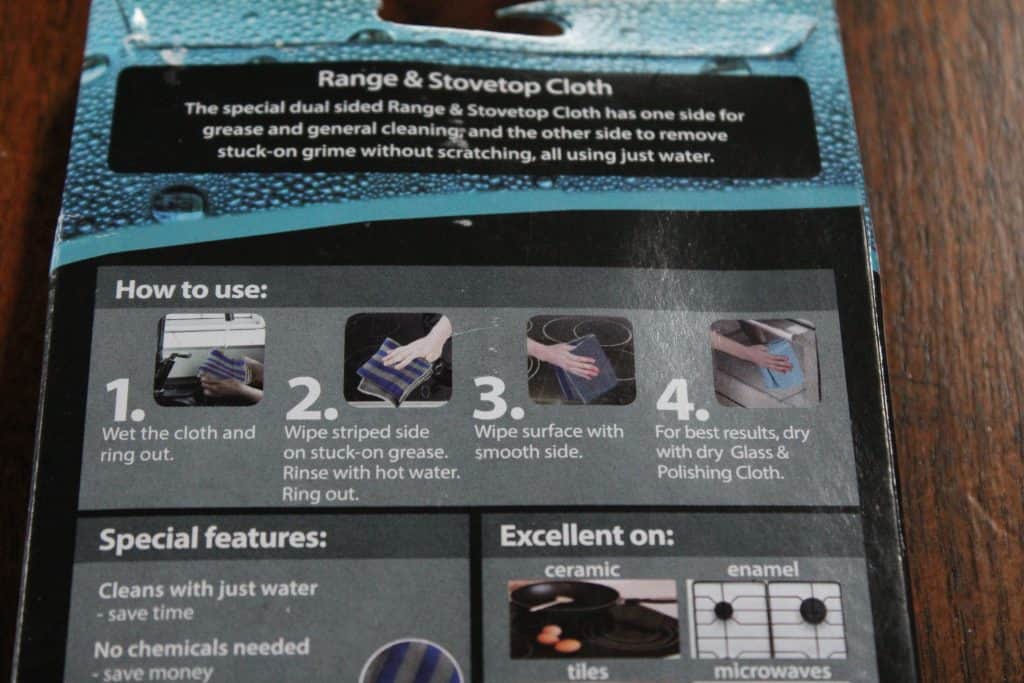 E-Cloth has a whole line of cloths, mops, and stones available for any surface in your house and car. They even have baby and pet care cloths too!
 To get more information about e-cloth and their whole line of products, check out: