The Smart Hack for Finding Affordable Alkaline Water
As a natural mom responsible for providing good health for our family, finding affordable alkaline water was a challenge. I know our bodies are more than 60% water and that drinking good water is important, but being able to afford a good alkaline water machine was another matter.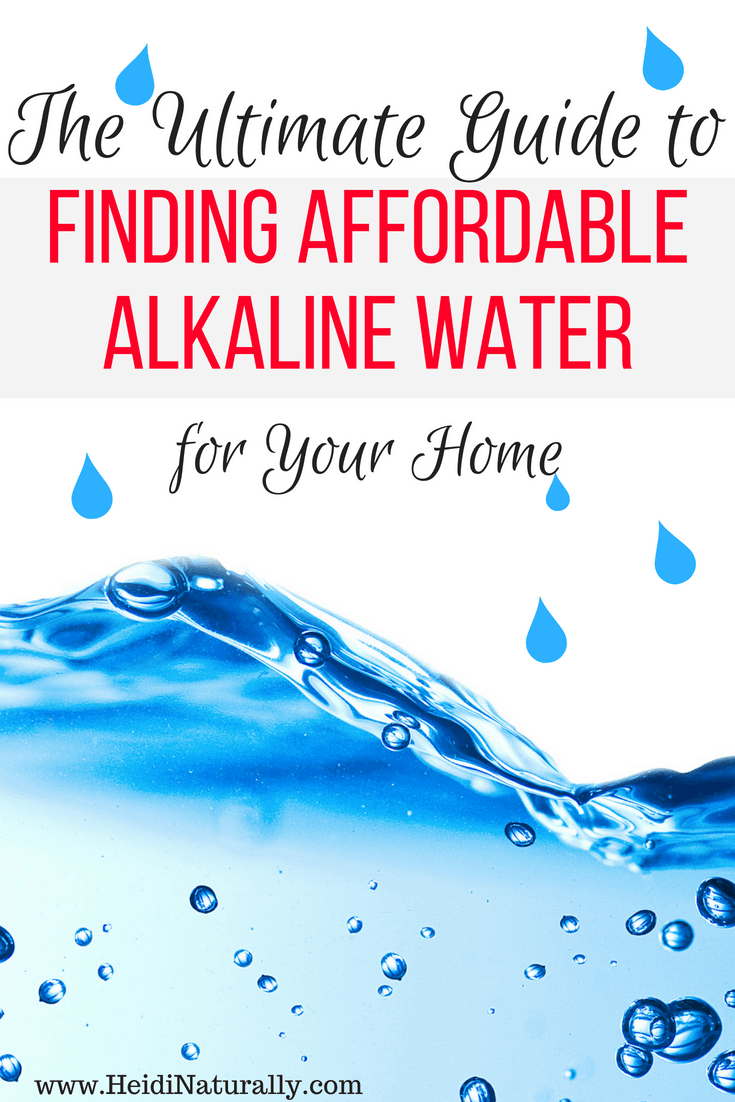 Benefits of Drinking Alkaline Water:
flush toxins
cholesterol lowering
promotes weight loss
hydrates the body
provides pH balance
can increase energy
good for bones
good for liver health and digestion
encourages good brain health
supports the immune system
Whether you believe any of the benefits or not, the truth is that alkaline water is better than tap water or bottled water.
At our house we drink almost only water. Therefore, if we're each going to be drinking 2 quarts or more water a day, I want to make sure that it's good quality.
 [bctt tweet="If we're drinking 2 qts of water each day, we better make sure it's the best water possible!" username="heidinaturally"]
Common Contaminants in Tap Water:
microorganisms
disinfectants
inorganic chemicals like arsenic, fluoride, lead, and mercury
organic chemicals
Water is necessary for life. We need it to stay hydrated, focused, and aware.
We need it for digestion, eliminating toxins, preventing dehydration, energy and much more.
Furthermore, water is essential for a healthy, active lifestyle so we better be sure we're drinking the best water possible.
Acidity in the body can contribute to all kinds of negative health conditions and diseases, so raising pH of the body is very important.
Alkaline Water Systems
There are so many alkaline water systems out there like Kangen water (very expensive) that actually zap water into a dead alkaline condition. As a result, you need ceramic conversion to bring water into an alkaline state that adds essential minerals and antioxidants.
Pure water from a good water supply is so important! But how do you know where to buy alkaline water that is pure water that is not just ionized water, bottled water, or purified water that actually provides minerals and antioxidants?
After much research and looking at different water companies, we found Dream Tree to be the healthiest and most affordable alkaline water option.
The ROCCS (Reverse Osmosis Ceramic Conversion System) undersink unit perfects the RO system by removing impurities, but also adds a series of filters. These filters make the dead acidic water alive again by supercharging the water with the patented ceramic conversion process.
Although we purchased the ROCCS undersink unit and the showerhead, they also have whole house units available that are affordable too.
Your Best Option for Affordable Alkaline Water
The way that Dream Tree helps customers save money is by offering a membership option. As a result, this takes the price of a ROCCS unit from $750 down to $499. This price also includes a free Anion 101 Shower Head which we love!
Our skin absorbs the liquid that touches it, so we need to be showering with good quality water too. The Anion 101 showerhead not only provides good water but also provides a luxurious stream and relaxing shower.
Replacement filters are automatically shipped to you so when they arrive, all you have to do is replace them and you're all set. The sediment filter gets replaced every 3 months and the other filters can go up to 6 months each.
Check out the Guides (video library) and products at the main DreamTree website. Please contact me if you have any questions at all. Or for a free 20-minute consult, just fill out the form and we'll set up a time to chat and answer all your questions.
When you are ready to order your water system, just click "Ready to Sign Up?" in the top right-hand corner of the website. Since there are various packages there to choose from, feel free to choose the one that best suits your needs.
We started with the ROCCS system with the Anion 101 shower head. The whole package was just $499, so we felt that was a great deal. Please make sure you enter "73598" in the Sponsor ID spot at the bottom of the page so I get credit for referring you.
I hope this water treatment information has been helpful for you. Alkaline water that is run through this patented oxidizing ceramic filter is the way to go!
Get the best alkaline water for your family today and enjoy the best water supply on the market for a very affordable price!