How to Find All Natural Makeup and Avoid Toxic Chemicals
Healthy living has been a passion of mine ever since I had kids and all natural makeup is a part of living a healthy life too. It's important to realize how much of what we put into our skin gets absorbed into our bloodstream and goes to our organs.
Many of my friends just buy their makeup from the cheapest place they can and apply it without thinking about it. I just can't do that. I can't slather something on my skin that is loaded with chemicals I can't pronounce.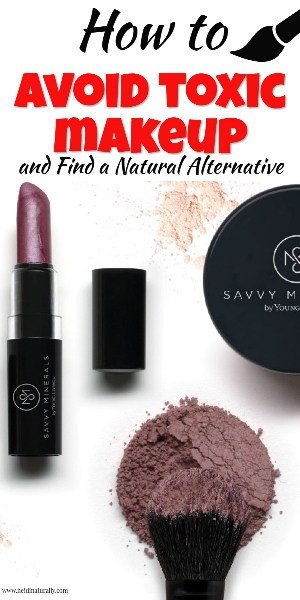 Why Bother With All Natural Makeup?
More and more research is coming out about endocrine disruptors and cancer-causing agents in skincare. We need to pay attention to this!
Our skin absorbs everything! So don't put anything on your body that you can't eat. That sounds strange, but it's true!
Saving money is good, but our health is more important. We save money in other areas that don't affect our health because when our health is gone, no amount of money will bring it back.
Related: Why Makeup is the Worst Thing Every for Your Teens Hormones
Here are some of the chemicals to look for on makeup containers that could negatively impact your health.
Triclosan
Parabens
Phthalates
Fragrances
Sodium Lauryl Sulfate (SLS)
Propylene Glycol
Alcohol
DEA
Petrolatum
Nonylphenols
Aluminum and other metals
How to Choose a Natural Makeup
Doing research and trying to find products that don't contain chemicals can be overwhelming so I'm going to make it easy on you to find all natural makeup. I've done the research and have tested products and will share my findings here.
When a label says "natural", make sure you check the ingredients with the list above. Companies can put things on their labels that aren't actually pure.
The makeup industry is not regulated and isn't required to list all their ingredients. They can claim "fragrance" on their label and say that there are trade secrets they don't want to share. This is perfectly legal. The only problem is that the consumer is in the dark.
I have chosen to go with a company that is incredibly careful (almost anal) about the ingredients in their products. I have visited their farms and see how they grow and distill their oils. They provide pure oils, so when they provided us with all natural makeup, I knew it was going to be good.
Ingredients to Look For when Choosing Natural Cosmetics
Mica powder
High-quality minerals
Naturally derived ingredients
Non-nano ingredients
Properties to Look for When Choosing Makeup
Concentrated colors
Mineral powders that are free from bismuth and talc
Smooth, flawless application
All natural ingredients
The Savvy Mineral makeup line from Young Living is amazing. Their products are not cakey or look unnatural when applied. I have used lots of natural makeup products over the years and many of them were awful. They didn't cover well, ended up being cakey by the end of the day, or just looked bad.
Young Living's foundation is easy for me to apply and looks good all day. Their blush and Multi-tasker are great too. The lipstick glides on easily, gives good color, and keeps my lips moist (not dry and cracked).
Here are a few qualities I like about the Savvy Makeup Line:
Easy to apply
Easy to adjust – colors can be mixed easily and powder forms can be turned into liquid form in seconds.
Pure and natural ingredients
Tested and used by thousands of people
Priced well with the option of buying them at wholesale.
How to Get Natural Skin Care Products at the Best Price
The best way to buy makeup is at the wholesale cost, right? Well, now there is a way to get all natural makeup AND get it for a great price!
Young Living essential oils makeup line is now available as a starter kit. You no longer have to buy an oil kit to be able to buy makeup wholesale from Young Living!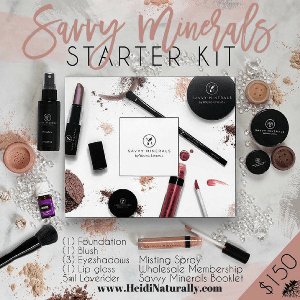 So if you're not into essential oils, get your oils from another company, or just want to start your health journey with good natural makeup, then this kit is for you.
This way you can clean out your toxic makeup and replace it with all good stuff. This kit comes with mineral foundation (you can choose your favorite color), blush, 3 eyeshadows, 1 lip gloss, a bottle of lavender essential oil, misting spray, and a Savvy Minerals booklet to help you know how to use your makeup.
Here are some samples of the different color choices. There are 6 in all.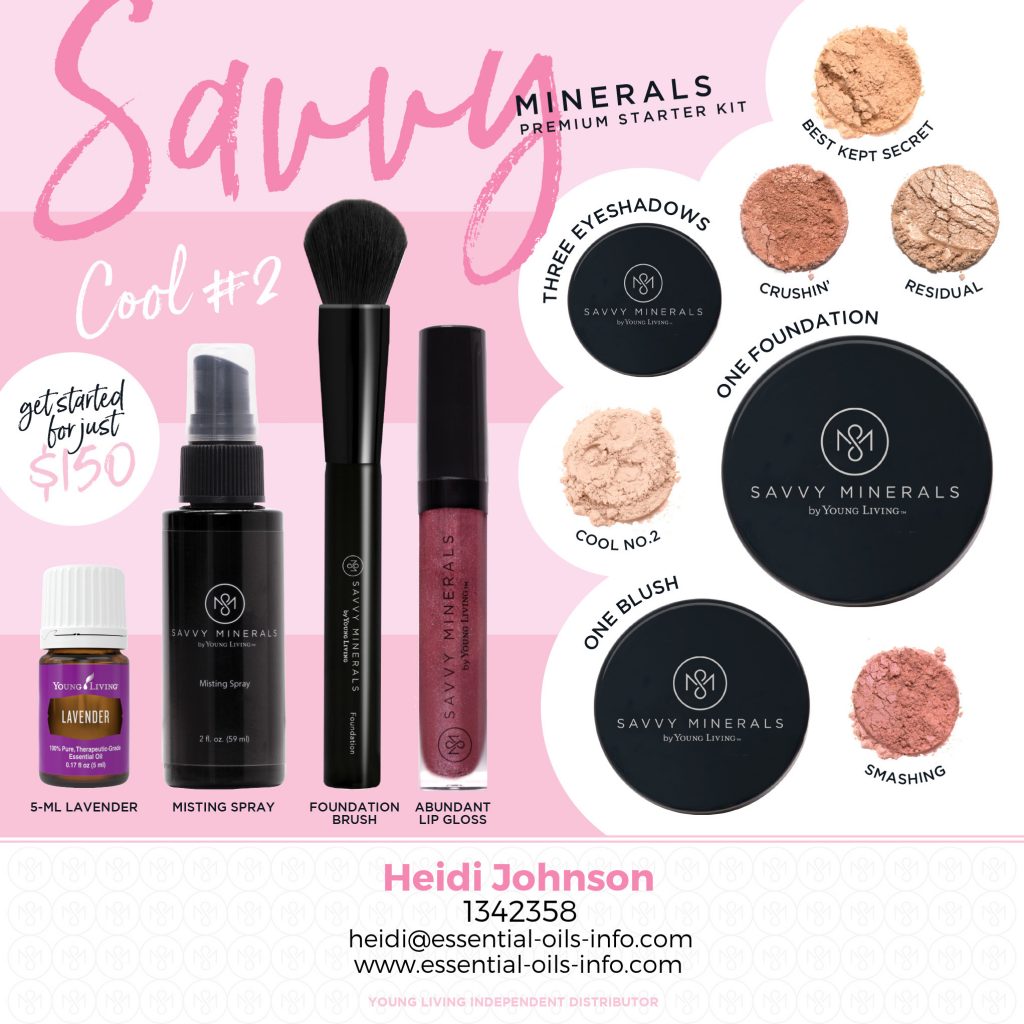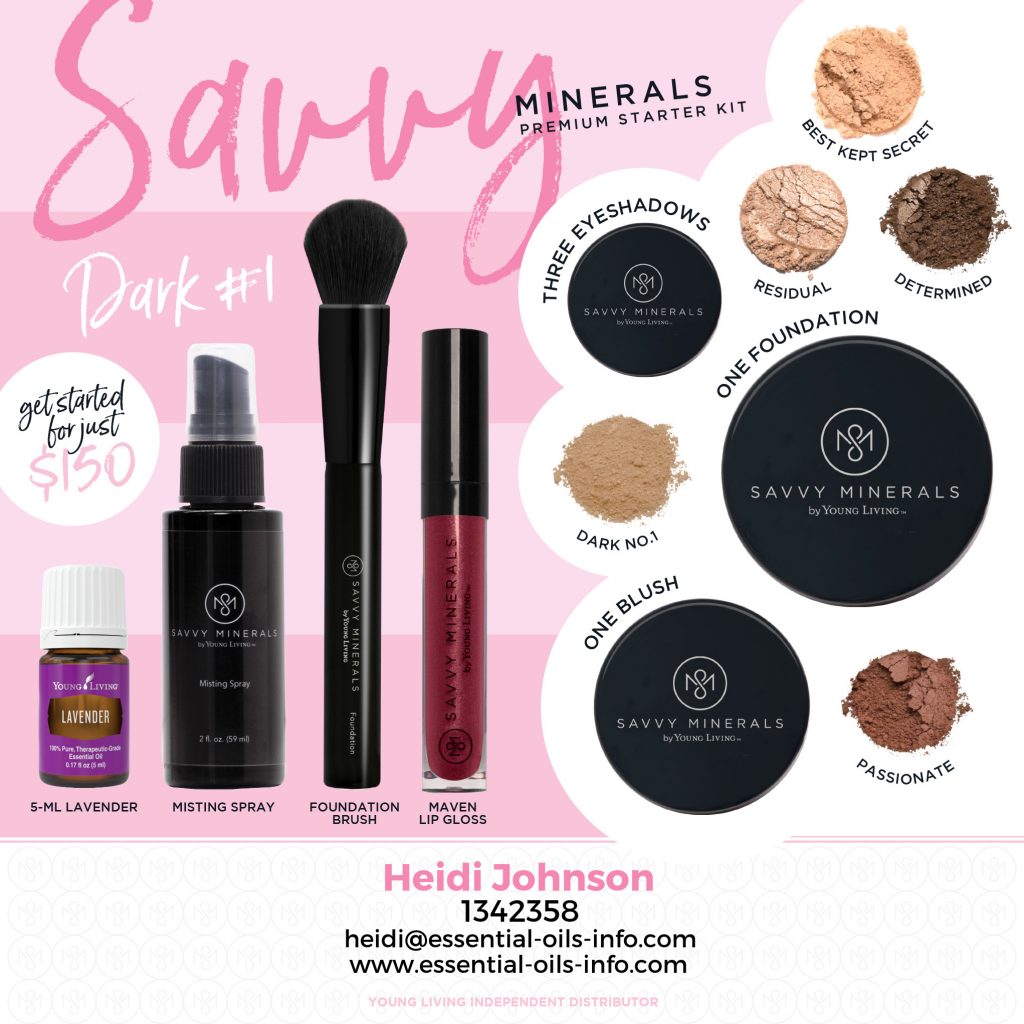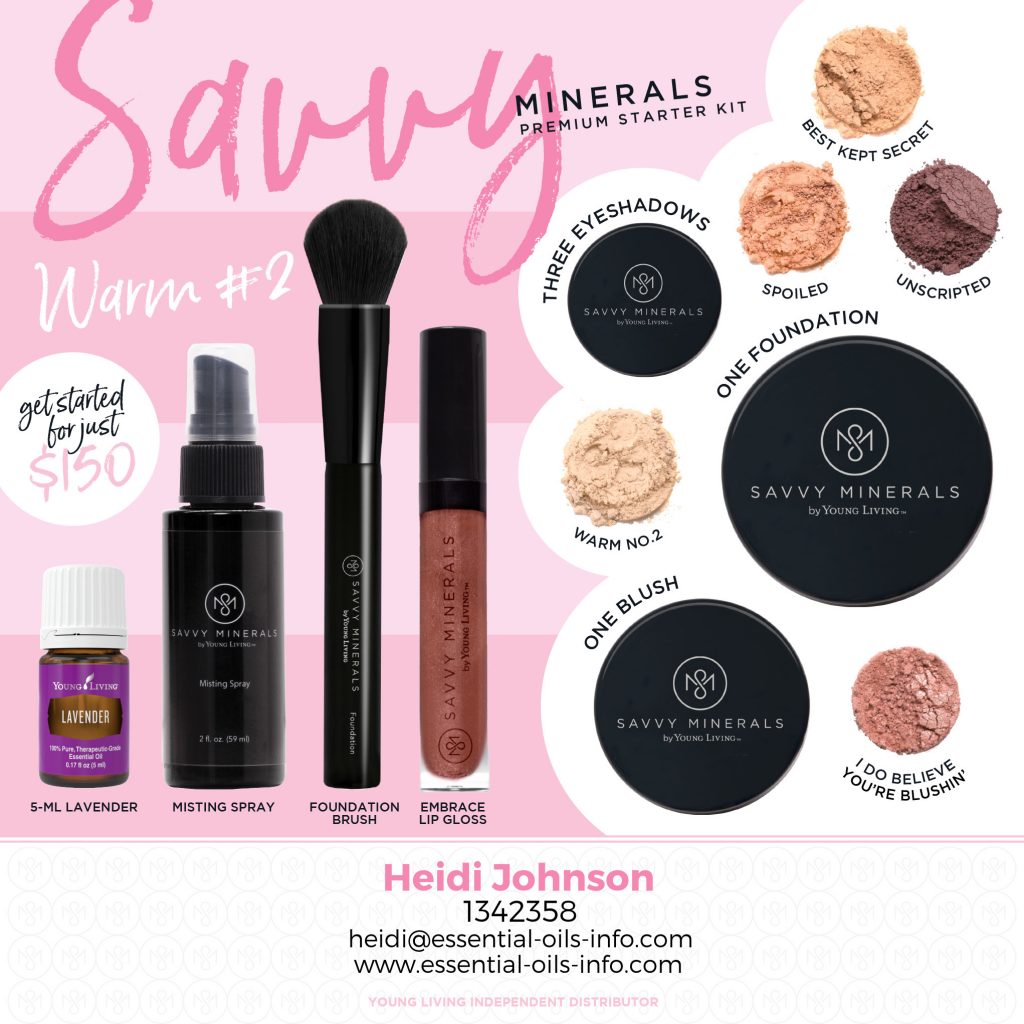 The kit also comes with a wholesale Young Living membership. This entitles you to a 27% discount on all your products. So if you want to buy some essential oils or supplements with your next order, you can do that.
There is no obligation to buy every month (although they have an awesome rewards program if you do) or to sell anything to anyone. You can just buy your makeup, oils and supplements on your own and have them delivered to your door. If you love them, you will want to share this news with your friends too.
Good Quality Makeup is Here!
It's so refreshing to be able to finally get good quality makeup that is all natural and doesn't contain harmful chemicals or toxins. We just seem to be bombarded with chemicals everywhere we go! Now we can eliminate chemicals in our makeup without having to stress about this anymore.
Think about the number of personal care products you put on your body every day. Some suggest that women use 15-30 personal care products a day. If each product contains even just 3 chemicals, that is a TON of chemicals per day!
Give your body a break and protect your family at the same time. Start with cleaning up your makeup products and then move on to other personal care products, cleaners, and other toxic products in your home.
You will never regret getting rid of chemicals in your home. Make the air in your home as pure and toxin free as possible! Because your family is worth it!
Get more information about this makeup line by contacting me here and asking any questions you like.
Related: 6 Harmful Toxins to Easily Remove from Your Home Right Now