Perfect Tacos and Burritos – Our Favorite Healthy Recipes
How to Make Perfect Tacos
When you have a teenage boy in the house, tacos are usually requested quite often. There's just something about that warm tortilla, taco meat and all the fixings that just hits the spot.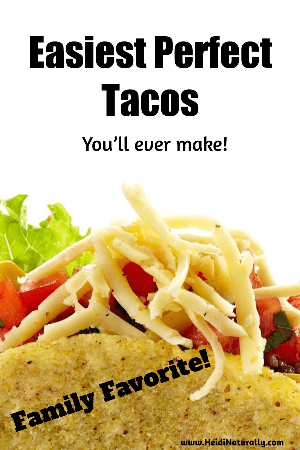 Although most tacos use ground beef, you can use ground turkey or make you taco vegetarian with beans and rice instead. Not sure what it takes to eat a like a vegetarian? Get my free Vegan Living e-book and get all the details.
Check my recipe below for my easy bulk taco seasoning mix. That way you don't have to buy the packets of taco seasoning from the store. You will know that your taco seasoning has just spices in it and not a bunch of added chemicals or fillers.
Want to know the history of tacos and where they orignated? Check out this article on the history of tacos.
How To Make Perfect Tacos
Here's how we fix them at our house:
Brown 1 pound ground beef or ground turkey
Drain the fat from the meat
Add 1/2 c water
1-2 T chili seasoning (see my recipe for this below)
1 t salt
Stir well and heat. You can easily simmer this for a while too.
Serve in hard taco shells or flour tortillas with any fresh ingredients you have on hand like tomatoes and lettuce.
You can include chopped onions, black beans or rice in your taco too.
Also, serve with sour cream and shredded cheddar cheese.
Making Burritos Instead
Heat 15 oz can of refried pinto or black beans with 1 c salsa
Then serve in flour tortillas with condiments mentioned above.
Perfect Tacos Seasoning Mix Recipe
In glass jar, mix 1/4 c chili powder (I like to get organic spices as much as possible)
2 T each of cumin, garlic powder, onion powder, and paprika
1 T salt
Secure with a lid and store in a cool dark place. This is so handy to use for any mexican dish. Add as much or as little as you like to your taste.
Tacos are a favorite at our house and they are SO easy and quick to make. If my meat is thawed, I can have tacos ready in about 10 minutes.
That is a whole lot shorter than driving in the car to a fast food restaurant and picking up dinner at the drive-thru. Plus it's SO much healthier for you and cheaper.
Living a healthy life is not always easy, but when it comes to making tacos it is! Spoil your family with this simple taco recipe with real ingredients.
Another great thing about perfect tacos is that everyone gets to make them in their own way. Some people like a little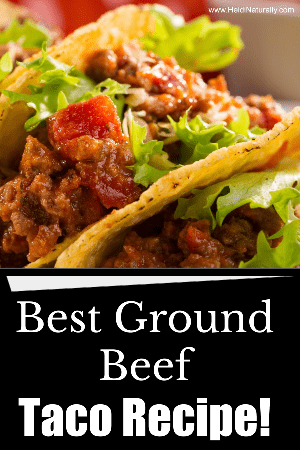 more cheese than others. Other people like to make more of a taco salad with their tacos because they are trying to avoid gluten or increase their vegetable intake for the day.
Some people don't like tomatoes, onions, or beans in their tacos and others like to load them up with everything possible. So have plenty of add ons ready so that every family member can make their taco however they like it.
Tacos meat also reheats well. So if you have some meat leftover, don't worry. Someone will be able to eat a taco for a snack, lunch or dinner in the future.
Who doesn't like healthy AND cheap! For gluten-free options, they make tortillas that are gluten free that taste almost as good as regular tortillas.
For dairy-free options, you can get soy cheese or just enjoy the meat and yummy vegetables on your taco or burrito.
I hope you enjoy this perfect tacos recipe and that you have many great meals with your family.
Want more yummy recipes for your family? Check out these options:
6 Irresistibly Easy and Healthy Dinner Recipes
Best 10 Minute Easy and Healthy Meatloaf Recipe for Families
How to Make Perfect Tacos