Oriental Beef Recipe – Family Favorite
Since it's fun to see the recipes other families are using, I thought I would share my Oriental Beef recipe with all of you. This is another one of those recipes that when my family asks, "What's for dinner?" and I tell them it's this, they smile. You have to love when your family members smile when they know you are going to make one of their favorite meals.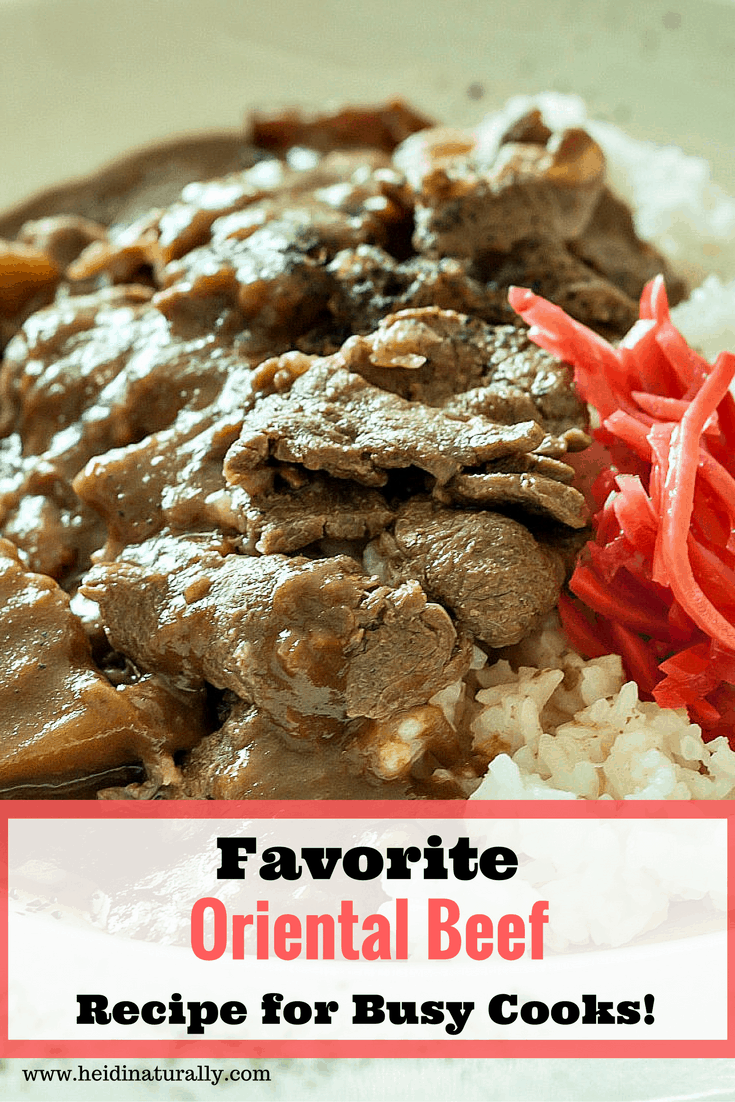 Oriental Beef Recipe
Heat 1 T olive oil in a heavy skillet or dutch oven.
Add:
2 pounds lean round steak or another type of beef into 1/2″ strips. This meat can be tough since it will be cooked for a while.
1 onion, chopped
2 cloves garlic, crushed
1/2 t powdered ginger (optional)
After a few minutes of frying, add:
1/2 c low sodium soy sauce or Braggs Liquid Aminos
2 T brown sugar or 1/4 t stevia
1/8 t pepper
3 c water
Bring to a boil and then reduce heat to simmer. Cover and simmer 1-3 hours. The longer you cook this, the more tender the meat will be. You can thicken this dish before serving by adding 1 T flour to 1/2 c water and adding it to the pan. Stir for a few minutes until thickened and then remove from heat.
Serve over noodles or rice.
This is Oriental Beef recipe is an easy one to double or quadruple. It doesn't take any more time to add extra spice to this dish. It will take a little time to cut the extra meat, but it will be a lot quicker than having to get a cutting board out 4 different times if you make the meal individually.
Have you heard of oriental beef before? If not, what would you call this type of dish? Whenever I mention this dish, all my family members smile because they know they will like dinner that night.
For more family-friendly recipes like this, feel free to check out my cookbooks – Smart Way Cooking and Cooking from Your Cupboard. These were written by me out of necessity to find family-friendly meals that are easy to make and get me out of the kitchen quickly so that I can get on to other fun family activities.
Check out my healthy family-friendly recipe round up if this recipe looks good to you!