Gluten Free Breakfast Ideas
Gluten Free Breakfast Ideas for Families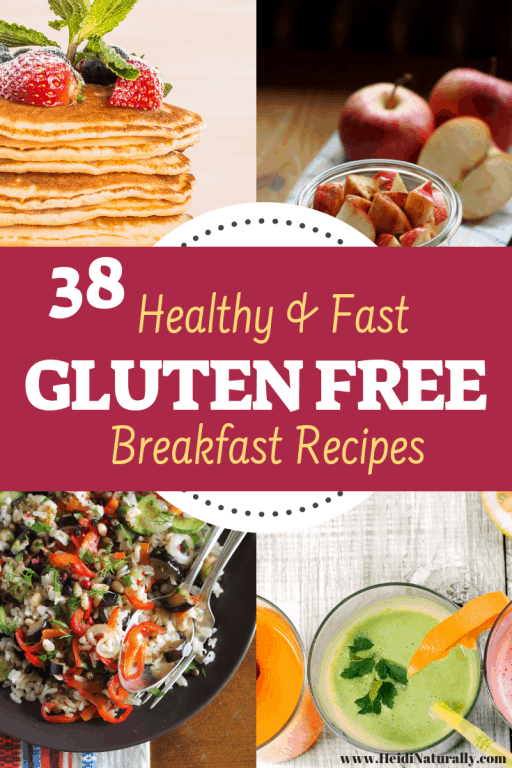 Since so many people seem to not tolerate gluten anymore, I thought I would share some gluten-free breakfast ideas to help. Breakfast is a very important meal, so make sure you start your day right!
Gluten Free Breakfast Recipes
2 Ingredient Pancakes – Here is an easy 2 ingredient gluten free pancake recipe that you can mix with berries for a delicious breakfast.
Power Smoothie – In any type of blender add handful of spinach leaves, 1 banana, 1/4 c berries (any kind), 1 c water or almond milk. You can add 1 t honey if this isn't sweet enough for you.
Use these simple Healthy Breakfast Smoothie Recipes using ingredients that you probably have on hand. These recipes will help you make breakfast simple again. You can have the same smoothie every day or make a new smoothie variation every day.
Feel free to add or subtract ingredients and amounts to your taste. Mix and enjoy!
Close to Conventional Pancakes – There seem to be so many gluten free pancake recipes and mixes out there and some are better than others. Some are just plain yucky! A friend who has been a long time gluten-free mom shared with me a couple of years ago that their favorite blend is the Pamela's line of products. They have both an All-Purpose Flour and a Baking & Pancake Mix. Their Baking & Pancake Mix, besides having their Pam-cakes recipe their bag, also includes waffles, muffins, banana bread, sour cream coffee cake, and chocolate chip cookies.
More recipes can be found on their website too.
Eggs Supreme – Mix 3 eggs, 1/2 c chopped vegetables like peppers, mushrooms, spinach, zucchini, tomatoes (use whatever vegetables you have on hand), salt and pepper to taste, and 2 T water. Heat pan and add 1 t butter or coconut oil. Then add egg mixture and heat until eggs are cooked. Enjoy!
Protein Shake – There are tons of protein shakes out there but my favorite is Young Living's Pure Protein Complete. Both the chocolate and vanilla flavors are very good. I've tried so many that are bad, so just use this one and save yourself the trouble. 🙂
If you want a protein shake with fewer carbs, then the Jay Robb Chocolate Protein Shake (it comes in vanilla too) is a good choice. It is my husband's favorite protein shake.
Breakfast doesn't have to take all day to cook and it doesn't have to be boring. I hope these tips have given you some good gluten-free breakfast ideas. Pick a few of your favorites and rotate them or just eat the same thing each day. The important thing is that you eat breakfast!
Here are some great sites to use to find even more gluten-free breakfast ideas: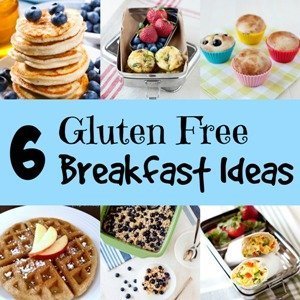 6 Gluten Free Breakfast Ideas over at Momables.com
She shares 6 of the best gluten-free recipes that busy families can make without much fuss.
You'll get recipes for Grain Free Pancake Muffins, Gluten, Dairy, and Egg-Free Pancakes, Make Ahead Breakfast Burritos, Blueberry Baked Oatmeal, Spinach and Bacon Mini Quiches, and Allergy-Friendly Cinnamon Waffles. Give these recipes a try!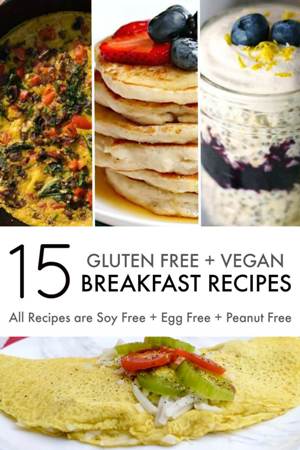 Get 15 more gluten-free breakfast recipes at EatorDrink.net. They have recipes like Egg Free Omelet, Low-Carb Cauliflower Oatmeal, Healthy Morning Glory Muffins, Gluten Free Apple Fritter waffles, Easy Potato Skillet Breakfast, Apple Crisp Energy Bites,  Egg-Free French Toast and more.
Once you get a good collection of easy recipes, fixing breakfast for a gluten-free crowd won't be so hard.
If your family likes crepes, then this Oat Flour Crepes recipe will be a hit.
If any of your children have autism, these Gluten-Free Dairy-Free Breakfast recipes for kids with Autism will help you.
Is a Gluten-Free Diet Necessary?
Are you just exploring the idea of going gluten-free? It's tough to know if you really need to pursue a gluten-free diet. If you're not sure you should even go gluten-free, check out my post about How to Know for Sure if You Need a Wheat or Gluten Free Diet.
The truth is that our wheat is just not the same as it used to be even 20-30 years ago. Genetically modified seeds sounded like a good idea. Less weeds and more yield sounded like a good idea.
Now that there are so many gluten intolerant people in America, our farmers need to rethink our food supply. Maybe our bodies don't know what to do with these genetically modified grains and they are storing them as fat and causing a host of other digestive issues.
Until the food industry changes, we need to be proactive in eating what is good for our bodies. Right now, I don't believe that the wheat available in our stores is good for our bodies.
Gluten Free Recipes
I hope these gluten-free breakfast recipes have been helpful to you. Try any that sound good to you and keep the ones you like the best.
Until our food supply gets an overhaul, most of us will need to eat a gluten-free diet to maintain our health to optimal levels.
Check out my video below if you want even more tips on how to live a healthy life even if you're a really busy mom.
Gluten Free Breakfast Ideas for Families