How to Start a Garden When You Have NO Clue
Simple Steps to Start a Garden
Starting a garden sounds like a noble endeavor, but if you don't know how to start a garden, you might get frustrated. If you have no idea how to get started, have no fear! Just follow these tips and I will help you succeed in growing lots of yummy food!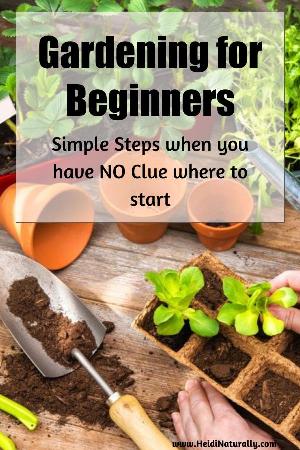 We love the whole gardening process at our house, so I thought I would share some tips with the wanna-be gardeners out there to keep them from getting discouraged. It IS possible to grow plants and yield a great crop!
Top Tips on How to Start a Garden:
Decide where you will plant your seeds or plants.

Do you have a plot of land ready? Will you need to dig up an area? Do you want to start some seeds or plants in pots? Do you want an indoor garden, vegetable garden, herb garden or a combination of both?

Get good soil. No matter which area you choose for your garden (already established, never tilled, or pots), some organic fertilizer 

is always a good idea.

Make sure you have good drainage. If you are starting plants in pots, make sure there is a drainage hole in the bottom. You might need to get a diamond cut drill bit to do this, but it will be worth it.


If you are planting in the ground, make sure your plot is not in a low spot. If it is in a low spot, just dig a small trench next to your plot of ground directing the water away from your planting area.

Get good seeds and/or plants. Although it's tempting to buy cheap seeds on sale that were leftover from last year, don't do it. You want to be successful from the beginning and old seeds are not good for success. In this case, get some nice fresh seeds slated for this year. I prefer to get organic or heirloom seeds, but choose what works for you.


When buying plants, make sure you choose plants that look healthy. Ask an attendant to help you pick out good plants if you're not sure.

Get your seeds or plants in the ground.

Check the frost-free date in your area and plant around that date. That way, if you happen to have seeds that don't come up, you have time to replant.




If you wait until late in the season to plant, it's harder to replant if needed. In Ohio, we usually plant around Mother's Day or Memorial Day each year. We have also planted in early June and done just fine too.




Check over everything around the beginning of June and anything that didn't come up can be planted again. That way you'll still have time for the plants or seeds to grow and ripen before it gets too cold.

Water the seeds or plants when you plant them.

This sounds elementary but necessary. When you get your seeds or plants into the soil, give them a good watering. Check them every few days and feel the soil. Water them if the soil feels dry.




The best time to water is in the morning or evening each day that your soil needs water. Be sure to not water too late in the evening. You want to let the water have time to soak in and benefit the roots of the plants.

Be prepared to maintain

– If you think you can just throw seeds in the ground and never touch them again, you are sorely mistaken. Gardens don't have to take a lot of work, but they do need to be watched. Just check your garden/container each day. If it feels dry, water it. If it has some weeds popping up, pull them.

Enjoy the harvest!

This is the fun part. Most seeds will tell you how many days it might take before you are able to harvest. Be patient. It will be worth the wait. Keep watching your garden each day and pull those weeds so you can grow healthy plants!
You Can Do This! Our Best Garden Ideas
Gardening is work and yet it is so rewarding when things go right. If you start with good seeds and good soil and watch your garden every couple of days, you will reap a harvest from your healthy plants.
If you get stuck or see that your plants are looking sad, there are lots of great YouTube videos out there to help troubleshoot your problem. Search the site for what you need and, chances are, there is a video explaining your exact situation.
Favorite Garden Essentials – Here are a few important tools we use to keep our plot mostly free of weeds.
Our Favorite Garden books:
My husband and I have been planting a garden for about 25 years. It is something we enjoy doing together and we have involved our children in the process as they have grown.
These are the books we have used most over the years to keep our work to a minimum and our yield at the maximum level. Why work harder than you have to!
Use the tips and tricks that successful gardeners before you have used. That's what we did. We talked to people that we knew that were having great success and learned from their tips. Eventually, we have been able to share some of our tips with them too.
Probably the most helpful thing we have done is to look up which plants we should plant together. The book Carrots Love Tomatoes has been the most helpful with this. We want the best garden yield, so why not plant plants together that like each other? We didn't know there was such a thing until this book, so now we recommend this book to anyone who asks us any questions.
The weeds will try to make you look like a bad gardener, but you have to prevail and figure out how to get them under control. As you can see from this post, if you check in every couple of days, you can achieve this without too much extra work. The book Gardening Without Work is a great resource for learning about weed control. 
We have found that mulching around our plants with grass clippings has worked the best for us. We like to keep the weeds from coming up in the first place rather than having to pull or till them when they come up.
It's important to lay down newspaper or cardboard first when using grass clippings in your garden. Lay the grass clippings down thick too! We want to choke out those weeds and keep the moisture in the soil too.
That way, when we have had years with very little rain, out plants have survived much better than the other gardeners around us.
Common Gardening Questions:
How do I start an herb garden? Basically, you will just use the same principles state above. Get some good soil in a good container (with drainage) or plant in the ground, get seeds or plants from your local garden center, plant them, water them, and check them every few days. You can either cover the ground around them with some grass clippings or compost, or pull the weeds when you see them.
Be sure not to put landscape mulch around your herbs or vegetable garden plants because the chemicals used to treat the mulch will leach into your soil and into your plants. You don't want any extra chemicals getting into your food and being absorbed by you or any of your family members.
Should I have a container garden or use garden planters? This is a good option if you don't have much of a backyard at your house. It's also a good option if you are just getting started and don't know if you want to dig up any dirt in your yard yet. You can use containers or planters for a year or two so you can get the hang of planting plants and maintaining them.
Is it worth it to grow a vegetable garden? Yes, we have been growing a vegetable garden for over 20 years and have been blessed with lots of good produce every year. It takes a bit of work a few times a week but it's fun to plant a seed and watch it grow. Then the harvest is fun too! Our kids have learned so much about science from helping grow, maintain and harvest our garden.
Where is the best place to get vegetable plants? In our area, we have tons of greenhouses. The big box stores like Home Depot, Lowes and Walmart usually have lots of plants but you will probably get a better yield if you buy from a local garden center or greenhouse. I've heard that big stores sometimes spray their plants to keep them controlled. Then it takes them a while to recover and start growing well again.
How do you plant and maintain raised garden beds? Some people like raised garden beds and others prefer planting plants in the ground instead. I suggest getting one and seeing how you like it for a year. There are good books that help you know what and how to plant. Generally, they need more water so you need to watch them closely.
Gardening for beginners – what plants are easiest to grow? For us, tomatoes, peppers, and broccoli have been the most consistent crops. I think it also depends on where you live and what type of soil you have. I've found cucumbers to be harder to grow since they are a bit sensitive to transplanting and heat.
Use the companion planting books I mentioned for the best crop. Planting the right plants together can help your plants grow better and make them easier to grow.
How do you deal with pests in your garden? One simple trick I have used over and over again is a simple ingredient called bleached flour. This is the same bleached flour that you can get in the grocery store. I just put it into a container with holes in the top and sprinkle the flour on whatever leaves or plants have holes in the leaves or bugs on them.
You will want to sprinkle them well but not so much that it covers the leaf completely. Bugs don't like this flour so they will leave the plant and go elsewhere. If it rains, just sprinkle the flour on the leaves or plants again.
This does not hurt the plant or your family and if it doesn't get rid of the bugs, you haven't wasted a lot of money. I can't think of a time that this didn't work for us though.
What is the best vegetable garden layout? We like planting plants in rows and planting them with plants that grow well together. We also find that planting a marigold at the end of each row helps keep bugs away. Plus it makes the garden look even better having all those pretty flowers surrounding it!
That's about all I can think of to share about how to start a garden. Get good soil, good seeds, and check in on your garden each day at first. Once it is growing well, you can check in on it every couple of days and pull out any weeds that may have popped up.
You will find that plants will grow better one season and not as well the next depending on the weather. Take this all in stride and enjoy when you have a bumper crop. Then those years when you don't get a good yield, you will find that another plant does well that year instead.
Gardening doesn't have to be hard. Talk to the gardeners in your area and get any extra tips you can from them. People who know how to grow plants are usually more than happy to share what they know with others.
I hope all these tips have been helpful. Feel free to contact me if you have any questions.
More Posts to Grow Successful Plants:
How to Banish Weeds and Bugs from Your Garden Organically

– We don't like using pesticides on our plants, so we have implemented some frugal and organic methods that have kept our plants healthy. Check out the single most important item that you already have in your house that will help keep bugs away the most!

How to Know What to Plant with What for the Best Yield

– Our philosophy has always been to plant seeds and plants with other complimentary seeds and plants for the best yield. This is a thing! People have figured out what plants grow well when planted near each other. How amazing that certain plants like or don't like each other. If you're going to grow things, you might as well plant things together that like each other!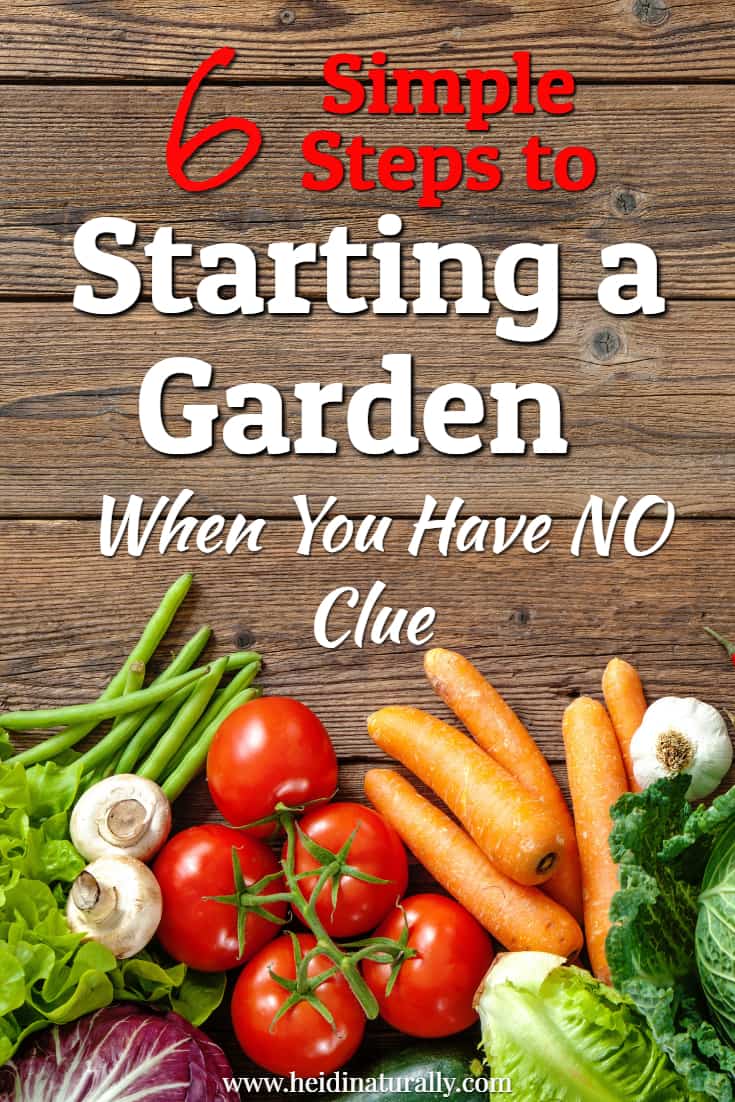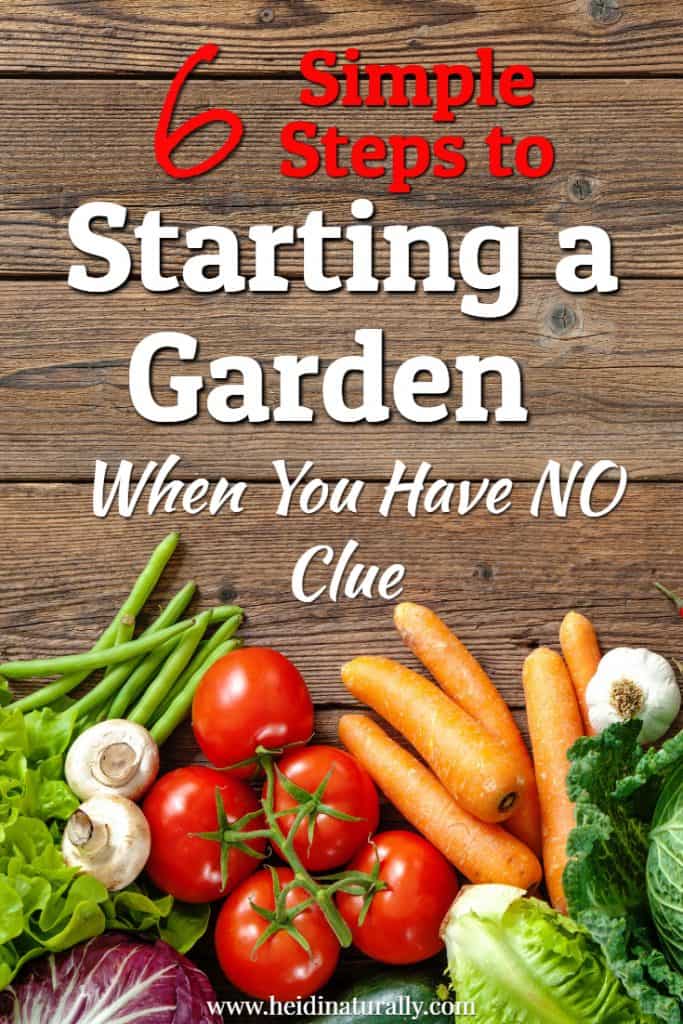 Simple Steps to Start a Garden