How to Make Meals Every Night
With What you Have in the Kitchen
Attention: Working Moms, Stay at home Moms, or anyone who wants to cook simple and easy meals without running out to the store for that missing ingredient…..
Now there is a simple cookbook
that helps you put your meals on auto-pilot!
What You Get – Cooking From Your Cupboard :
A Plan of How to Cook with What You Have On Hand
If my situation is similar to yours, then read on because…..
This simple plan will give you recipes and ingredients to have on hand for 30 meals.
Budget Friendly Meals
Easy meals that you don't have to think about that your budget can handle.
A Flexible Plan of Simple Meals
Once you get the ingredients, you won't have to think about what to cook anymore.
No More Meal Planning!
You don't have to have your act together when you use this no-brain system.
No More…
Running to the store at the last minute for that missing ingredient.
No More…
Organizing recipes or rummaging through complicated cookbooks.
Simple to Understand
And easy to implement right away
Color Coded for Easy Use
And complete with family-friendly and relatively healthy recipes
If my situation is similar to yours, then read on because…..
You can now have access to our family's favorite recipes, compiled, color-coded, and complete with all the ingredients you need to prepare 30 meals.
What Our Customers Are Saying:
I really enjoyed this eBook! There were great tips on saving money. Agree that Aldi is a great place to keep your costs down! Also, I loved the advice about eating healthier. Most people should be able to put this advice into practice without being overwhelmed.
Erin// Busy Mompreneur
With my bridal wedding accessories business and 2 young kids in tow, this book is a savior for my sanity. I want to give healthy and fresh food to my kids as much as possible. Unlike most mass cooking, stored food meal prep books, Heidi put a lot of thought into color-coding of frozen vs fresh food. Not only does it save time, knowing that part of the meal is fresh helps a lot with my guilt trip. Worth every penny!
Belle
"I was struggling to feed healthy meals to my three kids, hold down a full-time job, and unexpectedly homeschool.  Heidi's book has a workable, easy-to-follow system – not just great recipes that are a true treasure to my busy household!" – Marianne
How I Came Up With This Auto-Pilot System…
Friend, you're more than likely the cook in your family. So am I.  After talking with my friends, I noticed a common thread among them. They just wanted a cookbook that had simple menus using basic supplies.
Who doesn't comb through cookbooks looking for simple and easy recipes that their family will like and that their budget can handle? It didn't hit me until one person said that they thought someone should provide a cookbook with normal ingredients. That's it I thought! That's why recipes never work for me. They always have ingredients that either I know my family won't like, or I will have to drive to a store and fight the crowds to get that ingredient that I don't have.I wanted to provide good meals for my family, but I didn't want to have to spend a lot of time planning meals and creating fancy menu plans.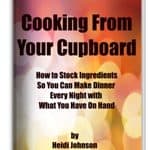 A flexible plan of simple meals
A system that uses familiar ingredients
An easy system that you can start right away
1 Simple grocery list for 30 meals!
Forget worrying about meal planning forever!
Delivered right to your computer – no shipping charges or waiting for your book to arrive
Who else dreams of getting dinner on the table every night with what they have in their kitchen? 
The answer comes in following my collection of family favorites complete with color coding and listing of ingredients in this simple and easy-to-follow format.  
Why using a system of cooking from what is on hand in your kitchen is a no-brain system?
If you have all the ingredients you need for a meal, then preparing the meal is so much easier.  You can just decide in the morning what you want to make, take out the frozen items you will need, and walk back into the kitchen later on in the afternoon and prepare the meal for the evening. You don't have to spend time thinking about a whole month or 2-week menu plan. You can just plan one meal at a time.  This system puts your meal planning on auto-pilot. Remember this: If you keep doing what you're doing right now, you will continue to get the same results that you have always had. If you're really ready to start implementing a new system of cooking that will save you time and stress, then you want to know how to get the book, right? Well, you can get the Cooking From Your Cupboard e-book for just $9.95 for a limited time.  Order your book here…..
$9.95
Remember, if you want to get out of your cooking rut, you have to take action or you will be in the same rut for years to come with the same results you're getting now. Give yourself a gift by getting this book and getting your cooking system under control! If you don't have a paypal account and want to pay by money order, just email me and we can make some arrangements for payment.
100% Satisfaction Guarantee
You have a full 30 days to test this system. If you aren't completely satisfied with the ebook you receive, just ask and we will gladly give you a full refund on your purchase price. Give it a try, the risk is on us!