Basic Stir Fry Recipe Options for Really Busy Families
Simple and Basic Stir Fry Recipe
Stir fry is an easy way to make a nutritious dinner with fresh, frozen or leftover ingredients you have in your house. This is fun to use in the summer when garden produce is in good supply. It's also great to use in the winter with frozen vegetables.
Cooking healthy meals doesn't need to be hard. I love this easy recipe because there are so many ways to vary the ingredients. You can get a different meal almost every time you make it.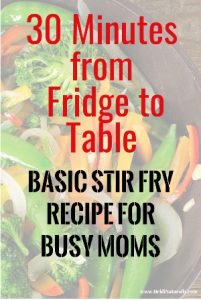 My Basic Stir Fry Recipe
Marinate (if you have time) 1 c boneless chicken breast, round steak, shrimp, or leftover meat in 2-3 T Braggs Liquid Aminos or low sodium soy sauce.
Decide whether you will serve rice or noodles with this dish and get the right amount of water boiling to get this part of the meal ready.
Chop or slice 1 c hardy vegetables like cauliflower, carrots, broccoli, onions, celery, etc. You can chop these as small or large as you like. Feel free to use fresh or frozen vegetables
Chop or soft-skinned skinned vegetables like zucchini, summer squash, mushrooms, red or green peppers, corn, peas, etc.
In wok or cast iron skillet, heat 1 T olive oil. Then add meat mixture and 1/2 T ground ginger and stir occasionally until meat is cooked through.
Then add the hardy vegetables and cook through.
Then add the soft skinned vegetables and cook through.
Once all ingredients are cooked through, mix 1 c water with 3 T cornstarch, flour or your favorite thickening agent and add to skillet. Stir constantly until sauce gets thicker and to your desired consistency. Remove pan from heat and serve with noodles or rice and a nice salad.
Ingredients for this recipe:
1-2 T olive oil
2-3 T Braggs Liquid Aminos or Low-sodium soy sauce
1 c boneless meat
1 c hardy vegetables
1 c soft skinned vegetables
1/2 T ground ginger
1 c water
3 T cornstarch, flour or other thickening agent
Prepared noodles or rice according to package directions.
This is a simple meal that I like to use when we either have a good supply of leftovers or garden produce. The Braggs Liquid aminos gives a nice flavor without all the sodium of salt or soy sauce.
Play around with the ingredients. These amounts don't have to be exact. Make it your own and add the ingredients your family likes.
You can literally make this basic stir fry recipe over 100 different ways. Use it every day if you want and see how many different creations you can create. See how long it takes your family to notice that you're using the same recipe.
Want more recipes? Check out these posts with tons of family-friendly recipes:
This first one has all our favorite family-friendly recipes in it – Easy Healthy Dinner Ideas for Busy Families
Then I decided to add some more of our favorite recipes – More Easy and Healthy Dinner Recipes
6 Irresistably Easy and Healthy Dinner Recipes for Tired Families
Then when you're looking for healthy breakfast smoothie ideas, check out How to Make a Healthy Breakfast Smoothie
Interested in freezer meals and saving even more time in the kitchen?
Check out my easy freezer meal system that I have used for years. Learn how I had over 50 meals in the freezer when my third daughter was born! I spent 12 weeks on bedrest and still got all these meals done just in the normal time I cooked dinners.
Find out how you can use your normal time in the kitchen to multiply meals and stock your freezer easily. Get all the details in the book that you can download to your computer in just minutes. Check out my ebook Smart Way Cooking!
Simple and Basic Stir Fry Recipe