Stop Putting Up with Being Disorganized or Feeling Like You Never Get Everything Done That You Want to Get Done….
"Here's how you can quickly and easily get things done without feeling like a failure!"
Dear Friend, How much is an organized house and life worth to your family? Suppose you could get everything done on your to-do list and not be overworked. Imagine….. An organized house with a completed to-do list.Sounds too good to be true? Well, it isn't if you have the right information and tools. Think about it. An organized house and a good plan for getting things done is the most powerful tool a woman can have. Simply put, living with order is freeing. But creating that order is the hard part…..It could take you years and could cost you a small fortune to figure out just the right combinations to make organization work. But instead of knocking yourself out trying to come up with the right system, you can now have this instead.
You'll Discover How To:
Overcome procrastination
Overcome lateness
Get everything done that you need to get done in a day
Conquer all your to-do lists
Deal with perfectionism and interruptions
Plus many more tips and ideas to help you stay focused.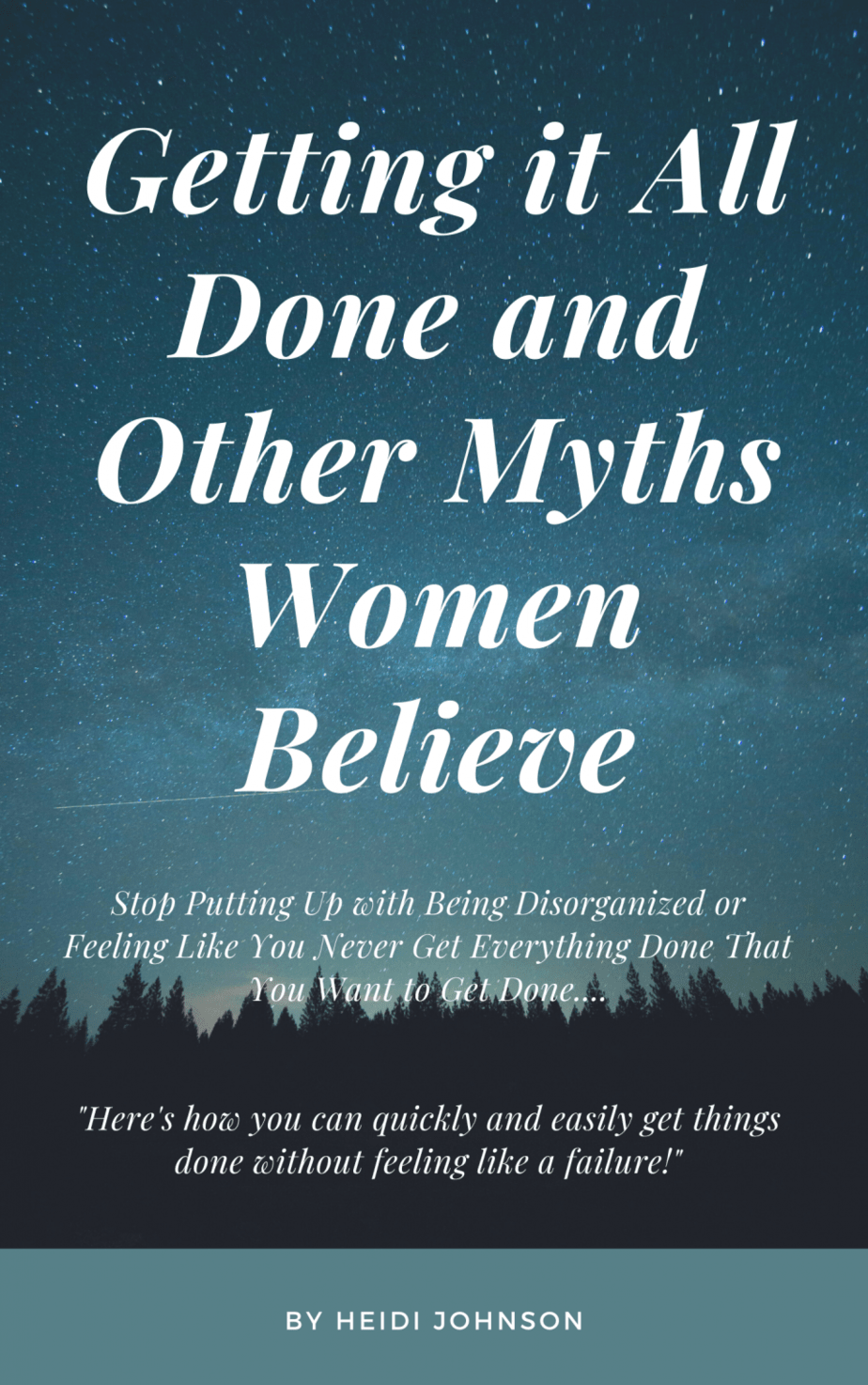 Getting IT All Done – and Other Myths Women Believe
At last! Every tool you need to get organized and complete your to-do list is here.
Getting It All Done will help you overcome all these obstacles. You'll wonder why you didn't think of this before.
What Our Customers Are Saying:
Here's what customers from all over the country are saying about this unique time management system:
I think this is a wonderful book for getting women to really think about their schedules, planning techniques, and organizational abilities. I think everything is very self-explanatory and very well written! I really got some great ideas, as always, from you and I'm ready to start implementing them!!
Cavell
Since reading your book I decided to go room by room and declutter and reorganize in the areas I have procrastinated. My craft room was a nightmare and after spending a few bucks at the dollar store for baskets, it is now a wonderful room for me to go into without feeling overwhelmed. – Tina
Tina
I thought it was very good overall. There are many things in the principles section that are worth reading through several times as you think about how they apply in your own life.
Lori
I liked the book. Very informative. Liked the thoughts on Lists. I think it is very clear and well-spoken. – Sandi
I enjoy reading your books. I feel like I am talking to an old friend over tea sharing "wife war stories " – Teddie
Very well organized and "put together". A lot of helpful hints that I've never thought of. I thought it all flowed well and is very understandable.
Dea
I found your book easy to read NO PRESSURE. "This is how you do it" was not between the lines. I liked that you included this is what works for you, or this is how I do these. It was easy to follow and transitioned nicely into each new subject.
George Dune// Developer
I know you're probably still skeptical and a bit on the conservative side, but think about this, if you keep doing the same things over and over again – you'll only succeed in getting the same results. That's why I want to let you try out my proven principles completely and totally risk-free! (I'll tell you about my unique guarantee in a moment.)
Okay, so what's the cost for this incredible resource?
Order your copy of
Why charge so little for this book?
Well, realize that this type of service could easily sell for hundreds of dollars if you had someone come in and personally help you in your home. In fact, if you asked a professional organizer to come in and work on your schedule and your house, you'd be charged in the neighborhood of $200 per day.I'm not going to charge you anywhere near that amount or even my minimum project price. In fact, since the ebook is trimmed down to the simplest format that I could create, I can only bring myself to charge $3.99 for this resource.
What's the Catch? Why am I practically giving this resource away?
Well, it's simple…
I like helping people simplify and improve their lives.
I know finances can be tight sometimes and that you probably don't have much extra money laying around.
The book is pretty short and simplified, so I want to give you the best value for your money.
100% Satisfaction Guarantee
You have a full 30 days to test our product. If you aren't completely satisfied with what you receive, just ask and we will gladly give you a full refund on your purchase price. Give it a try, the risk is on us!