How to Know the Best Carrier Oils to Mix with Essential Oils
If you've been using essential oils at all, you have probably heard about carrier oils. But which are the best carrier oils to use? Are they necessary? Is one carrier oil better to use than another? What about brands?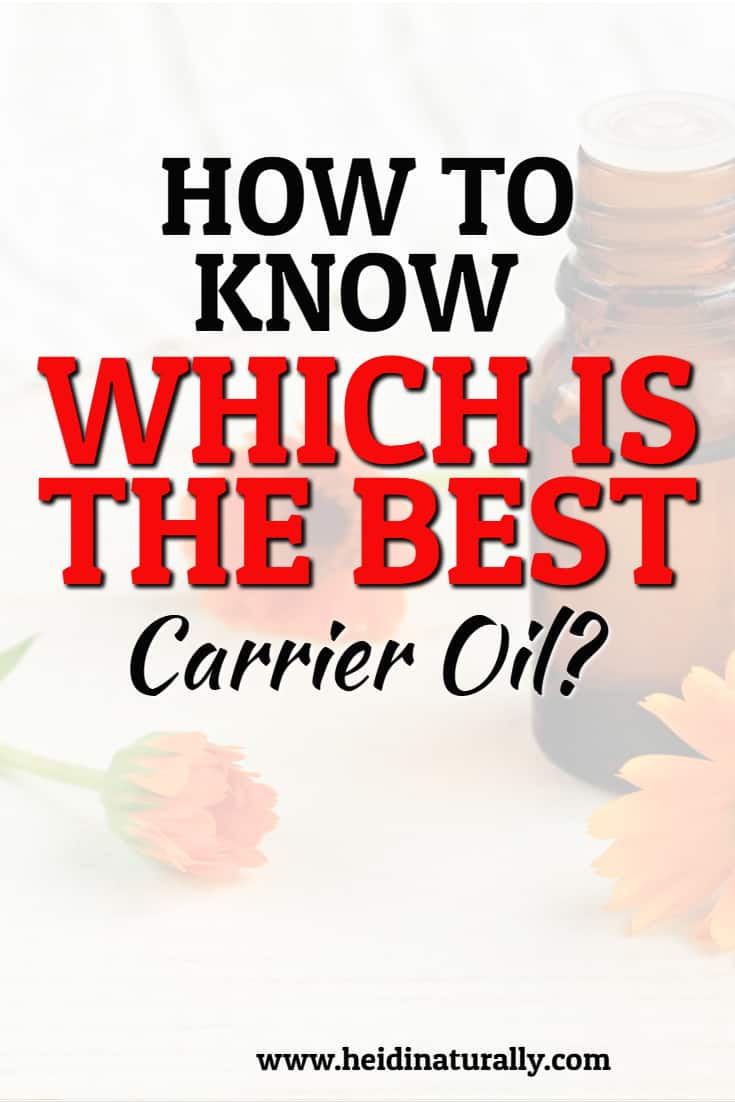 I will work on answering all your questions in this post, so sit back and enjoy the information.
In Jen O'Sullivan's book French Aromatherapy, she lists a whole bunch of carrier oils along with recommendations on how to use them. If you use essential oils a lot, you will want to get this book!
Questions to Ask When Choosing Carrier Oils
Where are you going to apply the oils – feet, body, face, hair?
What is your skin type – is it sensitive, normal, oily, or dry?
What do Carrier Oils Do and Which are the Best Carrier Oils to Use?
Carriers oils basically dilute the essential oils that you are going to use.
Jen O'Sullivan states that the short answer to the best carrier oil to use is Grapeseed oil. She prefers it even to coconut oil. She says it's great for all skin types and can be used on every body part.
I've been studying and teaching on essential oils for over 5 years and I did not know this at all. It just shows me that there is always something new I can learn.
She recommends that whatever carrier oil you purchase, make sure it is 100% pure, organic, raw, unrefined, and cold-pressed.
These are all the main carrier oils available:
Avocado oil – great for dry flaky skin.
Coconut oil – good for dry skin and makeup removal.
Grapeseed oil – great for the skin and easy to use in recipes and with rollerballs.
Hempseed oil – great for aging skin and is rich in vitamin D and good essential fatty acids.
Jamaican Black Castor oil – Good for troubled skin. Very thick and sticky.
Jojoba oil – Good for sensitive skin.
Macadamia oil – Good for aging skin and in face serums.
Raspberry Seed oil – a thin oil good for aging skin. Nourishes and conditions. Has an SPF of 28-50.
Rosehip Seed oil – good for smoothing skin and also for face serums for mature skin.
Sweet Almond oil – Good for balancing skin tone and nourishing skin.
Young Living also has a great carrier oil blend called V-6 that contains coconut oil, sesame seed oil, grape seed oil, sweet almond oil, wheat germ oil, sunflower seed oil and olive oil.
Jen's book gives a great deal of detail on everything essential oil. I and many of my team members have learned a great deal from this book. She has another book called The Essential Oil Truth Second Edition: The Facts without the Hype

Feel free to let me know if you have any questions about the best carrier oils to use with essential oils.
You might also enjoy these related posts:
11 Insanely Clever Essential Oil Accessories Needed for Effective Use
Does it Really Matter Where You Buy Essential Oils?