As a natural mom who uses essential oils, I find it's important to use accessories to help use essential oils more easily and effectively.
When you first start using oils, it can seem overwhelming and you feel like you are all thumbs. That's why some good simple resources can really help shorten the learning curve on getting started with oils.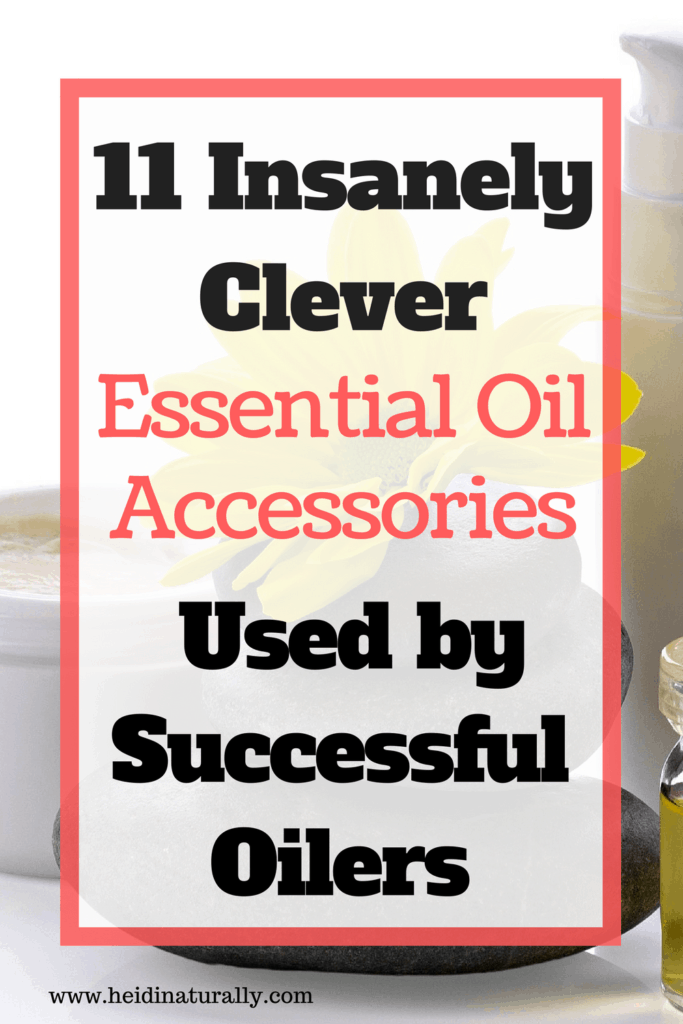 First Accessories – Reference Books and Guides
Having good books and guides on hand makes life so much easier. When something comes up, your first reaction should be to look it up and see what oils or recipes can be used.
Reference books help give direction on how to use oils safely and effectively. The older versions of these books, although more expensive, contain more helpful information that is not allowed to be published anymore.
Essential Oil Carrying Cases – More Important Accessories
If you travel or just like to have a lot of your oils with you, these carrying cases are so helpful to keep your oils safe and organized. Whether you are carrying just a few oils in your purse or carrying 16, 30 or more bottles, these carriers work really well.
Making Your Own Products – Accessories to Use
One of the first products I made when I first started using oils was foaming hand soap. Even though I could purchase it from the company where I bought my oils, I found that using my own container, oil, and products was much cheaper. Some people don't want to mess with making their own foaming hand soap, but I find that it is very quick and easy and is worth the cost savings. I posted my favorite foaming hand soap recipe here if you would like to try it. I used Dr. Bronner's Baby Unscented Liquid for my recipe along with Young Living Thieves oil.
The next product I made was deodorant (recipe here). We still used this recipe to this day and are still very happy with it. In the winter, you can use the deodorant sticks if you want, but in the summer, the coconut oil will not be as solid and will actually turn liquid because of its melting point. This is why I prefer to put my deodorant in a container with a screw on lid rather than a standard deodorant container. Then I just scoop out what I need and apply. Here are some examples.
Containers!
Once you start reading about and using oils, you might find that you want some containers to hold your concoctions and recipes. Glass jars work well and protect you from absorbing the petrochemicals in plastic containers. It's easy to make beauty products like creams and lotions and these jars make it easy to store those products conveniently.
When making creams and lotions, I find that using shea butter with oils makes a nice consistency. If you want something more solid, then I suggest adding beeswax pellets to the mix. Beeswax will take longer to melt but will make the mixture more firm. Here are some ingredients you might need when making your own lotions and creams.
When making anything with essential oils, it's important to label everything. I have often thought that I would remember what I made only to find out later that what I made had slipped my mind. These fun labels make it easy to label everything so you know what you have.
Lip Balm Containers
Another fun thing to make with essential oils is lip balm. Even though Young Living carries lip balm for purchase, making your own gives you more options and is usually cheaper. You can pour the lip balm you make into jars or containers. Here are a few examples.
Glass or plastic spray bottles are great to have on hand for making room sprays, natural cleaners, and beauty products. Since the oils are usually diluted in these applications, glass is not vital but preferred. Here are some suggestions for spray bottles to get for oily recipes.
More Glass Roller Ball Bottles
Even though Young Living comes in glass bottles and provides a roller ball, sometimes it is good to have some more roller ball bottles on hand. These can also be used for gifts and making up special blends of oils for those in your home. Some prefer to get metal balls and others feel that acrylic or plastic balls are fine. Young Living also has just the roller filament with the lid available in packs of 10, so if you have a membership with them, those are great to use with empty bottles or blends.
Store those Oils!
As you get a larger selection of essential oils and blends, you will want to have an area or areas in your home designated for oil storage. Here are some great oil storage accessories that make finding and storing your oils easy. Many times using a nail polish storage rack works well for storing and displaying essential oils too. Storing oils inside a cupboard door or in a drawer organizer works well too.
I hope this gave you a good idea of what accessories you might want to get to help improve your essential oil knowledge and help you use your oils more easily and effectively.
If you've never used essential oils before, I encourage you to get these oils from Young Living with a wholesale account. This is the best value and gives you the ability to earn free oils and have an oil diffuser to use for your whole family.
If you want to get these oils in your home and take advantage of all of the resources I provide for those in our group, follow the instructions on the right side of this page or here and use www.getpureoils.com to complete your registration. I provide lots of resources, information, and hand holding for those that need it once you get your oils through this link.
Read this if you're thinking Does it Really Matter where I Buy Essential Oils? Contact me if you have any questions at all about getting essential oils.