6 Top Essential Oils for Romance
How to Use the Top Essential Oils for Romance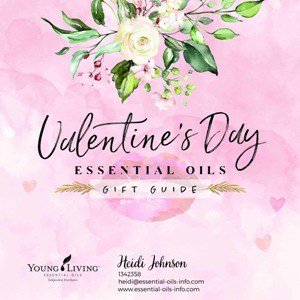 Whether it's Valentine's Day, a special weekend away or just a regular day, finding the top essential oils for romance can be a great benefit. Encourage a romantic environment and use essential oils to help you relax and feel good.
Use this essential oil gift guide and all the images and links to get clued into the best essential oils for romance. Use oils for massage, in a roll on blend, in a bath, on location, or as a cologne or perfume.
What better way to start a romantic evening than with a massage? You can use plain massage oil like olive oil or coconut oil, but why not add essential oils to make the massage top quality.
Massage Oils for Romance
Young Living has 5 massage oil blends already made up for you. Depending on your needs and how your body feels will depend on which massage oil you will use to find your favorite essential oil for romance.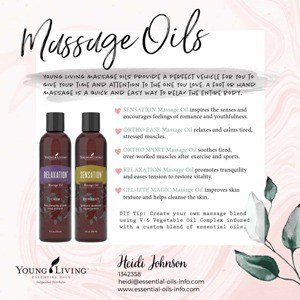 The massage oil blends include:
Sensation – No explanation needed here.
Ortho Ease – For those who like to have their tired muscles worked on.
Ortho Sport –  For those who have tired muscles from sports or exercise.
Relaxation – When you just want to relax and get rid of a stressful day.
Cell-Lite Magic – This is great to put on areas of your skin where you want better texture and detox.
Get an account with Young Living or order directly from their website to get any of these great massage blends.
Related: Does it Really Matter Where You Buy Essential Oils?
Essential Oils in the Bedroom:
A whole book has been written about the top essential oils for romance in the bedroom
called Lucy Libido: A Girlfriend's Guide to Using Essential Oils Between the Sheets. There are tons of suggestions and tips in the book so I suggest getting this book if you want some guidance in this area.
The top oils I remember from reading the book include Cypress, Purification, Idaho Blue Spruce, Ylang Ylang, Orange, and Sensation. This is by no means a complete list but will give you a good list to work on.
She uses Young Living oils, so you will want to either have a Young Living membership or order their oils on their website at the retail cost. This book will help you know how to use the top essential oils for romance between the sheets.
Most couples find that they like certain oils better than others. Since our body chemistries are different, you'll want to experiment with the oils that work best for you. Then you can get the oils you like.

Essential Oil Roll-Ons as Romance Gifts
Next up are essential oil roll-ons. If you're into DIY projects, you can certainly combine your own Young Living essential oils with organic grapeseed and put them in a roller ball bottle.
But if you like having something great made up for you already, then these essential oil roll-ons are for you. Here again, you can choose the blend that fits your situation best. Or if you want to give a special gift to that special someone, these blends are amazing!
Amazing Essential Oil Roll-On Blends Include: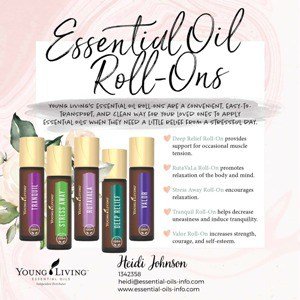 Deep Relief Roll-On – another great one for muscles that need attention.
RutaVala Roll-On – this one is so relaxing to the body and mind.
Stress Away Roll-On – Who wants to hang onto stress? Use this blend to help you melt away the stress of the day or week.
Tranquil Roll-On – More relaxing oils here that help decrease uneasiness.
Valor Roll-On – Wow, this is one powerful oil. It has spruce oil in it which the Roman soldiers used to put on before they went into battle. Many people use this when they have to give a speech or even just need a boost in self-esteem. You can see how this would be one of the top essential oils for romance too.
So if your significant other deals with any of the things listed above, get them the roller ball roll-on that you think they would like best. Essential oils make great gifts because they are unique. No one else has gifts like these that make people feel so good and relieve stress.
Essential Oil Bath Salts
Providing essential oil bath salts for a romantic evening or even as a gift to use over and over again is a great idea.
You don't even have to be creative or crafty to be able to make a batch of bath salts. All you need is 4 cups of epsom salts. You can even get fancy and buy premium extra fine Epsom salt.
Then just add 15 drops of ONE of these oils or blends to your salts: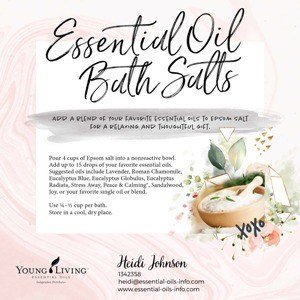 Lavender
Roman Chamomile
Eucalyptus Radiata
Eucalyptus Blue
Eucalyptus Globulus
Sandalwood
Stress Away
Peace and Calming
Joy
Or mix together your own favorite essential oils and add them to the 4 cups of Epsom salt in a nice container like one of these.
Perfume and Cologne for Romance
Here are some fun recipes you can mix up to add to your top essential oils for romance. Wear these every day or for special occasions. Wearing essential oils is always a good idea.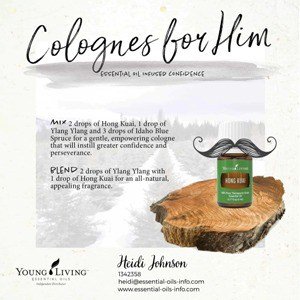 For him, mix:
2 drops Hung Kuai
1 drop Ylang ylang
3 drops Idaho Blue Spruce
This mixture is good for confidence and perseverance.
Or mix 2 drops Ylang ylang and 1 drop Hong Kuai for an appealing fragrance.
Perfumes for Her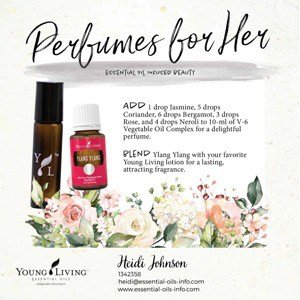 Here's one recipe:
1 drop Jasmine essential oil
5 drops Coriander essential oil
6 drops Bergamot essential oil
3 drops Rose essential oil
4 drops Neroli essential oil
This can be quite an expensive mixture but if you don't have all of these Young Living oils, many women enjoy wearing the Joy essential oil blend every day as their perfume. Others enjoy Peace and Calming, Stress Away, Lavender or Valor.
Just experiment with the various Young Living essential oil singles and blends and see which ones you like the best.
Another fun way to incorporate essential oils into your beauty routine is to drop some essential oils into your favorite unscented (preferably organic) lotion. Ylang ylang is a great fragrant oil to add to lotion but there are many others too.
Enhance your Massage with Vitassage!
The Vitassage is a handy tool to use with almost any essential oil. It actually dispenses your essential oils for you!  It has 3 stainless-steel roller balls on the bottom of it that dispense oils onto the skin. The vibrating motor helps relax sore, tired muscles and gets the oils into the skin.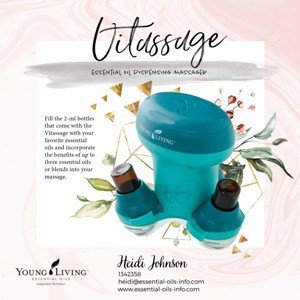 Just fill the little 2ml bottles with your top essential oils for romance. Then apply to your skin and turn it on. This will provide a wonderful massaging feeling without wearing out your hands.
You can purchase a Vitassage directly from Young Living at the retail cost or order it any time with your wholesale account.
Don't know where to start with essential oils? It can be confusing for sure.
I recommend getting the Young Living Starter Kit. That way you have the 12 most useful essential oils, a diffuser, and samples of my favorite health and cleaning products.
Feel free to contact me if you have any questions about any of the information listed here.
What is your favorite essential oil to use for romance?
How to Use the Top Essential Oils for Romance